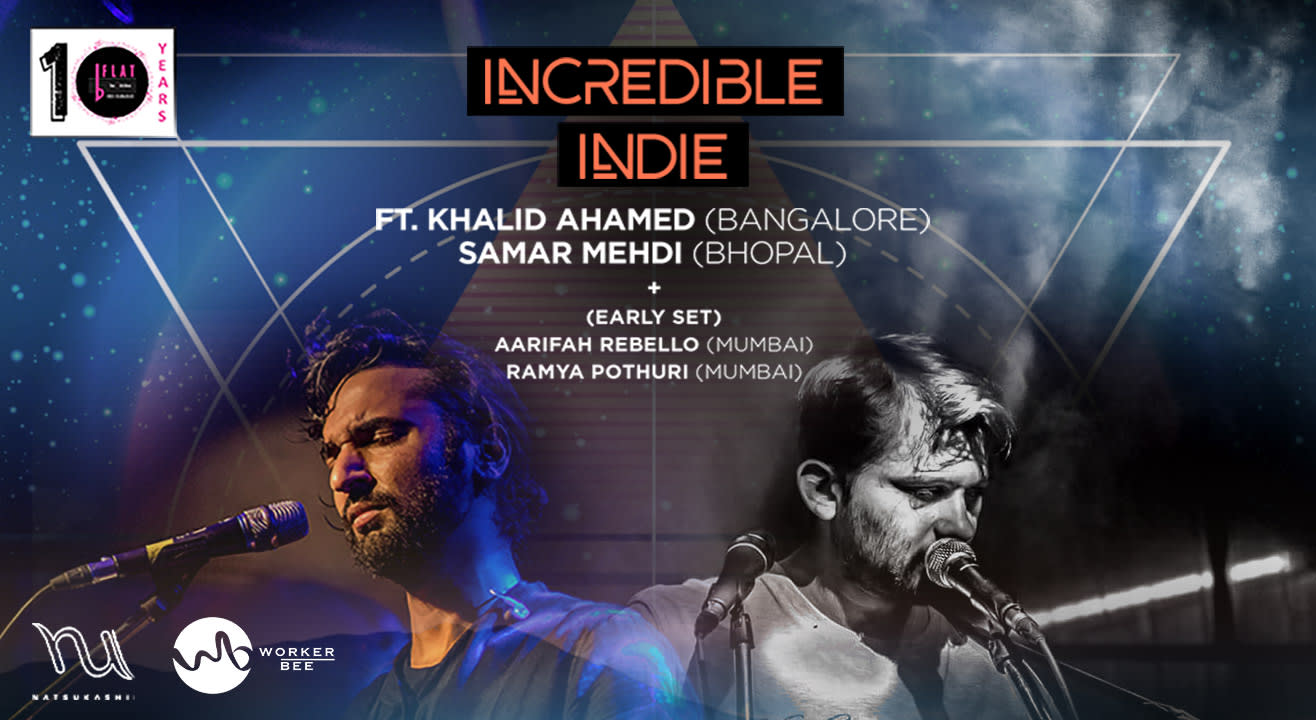 Music
INCREDIBLE INDIE Ft. Khalid Ahamed and Samar Mehdi + Aarifah & Ramya
About
As bFLAT Indiranagar continues to celebrate its milestone 10th anniversary as an independent performance venue in Bangalore, it also continues to support independent, original music. This time bFLAT presents 4 singer-songwriter musicians who are among the most talented indie artists from across the country - Khalid Ahamed, Samar Mehdi, Aarifah Rebello and Ramya Pothuri. 
Khalid Ahamed is the front-man of the popular indie psychedelic rock band, Parvaaz. He is known for his haunting vocals and incredible vocal range that captivates his listeners. Khalid will perform a solo set with his soulful voice that invokes the nostalgia he feels for his home in the Himalayas. 
Samar Mehdi is a percussive finger-style guitarist and singer-songwriter from Bhopal who has caught the attention of music lovers in a big way. BFLAT is excited to present him for the first time!
The early set will be performed by Bombay based singer-songwriters Aarifah Rebello and Ramya Pothuri, who will accompany one another.
Khalid Ahamed
Khalid was born and bought up in Srinagar, Kashmir but Bangalore became a second home to him after he came here to pursue higher education in management studies. He stayed back, having fallen in love with the city and its culturally educated audiences. Growing up, music had always been a part of Khalid's culture, his interest towards it going far beyond just listening, and he started singing and composing at the early age of 15.
Khalid is also planning to release some of his solo material very soon.

Samar Mehdi
Samar Mehdi is a percussive finger-style guitarist and singer-songwriter from Bhopal. What captures his attention about percussive finger-style is not the flashy skill show, but an opportunity to write and perform multi-layered songs organically despite being a solo act. Samar is primarily an instrumentalist but he also sings in Urdu.
His debut EP 'Urooj' received a rave response and appreciation for its underlying wisdom and honesty.

Ramya Pothuri
Ramya Pothuri is a 22 year old artist. After living and performing in St. Louis, MO for 10 years, she moved to Hyderabad, India, where she became an avid performer in the city's hotel and restaurant circuit, including a 6 month stint at the Trident Hotel. A seasoned singer and finger-style guitarist, with an expansive repertoire, she is currently based in Mumbai. Since moving, she began writing and performing her own material and has since performed at venues and festivals such as the NCPA, Blue Frog, Cafe Zoe, Todi Mill Social, New Wave Asia, Control Alt Delete 10, Sofar: St. Louis, Bombay, and Pune, as well as The Lil Flea, and The Little Gig Escape in Murud. She released her first independent EP of original music, titled "We Never Left" on August 24th 2016 and promoted it through her venture "The Living Room Tour", a series of house gigs around Mumbai organised by herself and Ronit Sarkar. In 2017, she completed a completely DIY tour of Sri Lanka, titled "The Quick And Dirty Tour", along with 5 other artists. At the end of 2017 she joined, "Ladies Compartment" and is now the guitarist and vocalist for the band.

Aarifah Rebello
After having entered the world of independent music as a drummer, singer-songwriter and guitarist, Aarifah aims at exploring every aspect in this industry. Armed with a handful of heartfelt songs and her refreshingly earnest approach to live performance, she wins over any audience who can appreciate good, honest songwriting. Having played at a host of venues and festivals like Orange Festival, and Control ALT Delete and NH7 (Shillong and Pune), she has also played across cities in India. Her music has been featured on Ennui.Bomb's Stupiditties compilation, BalconyTv, Rolling Stone India, Homegrown, TLC, Grazia, Homegrown, MaedinIndia as well as on BuzzFeed.
Her most notable achievements have been led her to collaborate with producer 'Sandunes' as a part of Red Bull's Searching for Sound, playing drums with Madame Gandhi on her India tour and performing for celebrated Grammy Award Winner Yo-Yo Ma on his recent visit to Mumbai as part of an artist residency co-hosted by G5a. Besides playing the drums for Ladies Compartment and Toycatcher she is currently working on her solo project as 'aarifah', along with various videos on YouTube, and homemade audios on Soundcloud to pimp it out on her social media along with hilarious videos on her Instagram showcasing her strength in being human, nah scratch that, in being herself.
Ramya Pothuri - St. Louis | Sofar St. Louis
Aarifah Rebello - Now She Knows