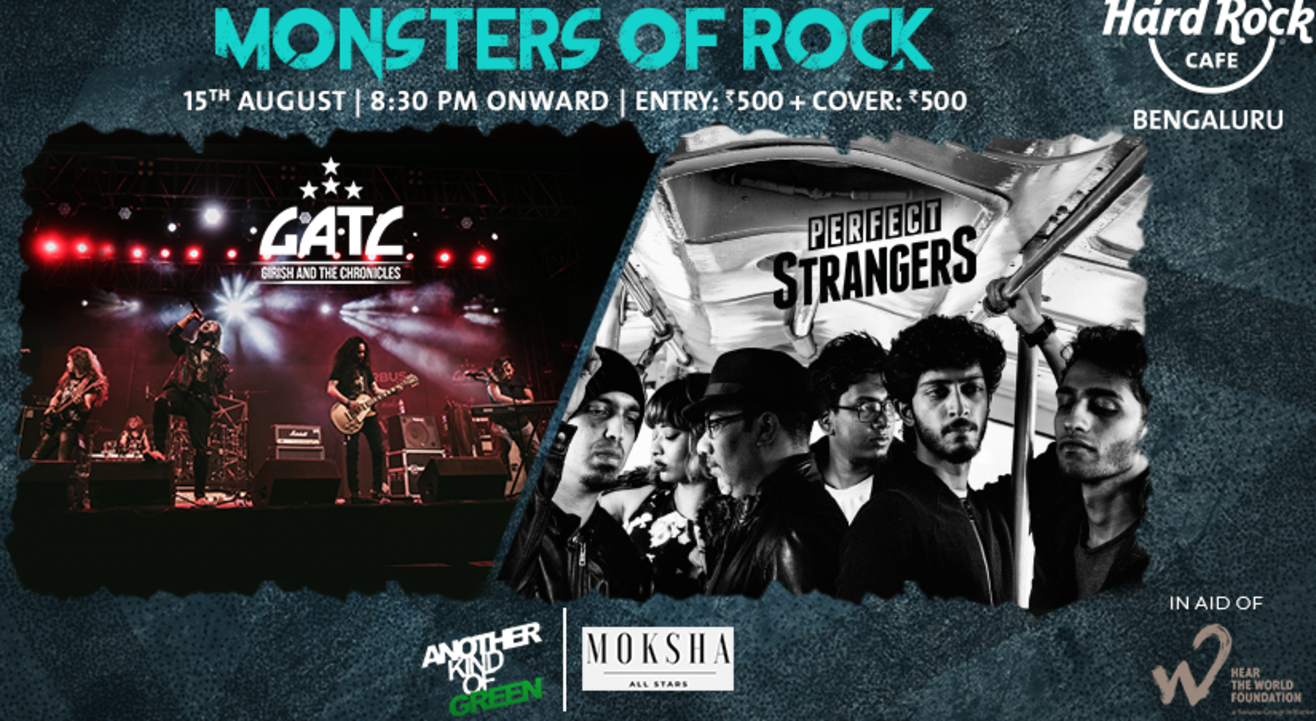 Music
Independence Day featuring Monsters of Rock
Hard Rock Cafe, St Marks, Bengaluru
About
Girish and the Chronicles, is known for their power packed live performances. GATC have headlined various college festivals and other festivals alike, with the band also sharing the stage with international acts such as Poets of the fall, Destruction, Hoobastank and TesseracT.
Perfect Strangers is a Bangalore based band has also gained a steady following in the independent music circle with their unique sound across the country. Their music reflects an eclectic mix of genres, blending elements of Rock, Pop, Jazz, Funk and Blues. Post winning the prestigious Hornbill International Rock Contest and played at Beerfest in Singapore, they are more than a force to recon with on the Indian Music Scene.
Another Kind of Green is a lively 6-member band from Bangalore formed in 2016. While the AKOG sound is one that's located somewhere on the crossroads of Classic Rock, Blues Rock and Punk Rock, the band has played at various events across the country, winning prestigious competitions including Powerchords - Battle of the Bands at SAARANG - IIT Madras in 2016.
MOKSHA (all stars), are a mix of some of the best musicians from Bangalore featuring Sanjay Chandrakanth, Shalini Mohan, Avinash Grubb, Richard Andrew and the two child prodigies from Bangalore Tanya Shanker and Jaime Dudley. Known for the fun crowd interactive Classic Pop/Rock sets, they have performed across the country at multiple venues.
Drop by to watch these amazing bands perform live at Hard Rock Cafe Bengaluru on the 15th of August.
Venue
Hard Rock Cafe, St Marks, Bengaluru
40, St Marks Rd, Shanthala Nagar, Ashok Nagar, Bengaluru, Karnataka 560001