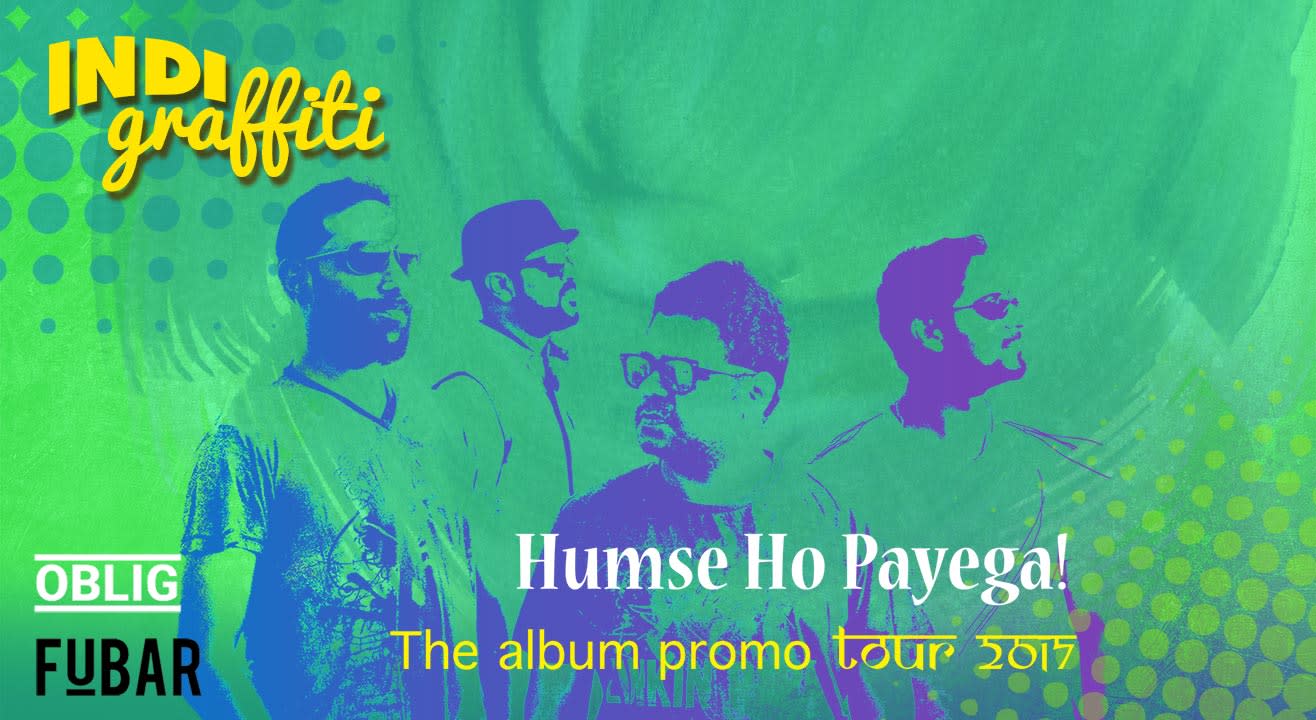 Music
Indi Graffiti at FuBar, Hyderabad| Humse Ho Payega | The Album Promo Tour 2017
About
Indi Graffiti's debut album is coming out soon and Humse Ho Payega is the album promo tour. It will see the band play multiple Indian cities for a diverse audience, while promoting its brand new album. The Leg 1 of the Humse Ho Payega tour starts in the beautiful silicon city of India, Bengaluru on 16th November at the mesmerizing blueFROG, Bengaluru and culminates in the Nizam city of Telengana, Hyderabad on 19th November, traversing through the beach city, Chennai on 17th November and ever-alive Mumbai on 18th November respectively.


The event is curated in partnership with blueFROG Bengaluru, Spiritz Magazine, Insider.in, Paytm, Alaknanda Advertising Pvt. Ltd., Oblig Entertainment, Calor Amplification and Tournado Events.
Indi Graffiti is a Hindi Graffiti rock band from Bengaluru, India. The band brings together an amalgamation of free artistic expression with sincere lyrics and simple yet soulful tunes with the power of rock and roll. This genre of free artistic expression brings about the very origins of the name "Indi Graffiti." Their music is as varied as their individual personalities, because their interests span from Carnatic to Jazz – from funk to metal and some good old rock, jazz and blues! Indi Graffiti was chosen to work and record with the famous German Producer/Composer Moses Schneider. They were also adjudged winners of the IBM Developer Rock Challenge 2011. Indi Graffiti has been featured on Sofar Sounds, Radio one 94.3 FM and Radio Fever FM 104.

Indi Graffiti's current line-up is Bharat on Vox/Guitars, Akshat on Bass/Backings, Akhilesh on Guitars/Backings and Glenn on Drums & Percussion.
Listen to Indi Graffiti's lush song, Dekh Zara!
Fubar is an inclusive cultural space as well as a Restaurant and bar that not only pleases your culinary cravings but also nourishes your creative spirit. Fubar is an open platform that promotes and presents the best of music, arts, literature, theatre, culinary, fashion with the goal to be open and accessible to everyone voicing an opinion or showcasing their skills.
Venue
Fubar, Hyderabad
2nd Floor, Celebrations, Rd Number 1, Opp Chiranjeevi Blood Bank, Park View Enclave, Jubilee Hills, Hyderabad, Telangana 500033