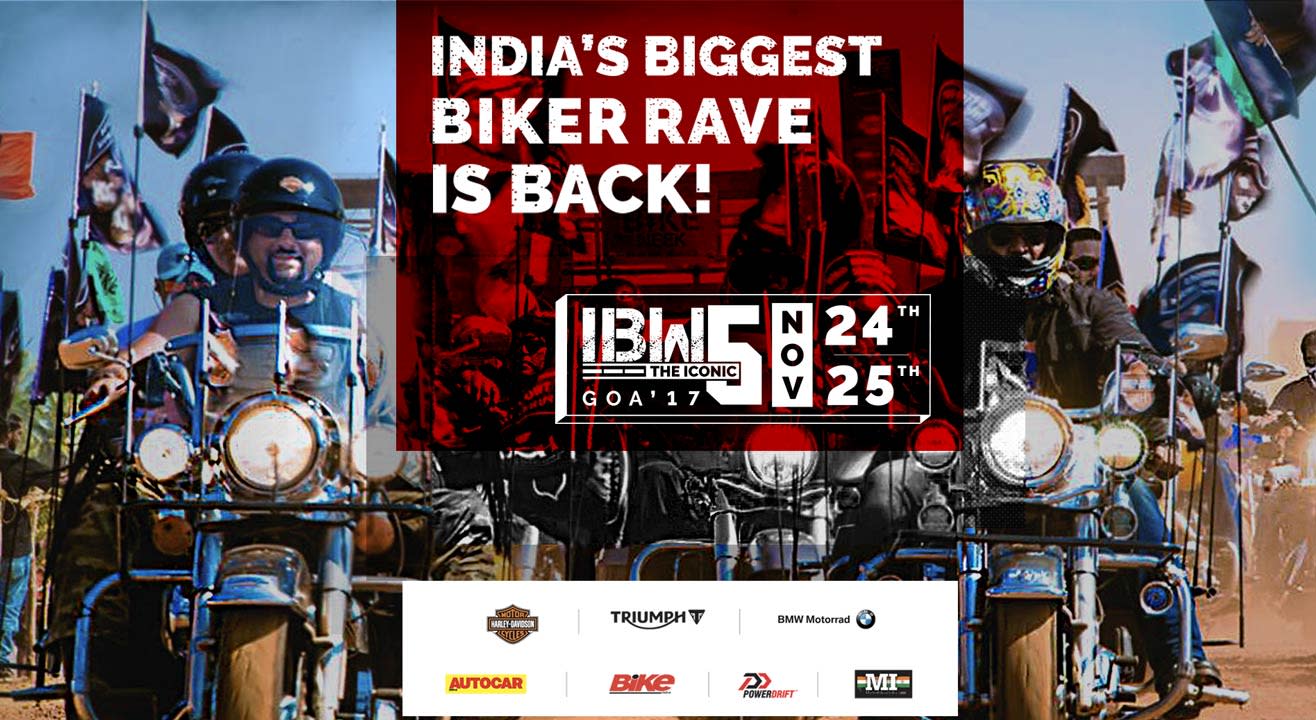 India Bike Week 2017: India's Biggest Biker Rave!
November 24 - 25 | 4PM & 3PM
Step out and enjoy this event
Invite your friends
and enjoy a shared experience
India Bike Week 2017: India's Biggest Biker Rave!
November 24 - 25 | 4PM & 3PM
Step out and enjoy this event
Invite your friends
and enjoy a shared experience
Invite your friends
and enjoy a shared experience
The biggest biker rave in Asia is back! India Bike Week is headed your way. On the 24th and 25th of November 2017, over 20,000 bikers from all India will roar down to Goa to celebrate a week of riding, brotherhood, bikes, music and motoring heaven.
It is the Iconic fifth year of India Bike Week, Asia's most incredible Biker Festival. Join the Great Migration, and party with the best, the toughest, the most adventurous men and women of your generation. It's that one time of the year when you dust off our gear, rev up your machines and go wild!
For those days, India Bike Week will be the home of world biking. With the greatest names in Bike Design and Manufacture, the rarest biker and accessory shopping, music, barbecues, bikini bike wash, beer gardens, training academies, track racing, stand-up comedy, a curated food festival and much, much more, IBW is 10 acres of Biker Paradise.
Music Lineup
Apache Indian Live, Colt Silvers (who will be touring India at the time!), DJ Savyo, Jack Jigg, Lagori, Major C, Mojojojo, G2 Live, DJ Smokey & Coyote Ugly
Friday: 4PM - 10PM
Saturday: 3PM - 10PM
No stone's been left unturned to celebrate the fifth year of India Bike Week! Preparations have been on for six months, developing competitions, legend showcase, line-up and mod bike displays for bike lovers all over India!

Leslie Porterfield, the world's fastest woman on two wheels, and Freddie Spencer, the only man to win back-to-back championships in two classes (250cc and 500cc) will be there!

The greatest names in two-wheeler design will strut their stuff at the Mod Bike Displays and Biker Build Off competitions.

The festival will welcome over 280 Biking Clubs from all over India into the IBW family and cheer them into the Festival as they parade in with their bike colours. There will be a dedicated club zone for all IBW associated clubs providing a unique networking experience for club members at the IBW Beer Garden.

Some of the world's best biking and accessory brands have been invited to showcase their world-class gear in an all new Biker Mart and Expo. Over 100 Bike Accessory shops including Performance Racing Store, Outdoor Travel Gear, Rynox, Big Bad Bikes, High Note have confirmed their participation.

A purpose-built Flat Track Harley-Davidson Street 750 by Rajputana Custom will invite bikers to to lay down their best Flat Track timed laps IBW Enduro Track will host the Triumph TIGER TRAIL - learn the intricacies of riding a Triumph Tiger 800 from Triumph's professional Enduro riders.

Speakers at IBW this year will be Vinod Rawat (prosthetic leg rider/ racer), Melissa Pierson (American author and biker), Kumar Shah (Vadodra to London), and Dhruv Dholakia (TEDx speaker and pan India bike tripper).

Nicole Mody, food writer and food curator of Mumbai's Kala Ghoda Arts Festival will create a mix of favourites from different parts of the country at Eat Street at IBW which will feature street food specialists, home chefs, food trucks, Goan food, kebab & barbecue experts like Death By Barbeque, House of Lloyds and much more.

A Flat Track for Racing and an Enduro Track for training is being built too to add to the adventure.

IBW is hosting a Mega Moto Vlogger Meet Up featuring the top 20 Moto Vloggers in India. Names like Oggy F, Vikas Rachamalla, Big Bang Biker, RidewithRaj, Zohair Ahmed will be in attendance.

There's an all-new 'Innovation Class' of India-built biking tech where three heroes of India Biking will be selected to celebrate IBW's prestigious 'Honour Roll'. And on the other side we'll have the legends of long distance, transnational Bike Trips presenting IBW's Film Festival.

IBW will also feature the classics introduced by IBW – the only Indian Bike Build Off, Dyno Wars, Burn Out and Loudest Bike competitions, Mod Bike and Innovations Display and Moto Art Project – an exhibition of motorcycle inspired Art. Moto Art Project will feature exhibitions of murals, street art, photos, upcycled moto parts by Sawant Sanskar, Prankur Rana and George Mathen (Appupen Comics), Garage 52 and many more.

Other awesome attractions include Live Music and Stand-Up Comedy, Bikini Bike Wash, Beer Gardens, New bike/ engine Launches, Film Festival, Wheelie Machine, the great IBW Strong Men and Women of Biking Competitions and much more.
It's for two days. Why is it called a week?
The festival at Goa is for two days. The celebrations, however, start almost a week before that which includes the rides and the filming of the journeys of our riders en route the venue. We aren't yet counting the after-effects and the waves of nostalgia you'll experience post-festival.

Do I need to own a bike?
Not necessarily. You need to be curious about travel, and bikes - and you're welcome to IBW.

How much do the tickets cost?
The season ticket to India Bike Week 2017 is for Rs.1750 for both days. (Only applicable for online sale).

Are spot tickets available?
Yes. But the ticket price will be increased. So book soon!

I'm a student; can I get into the festival?
No age restrictions on entry.

Can scooter riders join the rides?
If you're certain that your scooter can handle the ride, come away.

Is there any special package which involves accommodation?
No. Goa is going to turn into a motoring heaven in November as bikers from across India will ride down. So, book your stay ASAP so you get the best accommodation in your budget. Watch out for special deals with select hospitality brands on our social media.

Do I get to ride the superbikes?
Yes, we have a test rides for superbikes available this year, but the decision/permission solely depends on the company that is displaying these bikes.

Are children under 18 allowed at the festival, under parental supervision?
Yes. It'd be great to start them early on something we love so much. Next: World domination! (Seriously, as long as you know you can handle the child and the awesomeness of IBW, the little one's welcome. Kids under 12 can enter free.)

Is there something more than bikes happening at IBW?
We have three zones – The Arena, Bike Builders' Collective and The Big Trip. Between these there are plenty of bike- and non-bike related mini-events scheduled. Music included. Hold on for the epic line-up!

Where do I register for contests and other events at the Festival?
Registrations open soon on the IBW website. Keep checking!
Orangefish Entertainment Pvt. Ltd. and NGC Network (India) Pvt. Ltd. jointly held the IPR as defined in Clause 1.3 of the MoU dated 16th October, 2012, which stands terminated. Disputes have arisen with regard to the IPR rights and other rights and obligations of the parties under the said MoU and the same are subject matter of determination in an arbitration.
IBW 2017 | India's Biggest Bike Rave is Back!
India Bike Week 2017: India's Biggest Biker Rave!
November 24 - 25 | 4PM & 3PM
Step out and enjoy this event
Invite your friends
and enjoy a shared experience