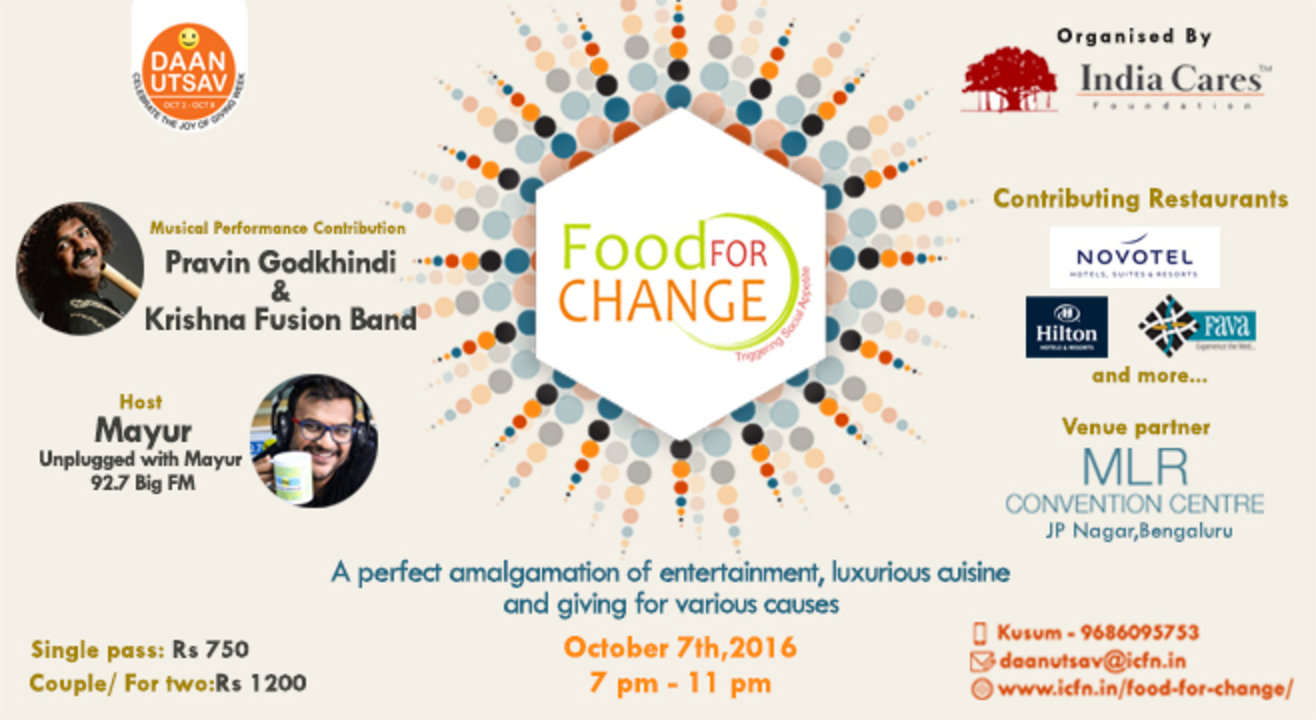 Workshops
India Cares: Food For Change
MLR Convention Centre | JP Nagar, Bangalore
About
Under the aegis of Daan Utsav, India Cares is organising "Food for Change". Food for Change (FFC) brings together some of the top 5 star hotels and fine dining restaurants in the city to showcase their culinary talent and skills. Also, celebrity artists will be present and give their time through performing at the event. It is intended to help CSOs raise funds for the cause they are working.
This evening is all about celebrating the idea of giving and the good things that it brings to individuals, companies and communities. Food for Change has been hosted in 4 cities of Bangalore, Chennai, Ahmedabad and Pune and has helped raise more than 10 crores in the last three years
This event is also an opportunity for CSOs and Corporates to reach out to the larger public and tell them about the work in the community. Chefs of these hotels and their teams will put together their best buffet and throw it open to the city. Close to 1000 guests are expected to attend the event by donating a minimum of Rs 750 for the causes they care about.
The event will be adorned by the performance of Krishna Fusion Band which will bring us some magical classical and fusion music, led by the renowned Indian Flutist Surmani Pravin Godkhindi, the "Aasthana Sangeet Vidwan" recipient and the first Indian to perform at the World Flute Festival in Argentina.
​Apart from that, there will be sumptuous dinner presented by some leading 5 star Hotels of Bengaluru, who will be present on the day to serve us with delicacies of their own.
Daan Utsav is a 100% volunteer driven initiative, which encourages people to do any act of giving of their choice. There is no blueprint and the idea is to get everyone to participate and experience giving. Daan Utsav is a great platform that brings together people from all walks of life and encourages them to celebrate "Giving" – time, money, material, skill or just love.
For enquiries:
Kusum : 9686 095 753
Email: daanutsav@icfn.in
Venue
MLR Convention Centre | JP Nagar, Bangalore
Cassia Block (Brigade Millennium Enclave), Kothnur Village Main Rd, Nataraja Layout, JP Nagar 7th Phase, Arekere, Bengaluru, Karnataka 560078