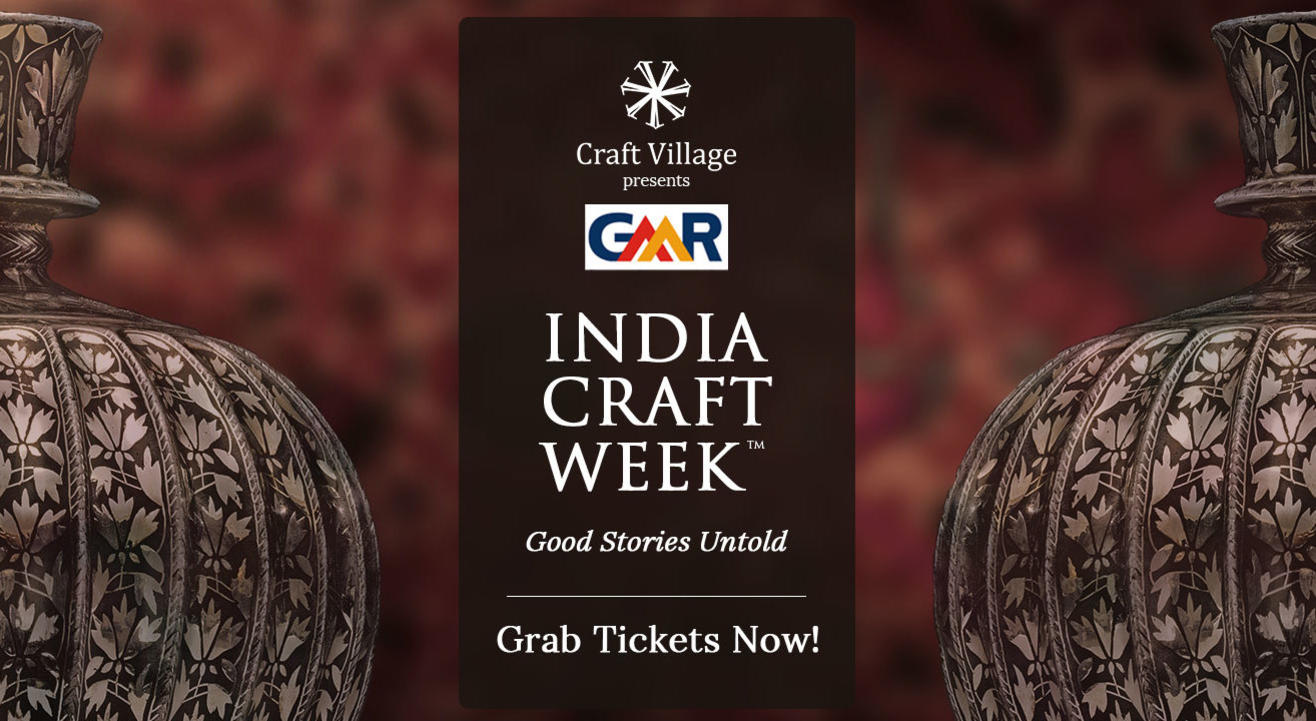 December 4 - 8 | 11AM - 7PM
GMR Square, Aerocity, Delhi, Delhi
Step out and enjoy this event
Invite your friends
and enjoy a shared experience
December 4 - 8 | 11AM - 7PM
GMR Square, Aerocity, Delhi, Delhi
Step out and enjoy this event
Invite your friends
and enjoy a shared experience
Invite your friends
and enjoy a shared experience
The Crafts of India are a mirror of the cultural identity of the ethnic people who make it. They carry the magnetic appeal of the Indian culture that promises exclusivity, beauty, dignity and style. Craft Village brings you the second chapter of GMR India Craft Week — a five-day long celebration of finest craftsmanship that binds art, design and culture. It brings together craftsmen, designers, craftpreneurs, institutions, brands and organizations through workshops, live demonstrations, installations, folk performances and cross-talks.
India Craft Week (ICW) showcases authentic and contemporary craft forms by master craftsmen and luxury brands under five unique segments – Craft Workshops, Craft Rare, Craft Panorama, Craft Luxe and Craft Installations.
ICW brings you 20 rare and exclusive Craft Workshops by Padma Shri and National Award Winners in the fields of Textiles, Ceramics, Paintings, Stone Carving, Metalwork and many more.
Craft Rare
Craft Rare is a motive to educate and preserve the rare forms of crafts that sit on the verge of extinction. A select group of handpicked artisans and craftsmen representing the endangered craft forms are brought forth to showcase and spread awareness about the precious and exclusive works that they possess. Our visitors can avail this opportunity to own pieces of rich history and heritage
Ikat by Padma Shri Gajam Govardhana from Sri Kalahasti, Andhra Pradesh
Rogan by Padma Shri Abdul Gafur Khatri from Kutch, Gujarat
Chamba Rumaal by Shilp Guru Lalita Vakil from Chamba, Himachal Pradesh
Black Stone Pottery by Shilp Guru Machihan Sasa from Manipur
Wood Inlay by Shilp Guru Rupan Matharu from Hoshiarpur, Punjab
Blue Pottery by Shilp Guru Gopal Saini from Jaipur, Rajasthan
Phulkari by Master Simran Harika
Ajrakh Printing by UNESCO Awardee Abdul Jabbar Khatri
Pashmina by National Awardee Majid Mir from Srinagar, Kashmir
Bidri by National Awardee Rasheed Quadri from Bidar Karnataka
Kantha by National Awardee Mahamaya Sikdar from Kolkata, West Bengal
Leather Puppet by National Awardee Dalavai Kullayappa from Andhra Pradesh
Warli by National Awardee Dilip Rama Bahotha from Palghar, Maharashtra
Dhokra by National Awardee Rajendra Baghel from Bastar, Chhatisgarh
Miniature Pottery by National Awardee Om Prakash Galav
Bagru Printing by Laxmi Lal Chhipa from Bagru, Rajasthan
Kutchi Shawl by Vankar Suresh
Craft Panorama
Craft may have originated at different places, times and by different kingdoms but yet seems like it's originated from a united culture, tradition and world. The only eligibility to craft is the spirit of the people, their tradition, culture and boundless passion of craftsmen and artisans. Craft panorama is a gallery to glorify and acknowledge the ingenious masters of folk and tribal crafts by representing their captivating works for the world to see.
Miniature Paintings by Padma Shri Shakir Ali
Madhubani Paintings by National Awardee Manisha Jha
Phad Paintings by National Awardee Kalyan Joshi
Kalamkari Paintings by Nantong International Awardee J. Niranjan
Sanjhi Paper Cutting by National Awardee Ram Soni
Kalighat Patua Paintings by National Awardee Anwar Chitrakar
Mata Ni Pachedi Paintings by National Awardee Sanjay Chitara
Pichhwai Paintings by State Awardee Mahesh Vishnoi
Mysore Paintings by State Awardee Sridhar Rao
Gond Paintings by Gariba Singh Tekam
Craft Luxe & Installations
With Craft Luxe and Craft Installations, witness the aesthetic work by some of the finest designers, craftpreneurs, brands, organizations and individuals in the craft industry, who're on a personal duty to create and showcase the elaborate work latched inside their artistic mind and soul. Craft Luxe is a stage for the people having a great zeal of craft in them to exhibit the significant work in the craft sector.
Craft Symposium
In the second chapter of India Craft week, we've brought together a handful of leading Art & Craft Personalities, Celebrities, Experts, and Educationists to enlighten a wider community of people and to discuss significant topics and agendas about the ongoing situation of the craft sector in the country.
Craftscape India
India Craft Week brings you "Craftscape India" - 10 films on Handlooms & Handicrafts by eminent Film Director, Fashion Designer, Poet, Artist, and Revivalist - Padma Shri Muzaffar Ali.
Bidriware
Kashmir Papier-mâché
Kutch Embroidery
Saharanpur Wood Craft
Mirzapur Durries
Lucknow Chikankari
Bhagalpur Silk
Tangaliya Shawl
Pochampally Ikat
Muga Silk of Assam
ICW is a platform where the rural and urban India blend seamlessly; in an attempt to revive and preserve the perishing craft & folk tradition; to build a new image of craft as moral, sustainable and slow. ICW is a fusion of tradition and modernity through the best medium there is - art and craft. Come and experience the exceptional craftsmanship like never seen before.
India Craft Week 2018 - Rewind
GMR Square, Aerocity, Delhi
GMR Square, Gate No. 1, next to JW Marriott, GMR Aerocity, Near Indira Gandhi International Airport, New Delhi, Delhi 110037, India
GET DIRECTIONS
December 4 - 8 | 11AM - 7PM
GMR Square, Aerocity, Delhi, Delhi
Step out and enjoy this event
Invite your friends
and enjoy a shared experience