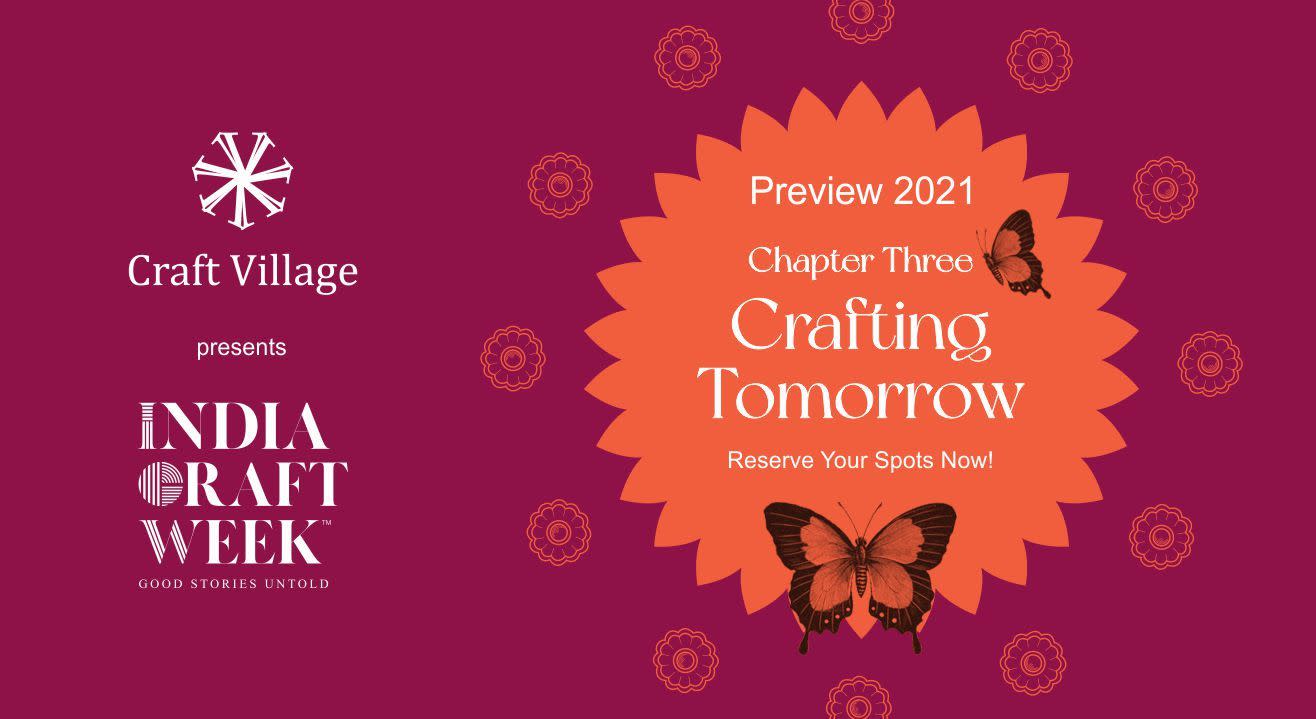 Step out and enjoy this event
Invite your friends
and enjoy a shared experience
Step out and enjoy this event
Invite your friends
and enjoy a shared experience
Covid 19 Safety Measures
This event adheres to the following

Health & safety measures
Social Distancing
Temperature Checks
Face Masks Required
Hand Hygiene Stations
Limited Capacity
Contactless Service
Sanitisation before the show
Organisers wear masks
Registered on Aarogya Setu
Invite your friends
and enjoy a shared experience
Covid 19 Safety Measures
This event adheres to the following

Health & safety measures
Social Distancing
Temperature Checks
Face Masks Required
Hand Hygiene Stations
Limited Capacity
Contactless Service
Sanitisation before the show
Organisers wear masks
Registered on Aarogya Setu
The Crafts of India are a mirror of the cultural identity of the ethnic people who make it. They carry the magnetic appeal of the Indian culture that promises exclusivity, beauty, dignity and style. Craft Village brings you Chapter Three of India Craft Week (ICW) — a citywide celebration of the finest craftsmanship that binds art, design, and culture. The show brings together Organisations, Brands, Institutions, Designers, Craftspersons, Artisans, Craftpreneurs and Makers from India and the world. The experience at ICW offers Live
Demonstrations, Masterclasses, Heritage Walks, Cross-talks, Installations, Galleries and Film Screenings.
Recognized as the second largest Craft Week in the world and supported by World Craft Council, Indian Council for Cultural Relations (ICCR), British Council, and Aditya Birla Group, ICW showcases authentic and contemporary craft forms under diverse & unique segments – Craft Heritage, Craft Masterclass, Craft Rare, Craft Panorama, Craft International, Craft Luxe, Craft Discover, Craft Cinema, Craft Symposium and Craft Installations.
India Craft Week – Preview 2021 is scheduled across two prime locations in New Delhi:
Bikaner House, Pandara Road, New Delhi - 110011
British Council, Kasturba Gandhi Marg, New Delhi - 110001
A large variety of monuments carve the silhouette of Delhi, where, on one side stands the majestic Red Fort, on the other lies the graceful Agrasen ki Baoli. Craft Heritage is an attempt to re-live the charm of these historical places with heritage walks in Delhi where one gets the chance to meet & greet some commendable pieces of architecture and history.
Craft Masterclass (Bikaner House)
ICW brings you 12 rare and exclusive Craft Workshops by Padma Shri, National and International Award Winners in the fields of Textiles, Paintings, Block Printings, and more.


Craft Rare (Bikaner House)
Craft Rare is a motive to educate and preserve the rare forms of crafts that sit on the verge of extinction. A select group of handpicked artisans and craftsmen representing the endangered craft forms are brought forth to showcase and spread awareness about the precious and exclusive works that they possess. Our visitors can avail of this opportunity to own pieces of rich heritage and history.
Rogan by Padma Shri Abdul Gafur Khatri and State Awardee Mahmad Jabbar Arab Khatri from Kutch, Gujarat
Papier Mache by Padma Shri Fayaz Ahmad Jan and Zahid Hussain from Srinagar, Kashmir
Chamba Rumaal Embroidery by Shilp Guru Lalita Vakil and Amit Vakil from Chamba, Himachal Pradesh
Meenakari by Shilp Guru Inder Singh Kudrat and Manjeet Kaur from Jaipur, Rajasthan
Blue Pottery by Shilp Guru Gopal Saini and Garima Saini from Jaipur, Rajasthan
Brass Engraving by Shilp Guru Dilshad Hussain and Rehaan Ali from Moradabad, Uttar Pradesh
Wood Inlay by National Awardee Kamaljeet Matharu and Joga Singh from Hoshiarpur, Punjab
Phulkari Embroidery by National Awardee Rekha Maan and Premlata from Patiala, Punjab
Pashmina Weaving by National Awardee Majid Mir and National Awardee Fayaz Mir from Srinagar, Kashmir
Bidriware by National Awardee Rasheed Quadri and Ruman Quadri from Bidar Karnataka
Kantha Embroidery by National Awardee Tripti Mukherjee and State Awardee Sutapa Banerjee from Shantiniketan, West Bengal
Leather Puppet by National Awardee Dalavai Kullayappa and S. Chandra Sekhar from Anantpur, Andhra Pradesh
Palm Leaf Engraving by National Awardee Narayan Das and Prakash Chandra Patra from Puri, Odisha
Miniature Pottery by National Awardee Om Prakash Galav and Ishver Singh from Ramgarh, Rajasthan
Bagru Print by National Awardee Shri Ballabh Kothiwal and Ashok Kothiwal from Bagru, Rajasthan
Sandalwood Carving by National Awardee Kamlesh Jangid and National Awardee Vinod Kumar Jangid from Jaipur, Rajasthan
Molela Tiles by National Awardee Jamna Lal Kumhar and Prashant Kumhar from Udaipur, Rajasthan
Glass by National Awardee Rajan Singh Yadav and State Awardee Vijendra Singh from Firozabad, Uttar Pradesh
Gemstone by National Awardee Prithvi Raj Kumawat and Prakash Kumawat from Jaipur, Rajasthan
Tarkashi Inlay by National Awardee Mohan Lal Sharma and National Awardee Shrimati Kamlesh Sharma from Jaipur, Rajasthan
Banarasi Saree by National Awardee Mohammad Salim and Manish Gupta from Varanasi, Uttar Pradesh
Kharad Weaving by National Awardee Tejashi Dhana Marvada and Hirabhai Tejashibhai Marvada from Kutch, Gujarat
Ajrakh Print by UNESCO Awardee Abdul Jabbar Khatri and Mubin Khatri from Kutch, Gujarat
Bandhini by UNESCO Awardee Aabdullah M Khatri and Ajij Kevar from Ahmedabad, Gujarat
Bagh Print by National Merit Awardee Mohammed Bilal Khatri and Mohan Singh from Bagh, Madhya Pradesh
Chikankari by State Awardee Mohsin Khan and Riyaz Ahmed from Lucknow, Uttar Pradesh
Akola Print by State Awardee Laxmi Lal Chhipa and Nitin Chhipa from Akola, Rajasthan
Black Stone Pottery by State Awardee Mathew Sasa and Samion K from Manipur
Kaavad by State Awardee Dwarka Prasad Jangid and Devendra Choudhary from Chittorgarh, Rajasthan
Sozni Embroidery by State Awardee Khawaja Nazir Ali and Waseem Ali from Srinagar, Kashmir
Kutchi Shawl by Vankar Suresh Parbat and Vankar Parbat Hamir from Kutch, Gujarat
Patola Weaving by Vijay Sevantilal Salvi and Naman Jayesh Sandesara from Patan, Gujarat
Carpet Weaving by Fazlu Rab and Fahim Ansari from Chunar, Uttar Pradesh
Craft Panorama (Bikaner House)
Craft may have originated at different places, times and by different kingdoms but yet seems like it originated from a united culture, tradition and world. The only eligibility to craft is the spirit of the people, their tradition, culture and boundless passion of craftsmen and artisans. Craft panorama is a gallery to glorify and acknowledge the ingenious masters of folk and tribal crafts by representing their captivating works for the world to see.
Mughal Miniature Paintings by Padma Shri Jai Prakash and National Awardee Jagdish Chand from New Delhi, Delhi
Madhubani Paintings by National Awardee Manisha Jha, Bandhana Jha and Pooja Jha from New Delhi, Delhi
Phad Paintings by National Awardee Kalyan Joshi from Bhilwara, Rajasthan
Kalighat Patua Paintings by National Awardee Anwar Chitrakar and S.K. Siraj from Medinipur, West Bengal
Mata Ni Pachedi Paintings by National Awardee Sanjay Chitara and Jaswant Bhai Dantani from Ahmedabad, Gujarat
Warli Paintings by National Awardee Anil Chaitya Vangad and Rekha Prabhudas Kharpade from Dahanu, Maharashtra
Pattachitra by National Awardee Pranab Narayan Das and Bibhuti Bhushan Nayak from Puri, Odisha
Hase Chitra by National Awardee Sarojini Yeresheemi from Rani Bennur, Karnataka
Cheriyal Paintings by National Awardee D. Vaikuntam and D. Rakesh from Boduppal, Hyderabad
Kalamkari Paintings by Nantong International Awardee J. Niranjan from Sri Kalahasti, Andhra Pradesh
Sanjhi Paper Cutting by UNESCO Awardee Mohan Kumar Verma and Ashutosh Verma from Mathura, Uttar Pradesh
Gond Paintings by State Awardee Venkat Shyam and Saroj Venkat Shyam from Bhopal, Madhya Pradesh
Pichhwai Paintings by State Awardee Mahesh Vishnoi and Anchal Mundra Sodani from Bhilwara, Rajasthan
Pithora Paintings by State Awardee Kamta Tahed and Jambu Singaad from Bhopal, Madhya Pradesh
Bani-Thani Miniature Paintings by Chhotu K Sharma from Jaipur, Rajasthan
Craft Luxe & Installations (Bikaner House & British Council)
With Craft Luxe and Craft Installations, witness the aesthetic work by some of the finest designers, craftpreneurs, brands, organizations and individuals in the craft industry, who're on a personal duty to create and showcase the elaborate work latched inside their artistic mind and soul. Craft Luxe is a stage for the people having a great zeal of craft in them to exhibit significant work in the craft sector.
Aadyam Handwoven
Craft Beton
Rahul Mishra
Manish Saksena Sarees
RARE India
Haute Monde
Aashima Mehrotra
SOIN
Save The Loom
Craft Cinema (British Council)
Craft Cinema is an ode to filmmakers who have made it their life's mission to voice dreams and aspirations of our Craftspersons and Artisans working in the Handloom and Handicraft sector. Come and witness film screenings from around India and UK at British Council on Kasturba Gandhi Marg in New Delhi.
Real To Reel: A series of short films exploring our relationship with materials and making, including documentaries, maker profiles, and hand-crafted animations, celebrating craft in its many facets - February 18 - 21, 12.15 PM
Crafting Futures: A series of 5 short films showcasing the lives of women weavers in Tripura - February 18 & 20, 4 PM
Maheshwari: A beautiful conception of the maheshwari saree by Manish Saksena, Advisor, Aadyam handwoven - February 18, 4 PM
INDIGO GIANT: A short film based on scenes from UK playwright Ben Musgrave's adaptation of Dinabandhu Mitra's trail-blazing 19th C drama, NIL DARPAN. During the height of the British Raj, vast swathes of land in Bengal was given over to the cultivation of indigo to meet the insatiable demand for the world's only natural dye - which was most often used for uniforms of British sails and soldiers. In Bengal, indigo cultivation was made possible under slave-like conditions imposed by British merchants (called "planters"). To this day, the plant remains a taboo in Bengal. The INDIGO GIANT film has been shot in Bangladesh with Bengali and British artists - February 19, 4 PM
Mir in Kashmir: A short synopsis of the journey of Mir brothers as Kani weavers in the valley of kashmir - February 19, 4 PM
Phad - The Wandering Shrine: A narrative of the 700 years old art form practised by the Joshi community in Bhilwara, Rajasthan - February 20, 4 PM
Mahakatha: A magnanimous tale of one of the oldest forms of embroidery practised by women in West Bengal - February 21, 4 PM
Aj Rang Hai: Witness the magic of Ajrakh block printing amidst the landscape of white sand in Kutch, Gujarat - February 21, 4 PM
Rogan: Resurgence of the art of cloth printing practised by only two families in Nirona Village in Kutch, Gujarat - February 21, 4 PM
Craft Symposium (British Council)
In the third chapter of India Craft week, we've brought together a handful of leading Art & Craft Personalities, Celebrities, Experts, and Educationists to enlighten a wider community of people and to discuss significant topics and agendas about the ongoing situation of the craft sector in the country.
Crafts in Interior Architecture - February 18, 5.30 PM
Panel Discussion on INDIGO GIANT - February 19, 4.30 PM
Panel Discussion with Save The Loom - February 20, 5.30 PM
Panel Discussion - February 21, 4.30 PM
Craft Rhythm (Bikaner House)
Craft is the desire of the heart tuned perfectly with the rhythm of the body. The ardent souls of the exquisite and elegant folk performers are bound to book everyone's attention, leaving the audience with a smile and an expression of awe, as they witness the mesmerizing traditional and folk performances.
February 18 - Snow Lion Dance (Sikkim)
February 19 - Lavni (Maharashtra)
February 20 - Mayur Nritya (Uttar Pradesh)
February 21 - Kathakali (Kerala)
Warli Exhibit: A Tribute To Jivya Soma Mashe (British Council)
A visual story of the emergence and development of Warli painting as distinct and vital creative art practice, highlighting the need for continued support and investment to ensure that this art practice is valued, preserved, sustained and developed. The exhibition content will be drawn from the collection of paintings, artworks and documentation materials commissioned and collected through the Warli Project by A Fine Line 2006-2021. Organised and supported by the British Council as part of the Crafting Futures programme, the showcase event is co-presented by Ramesh and Rasika Hengadi, with Lokesh Ghai and Barney Hare Duke of A Fine Line.
For any queries or information, please write info@indiacraftweek.com
India Craft Week Highlights
Step out and enjoy this event
Invite your friends
and enjoy a shared experience