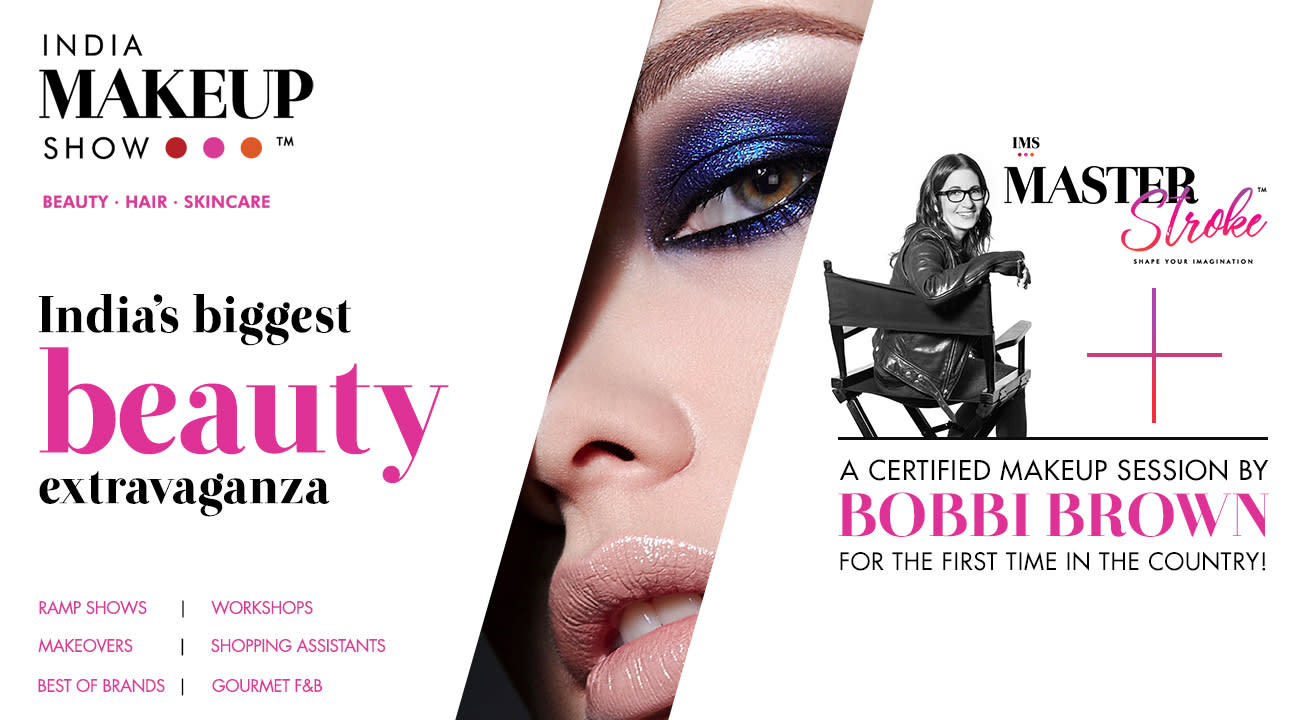 Beauty
India Makeup Show | Mumbai
Dome @ NSCI, SVP Stadium, Worli, Mumbai
About
India Makeup Show is the country's foremost beauty carnival that showcases the work, innovations and top trends of the hair, makeup and skincare industry. It is a two-day extravaganza boasting the best brands, leading experts, workshops, masterclasses, tutorials, live demonstrations and the trendiest in hair styling and makeup artistry. From champagne to chefs, cocktail bars to makeovers and gin inns to tidbits.
Come and revel in two days of indulgence, pampering and a massive celebration.
2 DAYS OF BEAUTY, 2 DAYS OF YOU!
Bobbi Brown (India's first and largest 'Certified Masterclass')
Bobbi Brown is a beauty industry titan, world-renowned makeup artist, best-selling author, sought-after speaker, and serial entrepreneur. She has written nine beauty and wellness books and has launched Beauty Evolution LLC since leaving eponymously named Bobbi Brown Cosmetics in October 2016. Born in Chicago and a graduate of Emerson College, Bobbi's entrepreneurial impact extends beyond fashion and beauty. She has received the Glamour Woman of the Year Award, The Fashion Group International Night of Stars Beauty Award, and The Jackie Robinson Foundation's ROBIE Humanitarian Award, to name a few. She was appointed by President Obama to the Advisory Committee for Trade Policy and Negotiation and has been inducted into the New Jersey Hall of Fame. She also holds honorary doctorates from Montclair State University, Fashion Institute of Technology, Monmouth University, and Emerson College.

Intimate sessions by leading celebrity artists:
Day 1: April 12

12:00PM - 1:30PM: Beyond the ordinary: Editorial Look
Facilitator: Marianna Mukuchyan

Creating editorial looks can be a highly creative yet a daunting process for make up artists. To give you a sense of this unique experience, the credible and popular Marianna Mukuchyan is conducting this workshop. She has gained a diverse experience working with international photographers and models. To widen her professional horizons, she has worked across fashion capital cities like London and New York among others. In this insightful workshop, you'll get an understanding of colour and technique that Marianna has meticulously championed by working extensively in Bollywood, Fashion Magazines and the Advertising World. Being adored by A list celebrities, master talent Marianna Mukuchyan will teach you the prolific technique to shape your craft and perfect your work.

1:30PM - 3:00PM: Art In Action : 30 Hairstyle & Makeup Tips
Facilitator: Savio John Pereira

Award-winning hairstylist, Savio John Pereira is known for his creative genius in the hair and beauty industry. He's worked around the fashion capitals cities from Milan to London and Paris to New York and been the Brand Ambassador for Olaplex, L'Oreal, Schwarzkopf and TIGI. With his skill and expertise evident from his impressive list of clients including Priyanka Chopra, Neha Dhupia, Shilpa Shetty, Kangana Ranaut, Devendra Fadnavis and Yuvraj Singh, he's been the official hairstylist for Hollywood diva Liz Hurley's wedding in Jodhpur, India. Starting his eponymous academy, Savio has extended his unique belief and creative talent for the young professionals to become world- class hairdressers. In this hands- on workshop, Savio will demonstrate his innovative instincts in creating ten easy and stylish looks in under thirty seconds each. Watch and experience how an artist can smartly play around his/her hair and create something effective and elegant.

02:00 PM – 03:15 PM: Custom Couture: The Future Of High Fashion
Facilitator: Saba Khan

Learn from Saba Khan, Head Trainer, MUD studio Mumbai, as she glosses over the emergence of traditional high fashion makeup foryaing into mainstream. With 8 years of experience in the Indian Make- Up industry, and knowledge gained from the combined experience of MUD trainers globally, understand high fashion trends as they hit Indian shores.

4:00PM - 5:30PM: The Reinvention of Colour, Gloss & Glitz
Facilitator: Cory Wallia

In the dominating times of matte and nude shades, the versatility of glitter, gloss & colour is often overlooked. Veteran makeup artist Cory Walia is all about glamour and makeup. His talent and expertise spanned over a period of 25 years makes him the numero uno in the makeup industry. Cory has offered his services to editorial photoshoots, fashion shows, films and weddings by artfully creating coveted looks. Conducted by the ultimate makeup expert, this critical workshop will teach you the intricacies of the sparkle and dazzle with a dash of colour that you can use to your benefit and stand out of the crowd.

4:00PM - 5:30PM: Reel to Real
Faciliatator: Natash Nischol
Movie's and visual content in general play a huge role in defining the style of the society. Natasha Nischol is among the country's top and talented makeup artists contributing to the styling and conceptualising of iconic looks in the industry with an unmatched sense of aesthetic. Owner of the Fat Mu Makeup Academy, she has worked with the finest personalities like Priyanka Chopra, Ranveer Singh, Naomi Campbell, Farhaan Akhtar and Zoya Akhtar to name a few. From the theme and concept to the makeup and design, she will walk you through her insightful experiences in working for 'Gully Boy' and most recently, 'Made in Heaven'. With her efforts in Oscar- winning film Slumdog Millionaire to her critically acclaimed work in Netflix's 'Lust Stories', she's developed a distinct approach and technique in deducing the looks. In this workshop, you'll learn the art of bringing the characters to life with her sharp precision and understand what it takes to create magic in the movies.

6:00PM - 7:30PM: Building an Empire: The Story
Facilitator: Namrata Soni

From magazine covers to feature films and ad films, Namrata Soni is the make-up artist behind most of Sonam Kapoor's beauty looks. She launched her own line of make-up (pouches and falsies) at a young age. Experience what it took her to be known as a unanimous beauty expert. The lineup consists of methods to market yourself, to overcoming challenges, to landing your first project, and lastly making it to the speed dial of the A-listers in Bollywood Industry.

Day 2: April 13

11:30PM - 1:00PM : Behind the Big Day
Facilitator: VIPUL BHAGAT

Wedding is one day when all eyes are on the bride. And nobody understands the importance of this big day better than the master in bridal make-up, Vipul Bhagat. Having worked with small and big screen stars, Vipul Bhagat leaves no stone unturned in giving his clients the best of the best. From the touch of creativity to the style of innovation, he's worked for over two decades ensuring his clients a flawless face. He's gained the expertise by changing his style in accordance to the client's requirement and attire. Learn from him the professionalism to craft the ideal bridal makeover.

1:30PM - 3:00PM: Glow with the Flow
Facilitator: Bianca Louzado

Metallic makeup is a gorgeous way to look radiant. If you wear it correctly, a metallic sheen can add brightening effects without giving you a fussy feel. This strategically designed workshop consists of two looks - La Vie en Rose, an understanding of vintage bridal celestial skin make up and Enigmatic Luminescence, the play of high voltage metallics with 3- dimensional contouring and highlighting on warmer skin tones. With her signature look being described as fresh, flawless and luminous, India's leading makeup artist, Bianca Louzado is set to share her unique and modern approach to beauty. She's a high demand artist who's regularly sought after for Feature Films, Prestigious Beauty Pageants, Fashion Shoots, High Profile Destination Weddings, Ad Campaigns and Editorials. Being the official Makeup and Hair Designer for Miss India and Miss India Universe Pageants since 2015, Bianca has provided detail- oriented, dedicated and distinctly creative services to her clients. Acknowledging the luminous skin- finish trend that is easy with an execution that is hard, she'll walk you through the meticulous techniques of learning this tricky art of high voltage metallics without going overboard.

3:30PM - 5:00PM: An Artistic Leap: Avant Garde
Facilitator: Mehera Kolah

In this highly creative world of hair and makeup, Mehera Kolah is going to make the ramp real. With an experience of over two decades, she'll demonstrate the flair and comfort to carry avant garde looks, share super helpful DIY makeup tips on blending high fashion with wearability. Mehera has worked with the best of the best, heading teams at many exuberant fashion shows for top designers and fashion weeks. She'll reveal the tricks and tips of creative makeup and ways to make it to the latest trends of 2019. She has created iconic looks for ads, editorials, films and songs in the Indian Cinema, working with Deepika Padukone in Yeh Jawani hai Deewani, Ram Leela, Chennai Express, and other stars including Alia Bhatt, Katrina Kaif, Priyanka Chopra, Aishwarya Rai Bachchan, AnushkaSharma among others.Be a part of this artistic workshop and learn from her treasured secrets.

Ramp Shows featuring the trendiest of 2019 in hair styling and makeup artistry:
Specially curated hair and makeup shows by brands, professionals and some exciting special showcases


Shopping and More:
Top hair, makeup and skincare brands
Gin, champagne and cocktails bars
Chefs dishing their best creations
Music acts & several entertaining performances
Nikita Khanna: 8879391419
India Makeup Show | Mumbai
Bobbi Brown ShoutOut Video
Venue
Dome @ NSCI, SVP Stadium, Worli, Mumbai
Lala Lajpatrai Marg, Lotus Colony, Worli, Mumbai, Maharashtra 400018