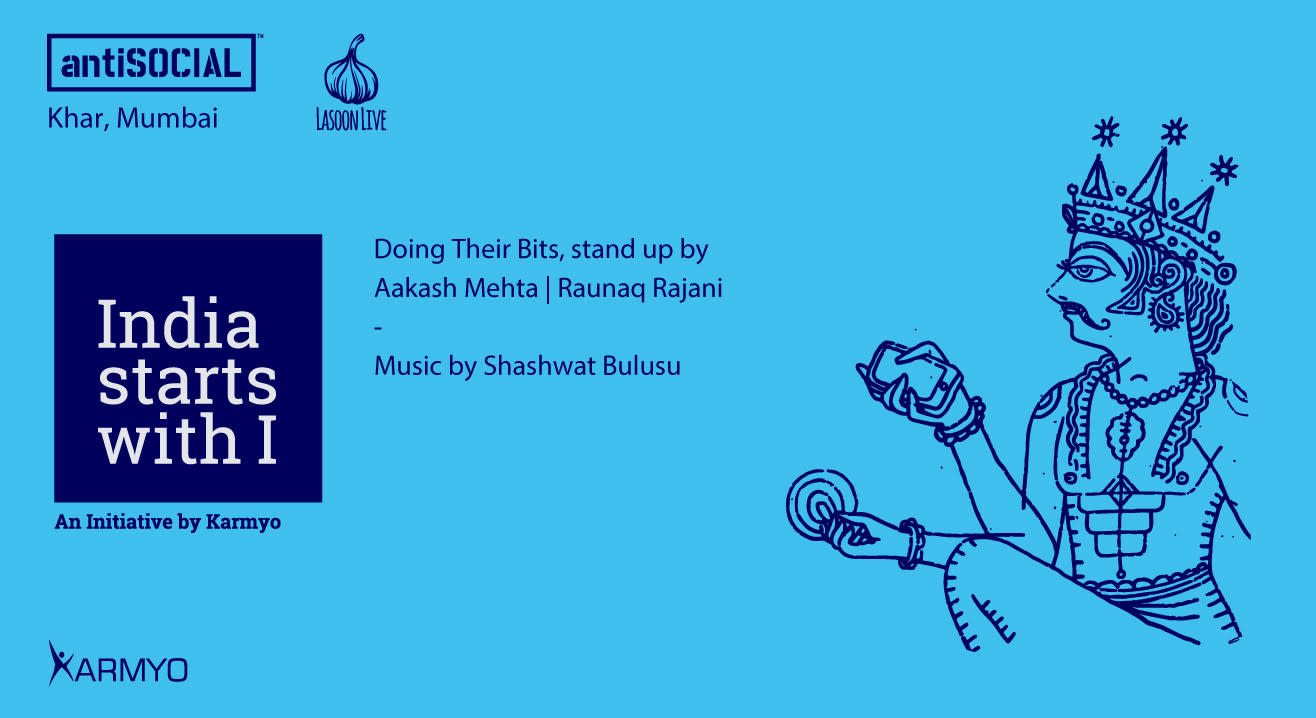 Step out and enjoy this event
Invite your friends
and enjoy a shared experience
Step out and enjoy this event
Invite your friends
and enjoy a shared experience
Invite your friends
and enjoy a shared experience
'India Starts With I' is a movement to create awareness about volunteering and our role in the society. 15+ Artists have taken up the mantle to lead by example and express their stories of volunteering through art.
ASSOCIATED NGOs
Reality Gives / Rally For Rivers / Humsafar / Eastern Wildlife Conservation Society / Sanjay Gandhi Animal Care Center / Scribble Foundation / Tarang / Aasra / Goonj / Kalkeri Sangeet Vidyalaya (KSV) / Prerana / Teach For India (TFI) / Music Basti / Kheyti / Om Ashram / Vimochana / Sumati Balwan / Deepam / Ganapathy Iyer School
Who can attend the event?
Anyone can join the movement and attend the exhibition as a show of support for the cause. We invite citizens from all walks to come and support the movement - Students, Entrepreneurs, NGOs, Professionals, Expats and every voting member of the country. Share your stories with us, tag @letskarmyo and use #IndiaStartsWithI
What will I gain from it?
You can interact with our team and understand how you can get involved with various causes and contribute towards nation building.
How else can you get involved?
Register yourself as a volunteer: here
Invite your friends and family to the event and get them registered as volunteers. Use the above link.
Share your volunteering stories with us, tag @letsKarmyo and use #IndiaStartsWithI
About Us
Karmyo is a fast-growing community of socially responsible citizens. People from many different walks of life are joining hands to make an impact by either fundraising for social initiatives or initiating social activities within their communities or taking up projects with NGOs. We believe that each person has the potential to make a positive impact in the world. And however small an action may be, the right 'Karma' always counts.
Like to volunteer for this event? Write to us: happy@karmyo.com
Mayur Mengle / Sajid Wajid / Saloni Sinha / Lavanya Naidu / Ankita Shinde / Sanskar Sawant / Shikhant Sablania / Sudeepti Tucker / Jemma Jose / Nisha Vasudevan / Neethi Goldhawk / Limatola Longkumer / Sneha Shanker / Mohna Singh / Kritika Trehan / Akshita Chandra / Trusha Oza / Jimmy Varghese / Shawn D'souza / Ankita Bhattacharya / Nupoor Rajkumar
Stand-Up Acts by Aakash Mehta & Raunaq Rajani
Music by Shashwat Bulusu
antiSOCIAL khar
Rohan Plaza, 5th Rd, Ram Krishna Nagar, Khar West, Mumbai, Maharashtra 400052
GET DIRECTIONS