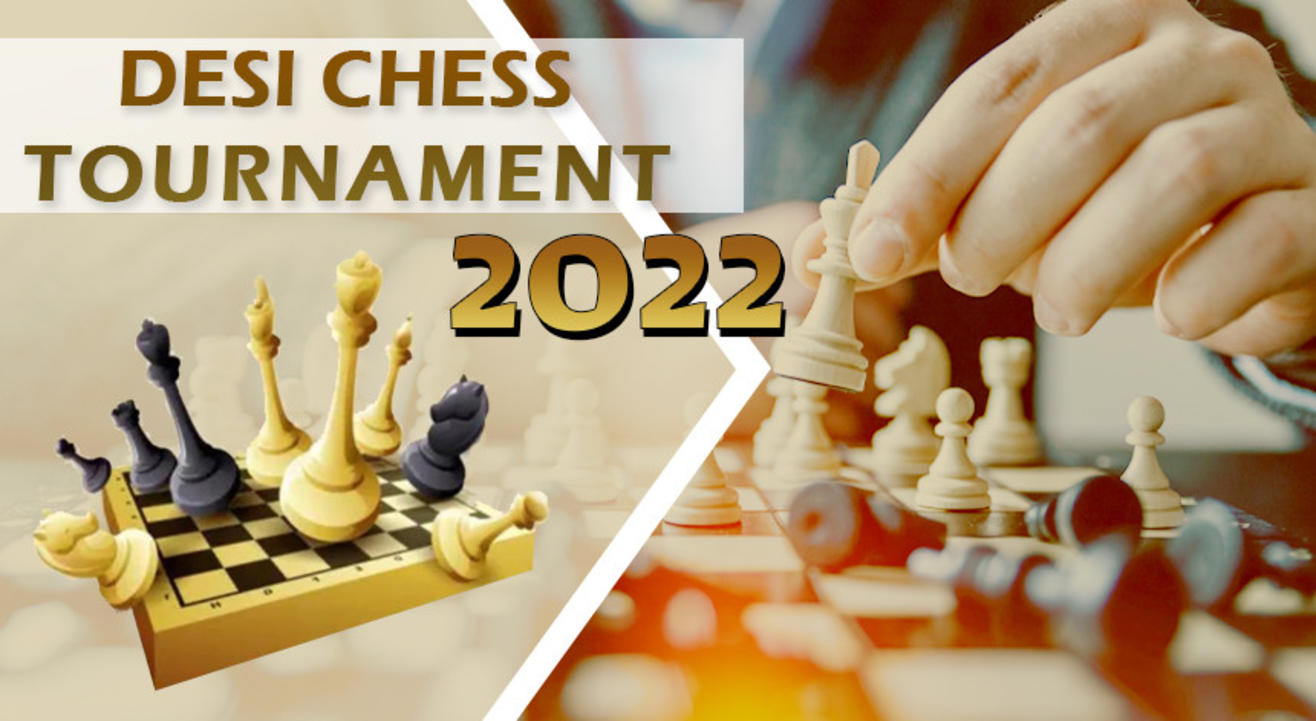 DESI CHESS TOURNAMENT 2022
Enjoy this event from your home
Event Guide
For Age(s)
Family Friendly
Online Game
Participate and have fun
Invite your friends
and enjoy a shared experience
DESI CHESS TOURNAMENT 2022
Enjoy this event from your home
Event Guide
For Age(s)
Family Friendly
Online Game
Participate and have fun
Invite your friends
and enjoy a shared experience
Event Guide
For Age(s)
Family Friendly
Online Game
Participate and have fun
Invite your friends
and enjoy a shared experience
Presenting Indian Chess League 2021
Play Daily, Win Daily.
OR
Play In League And Win Big.
In super chess category, you need to play 2 matches against your opponents and if you win you will get 2.5 times of the money you paid if u win 2 matches back to back.
In super category contestants have to play only 2 game and in League category they need to play 10 games in round 1 and if qualified 5 more games in round 2.
In bonanza you need to play 9 matches and point system will be uploaded to group.
It's fun! So register fast and earn your pocket money just by using some brain.
Prize Money (Everyday Super Chess)
Winner -Rs.225/-( maximum 1200 matches in total in a month)
Prize Money (Chess League 2021)100 PLAYERS WILL PLAY IN A GROUP OVER A PERIOD OF 1 MONTH SO TIMINGS WILL BE ADJUSTED OVER THE MONTH)
1st: Rs.10,000
2nd: Rs.5000
3rd: Rs.3,000
4th: Rs.2500
5th - 6th: Rs.2000
7th - 8th: Rs.1500
9th – 10th:Rs.1000
BONANZA
10 Players will play in a group
Will be played over a period of 1 month
Timings will be adjusted over the month
1st place gets Rs 7000
2nd play gets Rs 3500
3rd place gets Rs 2500
TERMS AND CONDITIONS
Age limit: 4+
Tickets bought cannot be exchanged or refunded.
After joining you will be asked about your account on the chess platform.
You will be contacted 15 minutes prior to your chosen timing.For any registration issues after booking, please contact 9508781469
If the number given is on WhatsApp, you will be contacted on WhatsApp
Winning screenshot is mandatory, if not prizes will be forfeited.
Any title holder at chess.com is not allowed to join the Tournament. In case they join the match, we are in the position of not conducting the matches.
In case we do not have enough players to pair you with, We will refund the ticket amount.
Match date and timings are fixed but can be altered only by the organizers, participants have to report on the given time. You will be contacted 15 minutes prior to your chosen timing. Failure to respond and show up to event on time will disqualify you for the event. No refund will be given.
In case of a draw either you will be said to play again or your money will be refunded.
Prize pool and selection of rank for the prize are fixed but can vary with the variation in the ticket sale.
Total prize pool is written considering total tickets over a period of 1 month and is subject to change as per ticket availability
Each player has to send us a screenshot of the results after the game, failing which they will be disqualified.
If any User is found using any third-party app or software then the organizer has the right to disqualify the user. No refund and reentry to the game for the User
The decision of the organizer is final.
The organizer has the right to remove or not allow users to play any further matches if they found abusing or using any foul language. A refund for the same will also be not allowed.
Details provided should be correct and you should follow the instructions given by the organizer or else you will be disqualified.
In case of disqualification, the organizer's team will not be liable for a refund of the registration fee.
By making payment you agree that all the details provided are correct and you accept all the terms and conditions.
10 day's buffer is there between prize distribution and completion of the tournament. Mode of prize payment will be decided after verifying all the screenshots of winning player.
Timings of match can vary according to ticket count and can take one month for completion of bonanza and league...and may take a week for super.


Disqualification
If any team or player is caught using Emulators or any kind of GFX tools, Cheats, Scripts, Etc, the whole squad/player will be disqualified from the tournament.
You will be asked for ID and age proof at time of prize money collection. Failure to provide this proof will disallow you from receiving any prize money
In case you lose 3 consecutive match in League /bonanza
If there is a Mismatch from given detail.
If you are not joining the very first match in super/league/bonanza
If the player fails to provide winning screenshot.
In case of disqualification, organizers team will not be liable for refund of registration fee.
You will be contacted 15 minutes prior to your chosen timing. Failure to respond and show up to event on time will disqualify you for the event. No refund will be given.
DESI CHESS TOURNAMENT 2022
Enjoy this event from your home
Event Guide
For Age(s)
Family Friendly
Online Game
Participate and have fun
Invite your friends
and enjoy a shared experience