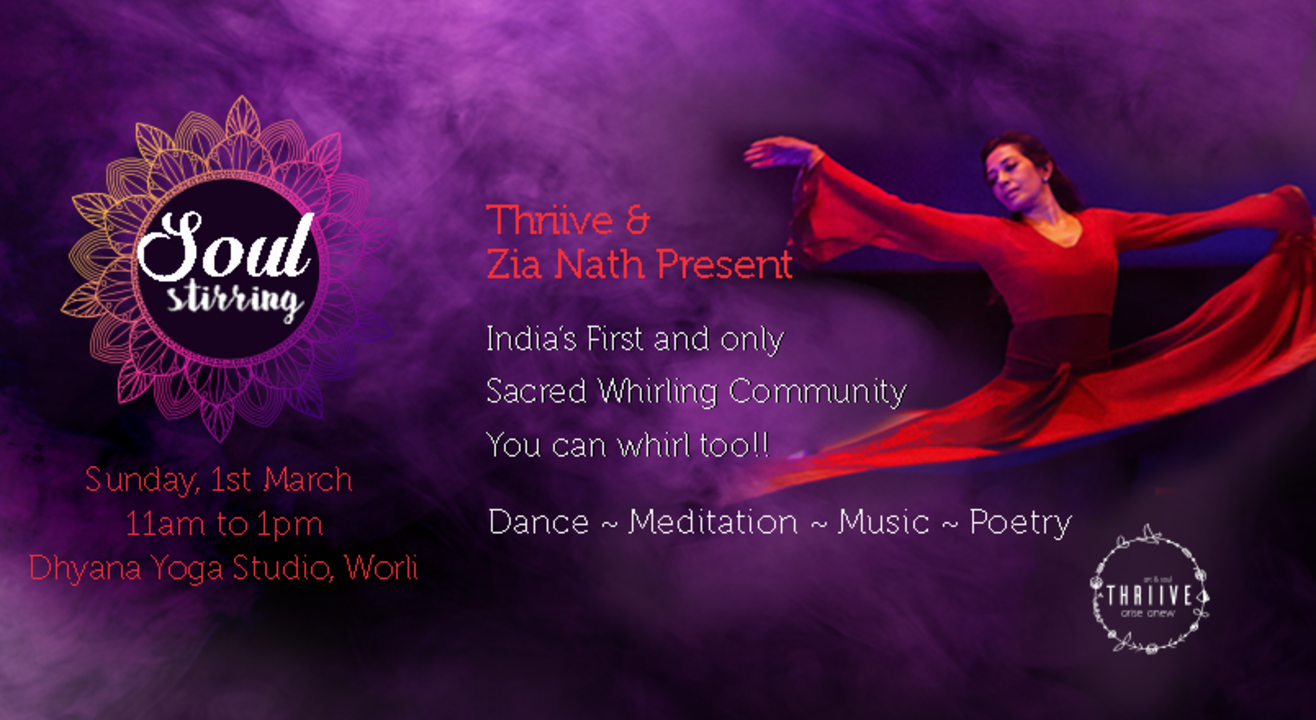 Experiences
India's first and only Sacred Whirling Community: You can whirl too!!
About
Whirling Mandala Workshop by Zia Nath
Has it been really long since you've felt at peace mentally, physically and emotionally?
Maybe you need to find your centre again and regain your inner peace. And the best way to do that is to indulge in a super relaxing and soothing session of whirling- presenting, sacred danseuse Zia Nath's Whirling Mandala workshop, India's 'only' Sacred Dance Whirling Community event!
Ancient dance forms have the power to heal! Zia Nath will guide you towards becoming the whirling dervish that you've always wanted to be.
Experience music and poetry, rhythm and stillness all at once. Whirling is often practiced as an active meditation and centres us in the balance of duality. It significantly reduces stress and anxiety levels and releases everything negative to make space for all that's positive. The older you are the better you whirl, so bring your wisdom of age with you.
About Whirling Mandala
Whirling Mandala™ founded by Zia Nath, are whirling dances inspired from the ancient gypsies, rajasthani ghumrao and sufi traditions. These are sacred dances that connect us to the mystical realm. The dances become a bridge to ancient wisdom and spiritual insights. We find stillness in motion and maintain balance with our inner compass.
Zia is an international performer and teacher of Sacred Dance, a paramedical healthcare practitioner, Nutritionist and TEDx presenter. Zia uses the body as the first stop to health and happiness engaging the diversity of her work – the science of therapeutics and the wisdom of sacred dance to conduct regular programs for corporates & individuals.
Why you should whirl and join us:
To experience a mystical art-form
To explore meditation in motion & stillness
To lose yourself in whirling and find your essence in its stillness
If you like dance, meditation, music, silence
To have a brand new experience
To be part of India's first and only whirling dance community
Who should whirl:
Everyone! All you need to have is an open heart, and a sense of fun!
Come together as a family, with friends or make this your me time
If you are into dance, music, movement and poetry
If you want to add a bit of soul to your fitness routine
Above 18yrs, age no barrier
Gender no barrier
Zia Nath says, "Whirling is a natural phenomenon. It's not a dance, it's a force that is already there within us and around us. In dance, we merely align to this force."
So come, whirl your way to glory!
Date: 1st March 2020
Time: 11.00 am To 1.00 pm
Venue: Dhyana Yoga Studio, 108, Dr. RG Thadani Marg, B Wing, Worli Sea Face, Worli, Mumbai, Maharashtra 400018
Note: Please wear loose, comfortable clothing so that nothing comes in the way of your fluid dance movements.
Testimonials:
"The energy was so awesome...the experience for me was mind-blowing. I felt just so connected."
- Ashtar Tashi
It was a beautiful experience. Being with Zia in meditation was awesome and her whirling is like the wind which moves but invisible. Would like to be a part of this whirling community.
- Priya
Venue
Dhyana Yoga Studio
108, Dr RG Thadani Marg, B Wing, Worli Sea Face, Worli, Mumbai, Maharashtra 400018
GET DIRECTIONS