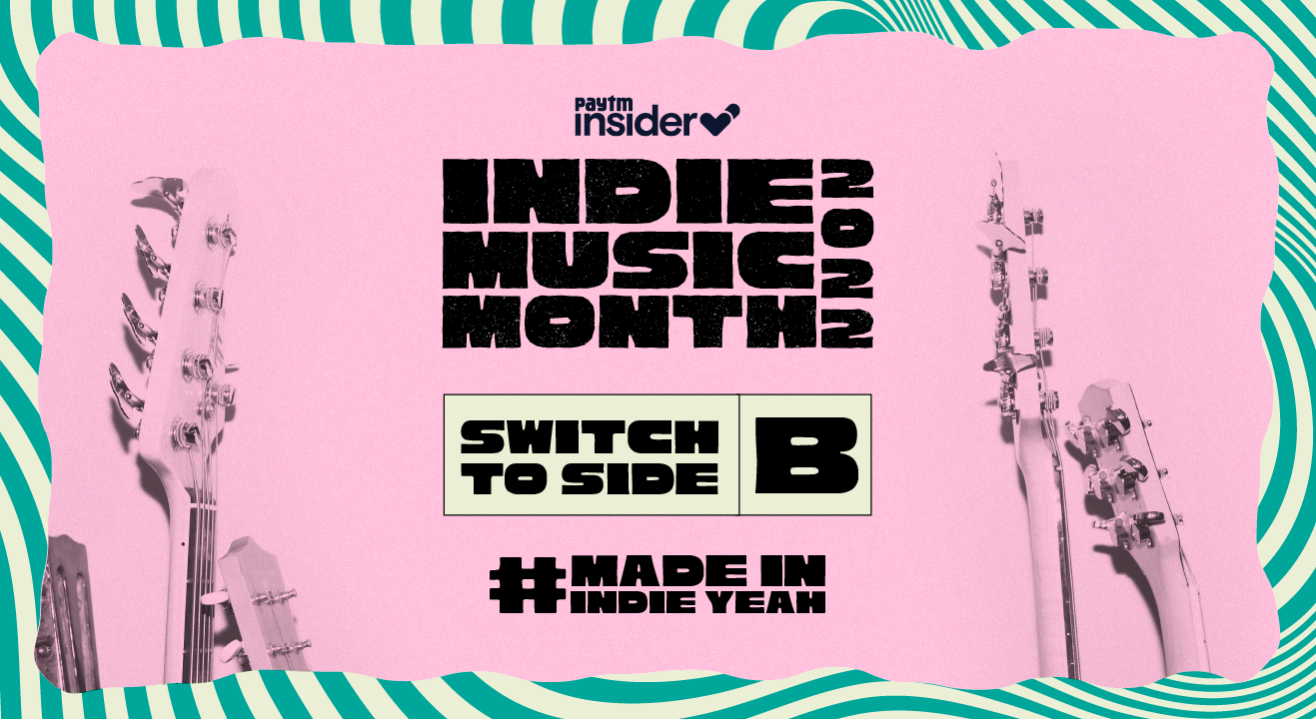 It's Indie Music Month At Paytm Insider 🥳
Switch over to side B and discover some of your new favourite indie artists!

Invite your friends
and enjoy a shared experience
We're suuuuper excited to see some amazing indie artists from all over India this month! And we know you are too. Get ready to discover some hidden gems, watch your favourites and make some new memories along the way.
Check out the coolest artists performing in your city:
Find Events Happening In Your City All Month Long
Why Indie Music?

Well, for one, we all love to discover new music! But, what's better than discovering new music? Getting to listen to it live on stage! Indie music rarely gets its moment in the spotlight, so this month, we're all set to listen to some brilliant artists take the front stage and sway along to their beautiful music.

What to expect this month?
A whoooole lotta amazing new music & artists! From Peter Cat Recording Co. to Tejas Menon - the line up for live performances is going to be incredible. You'll get to add something new to your playlist everyday and at the same time, you get to see your existing favourites perform LIVE. Isn't that just amazing?
What is Independent or Indie Music?
Indie music originally came from independent record labels, it now overlaps with a huge number of genres, from indie-rock to indie-folk to indie-pop & more.
So, 'indie' is short for independent, a term first used to describe artists who recorded and released records themselves, rather than through a label. But now many indie music artists are signed to major labels, and the genre has more to do with the sound, or an alternative way of making music.
Its roots stretch back to the 70s and the DIY punk ethic scene. In the 1970s, artists who pushed the boundaries of pop weren't signed to any big record labels, as their work wasn't considered commercial enough. Which is how they ended up producing and publishing their music independently.
Two notable indie record labels were Factory Records and Rough Trade, which were behind the success of iconic bands such as Joy Division and The Smiths. Some other notable bands that came from the indie scene were The Strokes, Arctic Monkeys & Florence + The Machine.
Why Side B?
Keeping this in mind, this month is all about the hidden gems of the indie scene! It's time to switch over to Side B of the tape and discover new artists and music to add to your playlist. Time to uncover and appreciate these indie superstars.
Be There. See That. LIVE
Come out and discover music, old skool style. Feel 'em goosebumps. Let those jaws drop. Have your minds blown.
Nothing like that live feeling and it's even better when you get to discover new artists! Get ready to find your next favvv artist.
So many artist, so little (much time)
30 days of Indian Indie. Your playlist needs a shuffle and we're here all month long to help you do that! So, treat yo' self to all the indie artists in the house and watch them perform live all month long!
Subscribe to receive our newsletter!
Find the best experiences happening out there in your city or enjoy handpicked content while sitting comfortably at home. Paytm Insider is your go-to place to figure out what to do today!