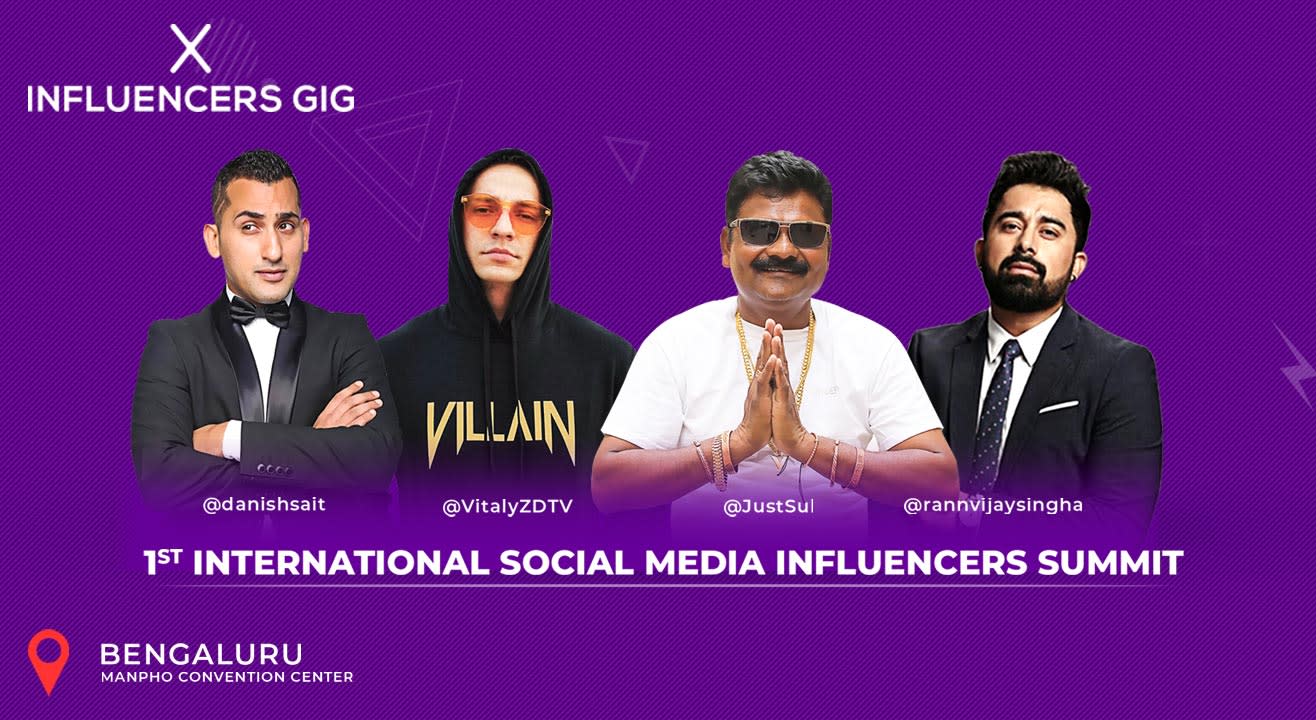 Influencers Gig - Bangalore
Manpho Convention Center, Bangalore, Bengaluru
Invite your friends
and enjoy a shared experience
Influencers Gig - Bangalore
Manpho Convention Center, Bangalore, Bengaluru
Invite your friends
and enjoy a shared experience
Invite your friends
and enjoy a shared experience
International Social Media Influencers Summit.
This summit is all content creators, artists, influencers, bloggers, vloggers & Industry.
Vitaly Zdorovetskiy – Speaker + Vlogging WorkshopJustSul – Speaker
Rannvijay Singha – Curator
Danish Sait - Actor, Comedian & RJ Host
Harman Singha – Host: Actor, Writer
Said Ahmad Ali – JustSul's (Founder)
Sasha Jairam - Fashion Photographer
Sonali Swami - Fitness Influencer
Behram Singanporia (Best Kept Secret) – Musician
Abhishek Bhaskar – Beat Boxer / Artist
The hype about Influencers is real and it's about time we have a space where the emerging influencers get a broader perspective of their work, expand their ideas and networking, and most importantly keep influencing and get influenced to never stop creating!
Influencers Gig is India's first ever summit which is an open door for influencers, artists, brands, start up's and agencies to cooperate up close and personal, which is especially valuable for influencers and marketers looking to get a better understanding of the dynamics that drives this generation. This gig is the biggest platform for influencers and brands to associate & leverage the power of social media in influencer marketing.
The event will provide the emerging influencers with a platform to portray their work and broaden their ideas through interactions and discussions and also associate themselves with brands.
As influencers, sometimes you find yourselves in a dilemma of going forward with your passion and making it big or leaving it behind as a mere hobby. You need to face loads of criticism and have a hard time juggling between your work and personal lives. Your jobs are not just 9-5 but even more odd hours of working.
This summit acknowledges you all for being unapologetically yourselves and for being so passionate towards what you are doing and we welcome you all to appreciate your passion and learn how to take your journey forward.
It doesn't really matter where you come from or how technologically equipped you are. All you need is creativity and the zeal to create something better each day and of course, a mentor to guide you in every step.
Influencers, Content Creators, Brands, Digital Agencies & Social Media Platforms.
What can you expect from the summit?
Influencers Gig is the platform to meet the most influential people Key Note talks, Panel Discussions, Q&A & Influencer Talent Showcase Learn how to build influence and not just followers and views. Diving deep into Influencer Marketing How to x with Brands & Managements Most ideal ways to network with their community Meet your favourite Influencers
Manpho Convention Center, Bangalore
No. 91/4, Veeranna Palya, Nagawara Ring Road, Near Manyata Tech Park, Opposite BEL Corporate Office, Nagavara, Bengaluru, Karnataka 560045
GET DIRECTIONS
Influencers Gig - Bangalore
Manpho Convention Center, Bangalore, Bengaluru
Invite your friends
and enjoy a shared experience