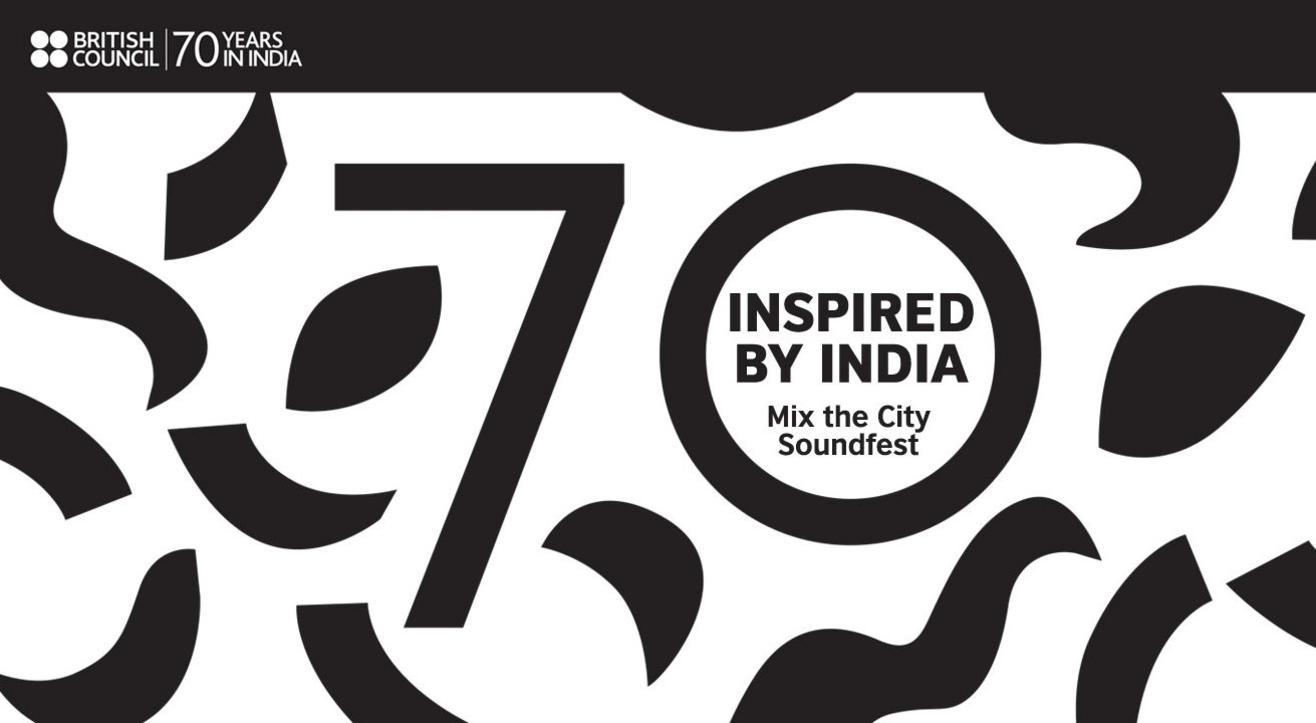 Music
Inspired by India – Mix the City Soundfest
The British Council, Delhi
About
Join us at British Council, New Delhi for a weekend full of exciting music performances by a diverse line-up of musicians, to celebrate British Council's 70 years in India.

Inspired by India – Mix the City Soundfest brings together artists from Mix the City – British Council's music exploration platform, for two days of enthralling music performances by musicians from across India, and the UK.
From powerful percussions, to soulful sounds of fusion, to outstanding electronics and more, there's something for everyone!
#InspiredbyIndia
Chilling partner: Witlinger
DAY 1 Line-Up
6.30 pm –7.15 pm
From Chennai – Padma Shankar (Violin) + Prakash Hariharan (Mandolin) + Paul Jacob (Bass Guitar) + Perimallam Drummers

7:15 pm – 8:30 pm
From the Northeast – Tetseo Sisters, followed by Rida &The Musical Folks, followed by DJ Sagar + Lama Tashi (Chants and Electronics)

8.30pm – 9.30 pm
From Kolkata – DJ Varun Desai

DAY 2 Line-Up
6.30 pm –7.00 pm
From Kolkata – Subir Ray (Flute) + Mainak Bumpy Nag(Bass) + Somnath Roy (Percussions) + Golam Fakir (Baul and Dotara )

7:00 pm – 7:30 pm
From Mumbai – Chintoo Singh Wasir (Rabab and Vocals)+ Imran Khan (Sitar)+ Zuheb Ahmed Khan (Tabla)

7.30pm – 8.00 pm
From Delhi – Subhendra Rao (Sitar)+ Vidya Shah (Vocals)+ Zuheb Ahmed Khan (Tabla)

8:00 pm – 9.30 pm
Curtain Blue (Electronics) followed by Sub:System (Lyrix Organix)
Padma Shankar: Padma Shankar is a renowned Violinist from Chennai and presently, Head of the Department for classical music in Shankar Mahadevan Academy, an online music academy founded by Mr. Mahadevan. She is graded "A" by the All India Radio and is a regular performer in both All India radio and Doordarshan. She was the part of the first ever Carnatic classical symphony composed and conducted by Lalgudi. She participated in the Tam Tam fest 2007 in Tel Aviv with the Laya Project Live (world music) and the Earth Sync Festival 2008 with world musicians. In 2011, she accompanied Anoushka Shankar at the premier of her album "Traveller" in Girona, Spain.

Paul Jacob: Paul Jacob is a critically acclaimed musician from Chennai who has travelled the world with his music. Having started out playing the bass guitar aged 12, Paul went on to be a part of several rock bands before joining "Nemesis Avenue", which featured future Oscar winner A. R. Rahman on keyboard. His music for The Square Circle, a docudrama by Timeri Murari, won the Best Documentary Music Award at Cannes Film festival, 1998. With Bodhimuzzik, Paul, he has produced collaborative projects with award-winning producers like Thione Seck (Senegal), Francois Breant (France), Susheela Raman (UK), Fantazio (France), and the Hungarian Gypsy Orchestra.

Prakash Hariharan: Prakash Hariharan is a classically trained electric Mandolin virtuoso. He focuses on fusion and South Indian classical (Carnatic) music. In addition to his original and classical work, Prakash continues to work in the film industry with notable composers like A.R. Rahman, Harris Jeyaraj, Imman composing and producing soundtrack works.

Perimelam Drummers: Perimelam Drummers was started in 2007 as a 10-member band and has now grown up to a 45-member band. The musicians in this troupe play a form of drum which is one of the oldest drums used in India, especially in the South Indian state of Tamil Nadu.


Tetseo Sisters (Naga Heritage Village, Kohima): are four sisters, Mütsevelü (Mercy), Azine Vezivolü (Azi), Kuvelü and Alüne Tetseo and a brother- Mhaseve, with a repertoire of Naga folk songs from Nagaland's Kohima. They sing Li (folksongs) in the Chokri dialect of the Chakhesang Naga tribe of Nagaland and their songs are often accompanied by the traditional Naga one stringed instrument, the Tati/Heka Libuh. From school festivals and church events, concerts and conventions, they have made numerous appearances at state level programs, festivals and during official visits of government heads. They have received several awards and were the first artists from Nagaland to perform at the NH7 Weekender music festival.


Rida and the Musical Folks (Royal Heritage Tripura Castle, Shillong): Rida and The Musical Folks is a collective from Meghalaya. Their style of music is influenced by elements of Khasi and Jaintia folk music. The collective brings together artists from various backgrounds to create a unique sound. Their sound is a fusion of the traditional and the contemporary folk music. All the instruments used by Rida and The Musical Folks (excluding the acoustic guitar) are hand crafted by the musicians.


DJ Sagar (Guwahati): Harpreet Singh Anand popularly known as DJ Sagar is a Bollywood and Progressive House musician from Guwahati. He has been a regular DJ in the club circuit all across Northeast India and has been part of performances in rest of India as well as in Thailand. DJ Sagar has opened shows for many internationally renowned DJ such as DJ Suketu, DJ Auqeel, DJ Akhil Telraza and DJ Lemon among others. He is also into music production and makes his own tunes.


Artists from Arunachal Pradesh
Lama Tashi (Bomdila Monastery): Ngawang Tashi Bapu (born 1968), also known as Lama Tashi, is a former Principal Chant Master of the Dalai Lama's Drepung Loseling Monastery. A Monpa, Tashi was born in the Thembang village of West Kameng in Arunachal Pradesh, India and commenced formal study in 1983, at age 15. He is a multi-phonic chanter and has performed twice at the Carnegie Hall in New York City. Tashi has also performed with popular recording artists such as Natalie Merchant, Michael Stipe (R.E.M.), Patti Smith, Ben Harper, Philip Glass, Kitaro and Sheryl Crow. Currently, he lives in Bomdila and is the Director of the Central Institute of Himalayan Culture Study, at Dahung in Bomdila. Affectionately known as the Singing Monk, Tashi was one of the nominees for the Best Traditional World Music category at the 2006 Grammy Awards.


Varun Desai/Yidam: Varun Desai is a music producer and DJ. Born and raised in Kolkata. He is a Purdue University graduate in computer engineering. His passion for music led him to start DJ-ing and producing events, which subsequently turned into his current profession as the director of an event management company. Since 2002, he has been touring the world, both as a cultural representative and as a music producer and DJ.

Somnath Roy:Somnath Roy plays a variety of percussion instruments. He is well known for his playing of the earthen clay pot Ghatam, a percussion instrument used in south Indian classical music.He began learning Hindustani flute from Nepal Sarkar and went on to learn north Indian percussion tradition from Bablu Biswas.

Mainak 'Bumpy' Nag Chowdhury: Mainak Nag Chowdhury, aka "Bumpy", is an accomplished bass player and composer-music director. He has travelled with his own projects and also as a session- player with eminent artists and bands from India and abroad. His versatility with different genres makes him one of the most sought after bass players from India.

Subir Ray: Flautist Subir Ray is a worthy disciple of Pandit Debaprasad Bandyapadhyay, Pandit Sanjoy Bandyopadhyay and Sulaya Bandyopadhyay. He was a gold medallist in instrumental music (MA) from Rabindra Bharati University. Performing for the last 20 years, he has accompanied with numerous artistes, both vocal and instrumental.

Golam Fakir: Golam Fakir is a singer and dotara player (an instrument part of the Baul tradition of West Bengal). Golam is from Gorbhanga village located in Nadia District of West Bengal, in East India. A leading singer in baul music, he is known for his melodious voice and his own unique style of playing dotara.


Chintoo Singh Wasir: At the age of ten when children his age return with bruised knees from the playground Chintoo Singh Wasir was strumming the guitar and thinking up melodies. His quest to learn more about his calling and his beloved instrument of choice made him a complete musician, adept at both the Indian & Western styles of music. In fact, music is at the very core of this soft- spoken music-wiz. A global performer, composer, rabab player and a Sufi singer, Chintoo Singh Wasir has composed and arranged music whilst dazzling audiences with his mesmerizing solo acts on various platforms including advertising, television & films.

Imran Khan: It could be said that Imran has music in his blood. Hailing from the Sikar Gharana, he is a ninth-generation sitar musician from a lineage of court musicians that have preserved Indian Classical music as a family tradition. Training from the age of 6 with his grandfather, the late sarangi player and vocalist Ustad Gulab Khan, he continued his sitar training with his father Ustad Niyaz Khan and his uncle Padma Bhushan Ustad Sultan Khan. Years of training, performances and collaborations have led to a depth of sound in Imran's sitar playing that, although loyal to Hindustani Classical music, is also able to compose a stunningly resonant contemporary style.


Curtain Blue: Curtain Blue is Abhishek Bhatia's solo project. Vocalist of a Delhi based band, The Circus, Abhishek has also been producing his own electronic music and has decided to take it live in the Curtain Blue avatar. Fusing haunting vocal melodies with down tempo and bass sensibilities, he aims to create a blend which can uniquely be called his own. Curtain blue draws inspiration from artists such as Radiohead, Apparat, Moderat, Jon Hopkins, while creating a niche for itself. Abhishek Bhatia has performed at Bacardi NH7 Weekender and the flagship edition of the Magnetic Fields Festival in Rajasthan in 2013, where producer Robot Koch saw him perform. Their initial meeting led to a collaboration on Koch's acclaimed 'TSUKI' EP, released via MONKEYTOWN Records in 2015.

Shubhendra Rao: Composer and performer, Shubhendra Rao is ranked amongst the key soloists of India. Distinguished as a musical bridge to many cultures, he creates an experience for his audience that "is not aimed at titillating the senses, but to seize the soul" (The Hindu, New Delhi). A protégé of world-renowned Sitar maestro, Pandit Ravi Shankar, Shubhendra has established himself not only as a master of his instrument but also as a thinking musician, constantly endeavoring to carry his instrument beyond conventional boundaries. Hailed as a worthy successor to his Guru's tradition, Shubhendra has performed at major music festivals and concert halls like Broadway and Carnegie Hall in New York, WOMAD festival in Guernsey, UK, Sydney Opera House in Australia, National Arts Festival in South Africa, Theatre de le Ville in Paris, Edinburgh festival. In November 2007, he was awarded the "Youth Icon for Classical Music" by the popular Zee Television Network.

Vidya Shah: Vidya Shah is a singer and musician from New Delhi, India. She was initially trained in Carnatic music, and later received guidance in the North Indian genres of Khayal (from Shubha Mudgal and Mujahid Hussain Khan) and Thumri Dadra, and Ghazal (from Shanti Hiranand). She has performed at national and international forums, including the Tansen Samaroh in Gwalior, The Kennedy Centre in Washington D.C, The Asia Society in New York and the Bode Museum in Berlin. A popular performer and a prolific composer, she is a recipient of the Charles Wallace Award and a Senior Fellowship from the Government of India.


Dan Tsu: Dan Tsu is an event producer and educator. A passionate facilitator, cultural speaker and Event Management module leader (BA (Hons) Music Business at BIMM London), Dan regularly develops major youth education programmes for the likes of The Roundhouse, Mayor of London, International Youth Arts Festival and Cardboard Citizens. Dan is also the founder and director of Lyrix Organix. Renowned for boundary-pushing events that explore the nexus of live music, poetry and hip hop, to promote youth and charitable causes. His current portfolio includes Glastonbury Festival (The Rum Shack), UK Beatbox Championships, Brighton Festival, Woodland Trust and British Council (Sudan, Ethiopia, Russia, Kazakhstan, Azerbaijan, Georgia). He has also produced major events and tours for the Mayor of London (GLA), London 2012, The Roundhouse and Kings Place. With a reputation for championing and collaborating with young talent, Dan has also worked closely with the likes of Ed Sheeran, Akala and Kate Tempest.

Nightwave: Maya Medvesek, better known as NIGHTWAVE, is an active member of the Glasgow music scene that has established herself as an internationally renowned DJ, producer, vocalist, club promoter, label boss and in more recent years an activist and educator. As a DJ, Nightwave has toured the World and supported some of the biggest names in dance music and runs her own club night Nightrave in her hometown of Glasgow as well as selected locations in Europe. She regularly features on BBC Radio1, Rinse FM, NTS, Radar etc as a producer, she has released on labels like Fool's Gold Records, Unknown To The Unknown and vocally collaborated with Rustie on his Warp Records debut Glass Swords.

Cooly G: DJ / Producer / Remixer/ Artist / London / Musician