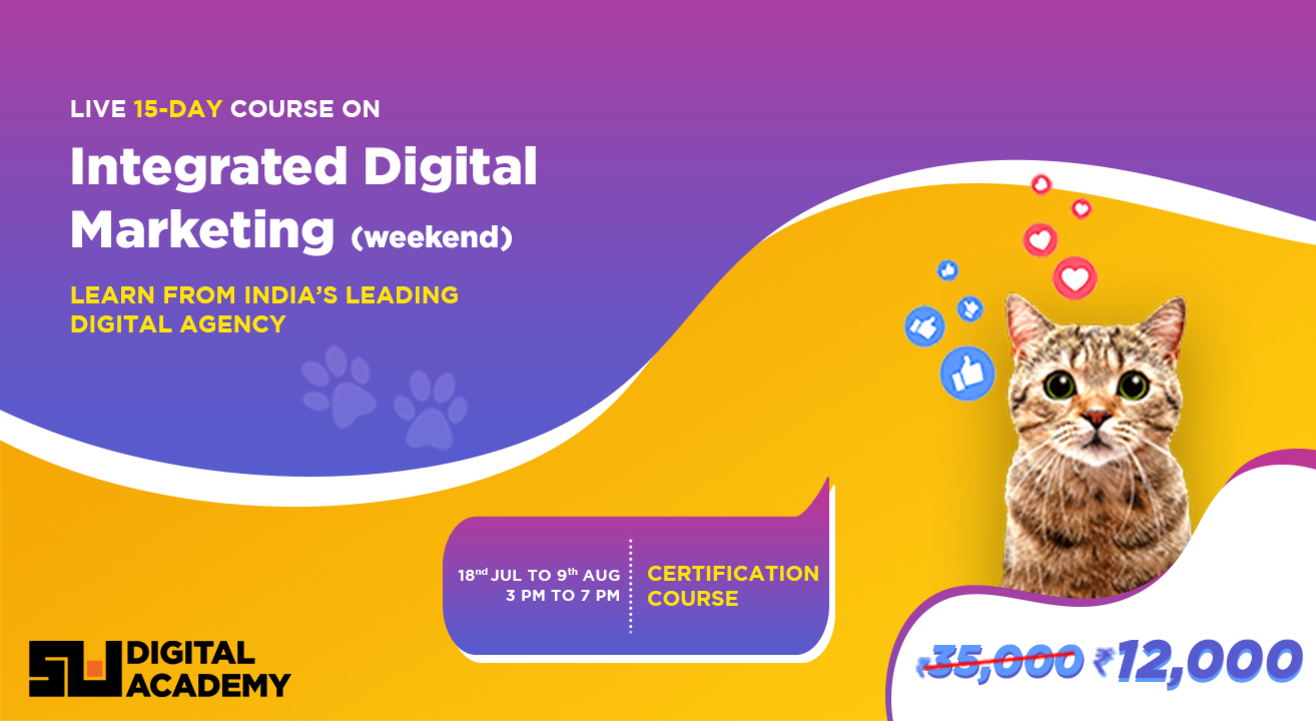 Integrated Digital Marketing Course by Sociowash Digital Academy
July 18 | 3PM - August 9 | 7PM
Enjoy this event from your home
Invite your friends
and enjoy a shared experience
Invite your friends
and enjoy a shared experience
About the Event
NOTE :
The event will be hosted on the Webinarninja Portal.
Session timings will be from 5pm to 7pm on all weekdays.
The Course:
Over 30 hours of holistic LIVE online training sessions on various core Fundamentals of Digital Marketing.
The Perspective - Learn about the overall marketing perspective and the art of becoming a strategic thinker; understand the evolution of digital and how brands across the globe are using digital marketing.
The Ecosystem - This phase talks about identifying the existence of Digital Advertising in everyday lives & understanding every component of Digital Marketing.
The Foundation - Setting up the right foundation for your digital marketing & gearing up for delivering successful brands & campaigns.
Intent & Micro-moments - Understand how to identify the right moments to provide the consumers with what they are looking for & to interact with them multiple times.
Attention & Interest - Learn the art of interruption marketing & the science of driving action basis a user's behavior on Digital Media.
Communication - Learn about consumer behavior across digital media & the art of relevant communication.
Understanding Data - Digital is all about data & understanding the consumer. Learn to make sense of data & make it work as a feed to your subsequent campaigns.
Coming Together - Deep-dive into how brands utilize the avenues with detailed case studies & also learn and formulate your own comprehensive strategy.
Self Sustenance - Digital marketing is not just strategy, but also hardcore execution. Learn various tools like Freepik, Canva, Photoshop etc. to be able to self sustain from ads to designing.
Advanced Practitionership - This is all about the extra edge. Learn advanced techniques & strategies & go a level up.
Who is this for:
The Student - You will learn about the entire Digital Ecosystem, from basics to advanced level techniques required to crack interviews and get a Job and excel at it.
The Entrepreneur - You will learn about the entire Digital Ecosystem, and performance oriented strategies which will help you fulfil your business goals and generate positive ROI.
The Upskiller - You will learn about the entire Digital Ecosystem, details about each facet of it to develop strategies and campaigns to leverage the digital to its full potential for the brands that you work for and will work for in the future.
About Sociowash Digital Academy
Sociowash Digital Academy is a platform where an individual not only learns digital marketing but also the perspective to be able to think right. Apart from providing holistic training sessions, we discuss case studies, provide a real-life working environment so you #BecomeIndustryReady.
An initiative by Sociowash
The academy is operated by one of the fastest growing creative digital agencies in India with an experience of working with 200+ brands across 5+ years of operation. We understand the industry and hence have created courses that makes our trainees ready to take the industry head on.
For more information please visit our website (www.swda.in) or contact +91 9958-472-372