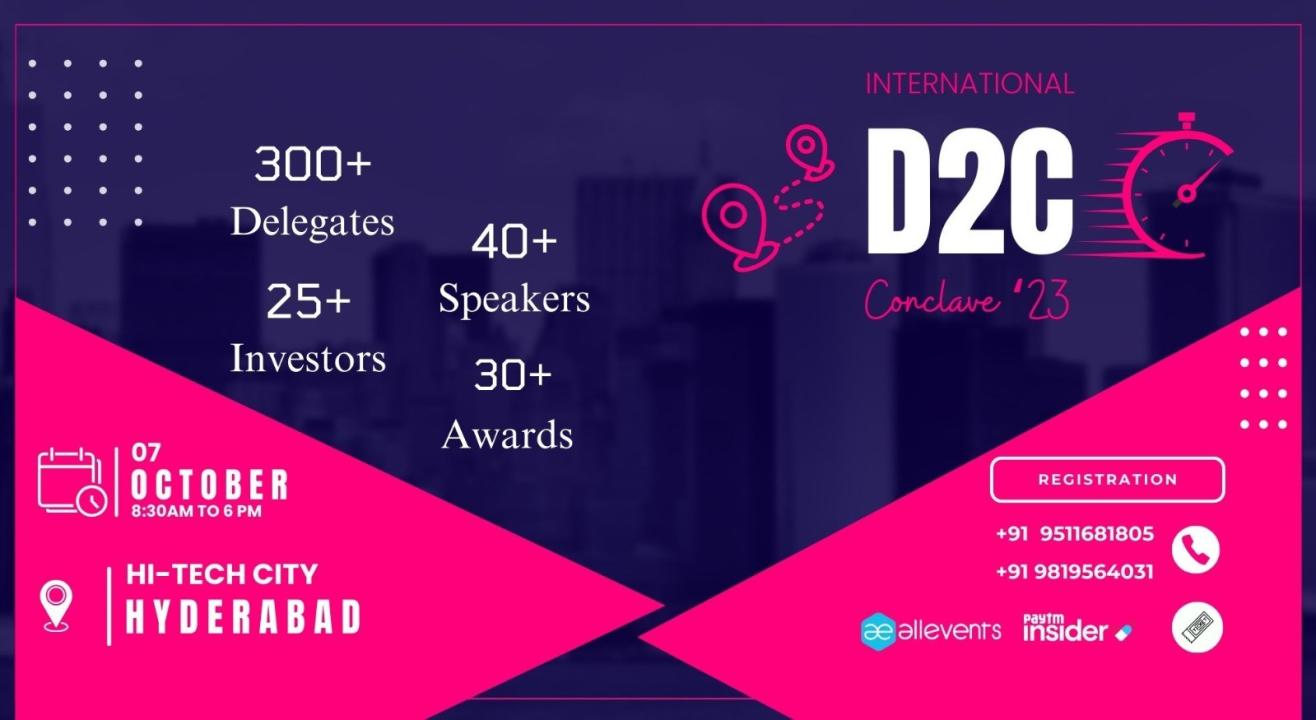 International D2C Conclave'23
Event Guide
Live Performance
Enjoy a unique experience
Invite your friends
and enjoy a shared experience
International D2C Conclave'23
Event Guide
Live Performance
Enjoy a unique experience
Invite your friends
and enjoy a shared experience
Event Guide
Live Performance
Enjoy a unique experience
Invite your friends
and enjoy a shared experience
The International D2C Conclave 2023 in Hyderabad is Co-Organized with Global Startup Summit '23 it is an high ticket B2B event with 350+ pax including - Startups VCs Founders Consultants and Enthusiasts.
The International D2C Conclave 2023 invites you to an event that promises to reshape the landscape of Direct-to-Consumer (D2C) businesses. Our mission is: to foster a thriving ecosystem where knowledge-sharing and meaningful relationships are at the forefront of D2C excellence.
There will be 9 hr+ of in-depth information sharing from professionals during this full-day event for entrepreneurs. There will be 2 rooms running simultaneously with Panel discussions Networking workshops and Masterclasses and a second room with Startups pitching live in front of the investors & finally awards
The International D2C Conclave is designed to empower you with the tools insights and connections you need to take your D2C venture to the next level. Here's what you can expect:
Elevate Masterclasses: Dive deep into the latest D2C strategies and trends with Elevate masterclasses led by experts in the field. You can gain the knowledge you need to elevate your business.
Pitchathons: Present your ideas and innovations to marquee investors eager to discover the next big thing in the D2C space. Get ready to impress and secure potential investments.
Keynotes and Panel Discussions: Learn from industry experts through captivating keynotes and engaging panel discussions. Gain valuable insights and practical advice from those who have made their mark.
Networking Opportunities: Build meaningful relationships with fellow entrepreneurs and industry leaders. Our relaxed and neutral networking platform provides the perfect setting to connect and collaborate.
VCs that attended our past events are:
Taran Bedi - Dexter Capital
Vivek Kumar - Venture Garage
Nitin Shakder - Green Capital
Apurva Beniwal - She Capital
Nemesisa Ujjain - Hunch Ventures
Koushik Shekhar - Enlighten VC
Balasubramaniam M – Adytonventures
Aravin Namdev - Ah! Ventures
Ajay Banka - Angel Investor
Ankit Jain - Alatree Ventures
Om Thakkar - Mercury Ventures
Saahil Sinha - avener capital
Tushar Sadhu - W Health Ventures
Ayush Surana - Beej Network Pvt Ltd
Jay Magdani – LetsVenture
Ketur Shah - Abans Group
Prem Sagar - Piper Serica
Ritu Thakkar - RiskPro India Ventures Pvt. Ltd.
Ashutosh Kumar - 8x Ventures
Noa Mutsafi - InnoA (Innovation Asia) Ventures
Pravin Salve - Softkoash Solutions Pvt Ltd. Pune
Anil Taneja - Venture Catalysts
Vinit Jain - Antennae Ventures
Darshit Jain - Yugo Capital
Shubham Sharma - Deeshuumm Ventures Private Limited
Priyanka Bohrav - Future Corp Capital
Vaishnavi Ashar - Crest Ventures Limited
Prerna Sangoi - 100x.vc
Meghna Makda - Veda Capital
Nakul Agrawal - Equanimity Ventures
Neha Sonathalia - Niraga Capital
Chennabasava .c - B2c Venture
Prasad Patil - Mobility Angel Investor
Gautam Gupta - Tanas Capital
Pravin Shiva - Incred Capital
Vinod Keni - Peachtree Ventures
Join Us at the International D2C Conclave 2023. It's time to learn grow and thrive in the ever-evolving world of D2C.
Mark your calendar prepare to elevate your D2C game and get ready to network with the best in the business. Together we'll pave the way for a future where D2C brands from around the world can succeed and disrupt global markets. Hyderabad awaits you and so does your D2C journey of a lifetime.
Avasa
Survey No. 64, 15, 24, 25 & 26, Hitech City Rd, HUDA Techno Enclave, HITEC City, Hyderabad, Telangana 500081, India
GET DIRECTIONS
International D2C Conclave'23
Event Guide
Live Performance
Enjoy a unique experience
Invite your friends
and enjoy a shared experience