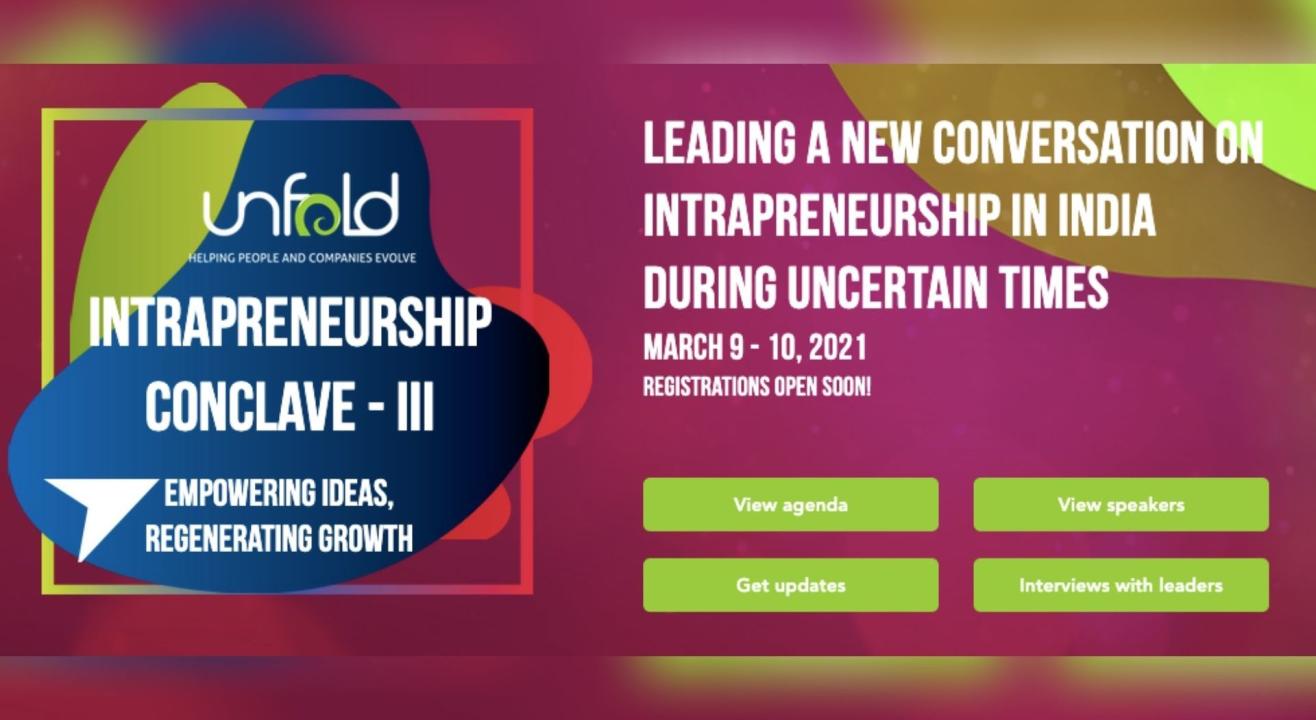 Intrapreneurship Conclave - 3rd Edition
March 9 | 9AM - March 10 | 6PM
Enjoy this event from your home
Invite your friends
and enjoy a shared experience
Intrapreneurship Conclave - 3rd Edition
March 9 | 9AM - March 10 | 6PM
Enjoy this event from your home
Invite your friends
and enjoy a shared experience
Invite your friends
and enjoy a shared experience
Take charge of your success, with the Intrapreneurship Conclave!
In a world full of newness, just staying afloat can be challenging. But what if employees could help companies grow with empowering ideas? Attend the Intrapreneurship Conclave (March 9 - 10) to unlock insights from innovators and visionaries.
Level up your intrapreneurial game, interact with successful intrapreneurs and find out how Indian companies are rising up in a world slowly recovering from a pandemic. Register now to avail benefits of a discounted ticket cost!
For more details on agenda & speakers visit
https://www.intrapreneurshipconclave.com/
Unfold Consulting
Email: info@unfold-consulting.com
Website: www.unfold-consulting.com
Ph. No: 98866 23123
​
Unfold is a boutique people and change consultancy that helps clients create winning cultures to address their most pressing business priorities. We do this through our work in Inclusion & Diversity, Internal Entrepreneurship, and Transformative Talent Management Solutions.
Intrapreneurship Conclave - Edition 3 | March 9-10, 2021
Intrapreneurship Conclave - 3rd Edition
March 9 | 9AM - March 10 | 6PM
Enjoy this event from your home
Invite your friends
and enjoy a shared experience