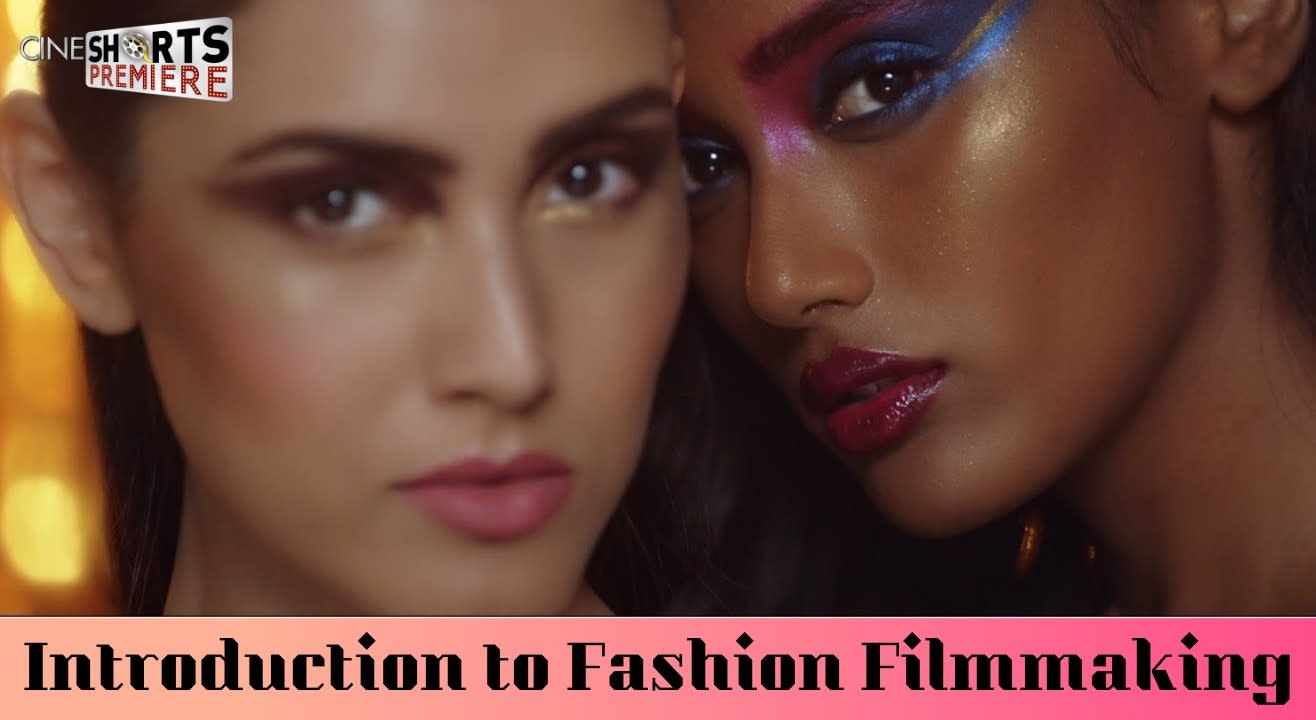 Learn How to create Fashion Films
November 22 | 11:30AM - 2PM
Enjoy this event from your home
Invite your friends
and enjoy a shared experience
Invite your friends
and enjoy a shared experience
About the Event
Tired of exploring the usual ways of filming! Here we get you a unique experience to unleash your creative best.
Whether you're an amateur or professional filmer, this workshop shall definitely help take a peek in the world of Fashion Films. Blend your stories into colors. Understand what goes into creating a Fashion Film, nuances of a brand film, conceptualisations & some tips to help you plan your next film. Here's a detailed flow on what you can expect from the workshop:
Workshop Flow:
- Introduction of Arshad Sayed (Directors Reel: https://vimeo.com/arshadsayed)
- Career Highlights
o Getting nominated in film festivals abroad and winning an award in Singapore.
o Moving from video editor to director
o Shift from editorial to corporate brands
- History of Fashion Films
o The warner Corset advertisement in 1910 (stop motion showing the working of a
corset)
o Lafayette Galleries women's shoes (1912)
o Bata shoe commercials 1920s and 1930s
- Early Fashion Film Pioneers:
o Horst P Horst
o Erwin Blumenfeld
- Revolutionised Fashion Films
o Jonas Mekas (Got Andy Warhol to make films)
o Andy Warhol (Pioneer of the pop art movement)
o Kenneth Anger (Lucifer Rising, Rabbits Moon)
o Alejandro Jodorowsky (Holy Mountain, Santa Sangre)
- Modern Masters of the Craft
o Nick Knight
o Gordon Von Steiner
o Ruth Hogben
o Ines and Vinoodh
o Jonas Akerlund
o Marie Schuller
- Indian Fashion Filmmakers
o Bharat Sikka
o Vishesh Verma
o Ishaan Nair
o Colston Julian
o Fashion Film Festivals
§ La Jolla
§ Fashion Film Festival Chicago
§ International Short Film Festival Parachute Light Zero Paris
§ Showstudio fashion film awards
§ Berlin Fashion Festival
§ Lakme Fashion Week
- Understanding how brand films in India work
o Examples
- Narrative driven brand films
o Examples
- Client brief
o Orson Welles said "Every story that can be told has been told. What we all do is
make our version of it" That is the most apt for fashion briefs and Indian clients.
- Planning a film
o Pre-production with Art, Costume, Hair and Makeup
- Shooting the film
o From High End cameras to Modern cell phones.
- Editing a fashion film
o Duration of a film
o Basic flow of the edit
§ Westside
o Creating a narrative in post
§ Ranveer Singh GQ shoot
o Gimmicks and visual trickery
§ Tagfree
o Music and Sound Design
- Fashion films for Fashion shows (Due to Covid-19)
o Designers showcasing their collections as films in the absence of Fashion Week.
o Makes it accessible
o Has a broader reach
- Exclusive Premiere of my new fashion film "Qatisa" for the attendees.
o Film is already nominated at "La Jolla International Fashion Film Festival"
o La Jolla is the Cannes of the fashion film world.
- Q&A
About Arshad Sayed: (Director's Bio)
- I started off interning with Filmmaker and editor Yusuf Khan in the year 2009.
- Post the internship I did a diploma in 3D animation and VFX, which I completed in 2011.
- Due to lack of opportunities I worked at Thirsty Fish as a Visualizer and Graphic
designer.
- In 2012 while freelancing as a graphic designer and video editor I got a call to appear
for an interview at Condé Nast India, they were in the midst of setting up an in-house
video team to create fashion content for GQ, Vogue and various other fashion brands
under the wing of Condé Nast factory. I started working there as a video editor till I got
my break in 2014.
First break as a Director:
- I got my first break as a Director in 2014. I directed my fashion film for GQ India titled
"The Manifesto" featuring Zayed Khan. This garnered great reaction from the GQ team
and they started offering me more directing jobs.
Working with brands:
I have had the pleasure of directing projects for many Luxury, Lifestyle and travel brands
like Singapore Tourism, H&M, Amazon, Nescafe, MRF, Van Heusen, Arrow, Blackberry's,
Westside, Studiowest, Femina Flaunt, Lakmé, Anita Dongre, Fila, Pizza Express, Raymonds,
Azva, FBB, Planet fashion, Swarovski, ASICS, Satya Paul, Reliance Brands, Allen Solly, Nykaa, Asian Paints to name a few.
Career Highlights & Awards:
- In 2014 I got a chance to direct a campaign for Singapore Tourism board featuring Vir
Das. This campaign went on to win an award in Singapore (Singapore Tourism Awards –
Best Singapore experience story (Digital) 2015)
- Directed a fashion film for designer Gaurav Gupta. The film was nominated at 2
international fashion film festivals (International Short Film Festival Parachute Light
Zero Paris & Fashion Film Festival Chicago)
- My first short film "Chaos" released on YouTube hosted by Cineshorts Premiere.
- My fashion film "Qatisa" has been selected at the (La Jolla International Fashion
Festival and International Fashion Film Awards in San Diego California)
Arshad Sayed Director's Reel Digital