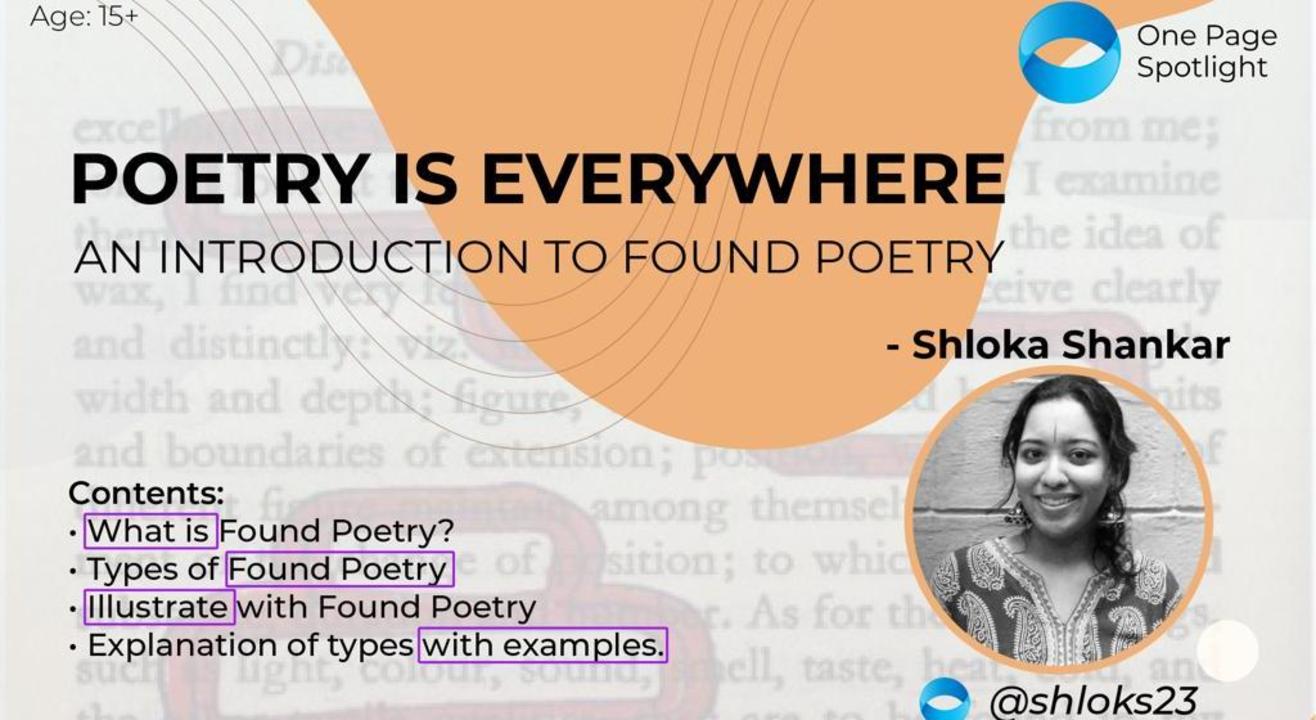 Introduction to Found Poetry- A One Page Spotlight Workshop
January 15 | 9:17PM - January 17 | 1:17AM
Enjoy this event from your home
Invite your friends
and enjoy a shared experience
Invite your friends
and enjoy a shared experience
About the Event
About the Artist and event:
Shloka Shankar is a freelance writer, poet, editor, publisher, and visual artist from Bangalore. She creates digital art, abstract & geometric art, and collage/visual poems.
'Much of my work can be described as "happy accidents" that stem from my need to constantly give my thoughts a voice and shape.', says Shloka.
Learn what is Found Poetry and the types of Found Poetry in her latest workshop with One Page Spotlight.
Materials Required for the workshop:
Newspapers/Magazines/Old Books/Text Books/ E-Books, Black Marker, Photo Editing App, Paints, Crayons, Bookshelf access, Scissors, Glue
What you can do post the workshop?
- Learn the basics and move to the intermediate and advanced levels
Process of Purchase:
1. Once the payment is made, you will receive a call/message from One Page Spotlight and we will send you the link to join the community on www.onepagespotlight.com for the workshop broadcast
2. You will be added to the community for the workshop and all the episodes will be sent to you there.
3. Once you have signed-up, you can now go ahead and view the workshop episodes for a limited time period of 12 pm - 6 pm IST on the date of broadcast and as per the confirmation time and date sent to you on email.
General FAQ's:
1. What do I do if I miss the workshop?
A. The workshop is for 1 hour only. However, we have ensured that you have access to the workshop for 6 hours on the streaming date for your ease of reference. If you miss it, you will receive access to a pre-recorded footage which will be edited and put into multiple episodes for your ease of viewing.
2. What happens after the time period?
A. You are removed from the Community of Broadcast by the Admin after completion of the workshop. Participants shall also be given an e-certificate of completion.
3. What if my link is not working?
A. You can call us on +91 90084 90086 for a fast-track solution or email is on contact@onepagespotlght.com with the screenshot and your contact details.
Terms & Conditions:
1. Workshop broadcast is available between 12 pm- 6 pm IST on the date of purchase of ticket.
2. You will be allowed entry to the workshop only on confirmation of receipt of the payment.
3. If you are unavailable at the stipulated time, you will not be refunded. However, in special cases, you can write to us at contact@onepagespotlight.com and we shall evaluate the same.
4. Taxes Extra (All payment gateway charges, Service Charge, Convenience Fees and GST to be paid by customer)
5. One Page Spotlight does not promise a job, money or internship for attendees after the workshop and is not liable for any claims for any damage to the participant.