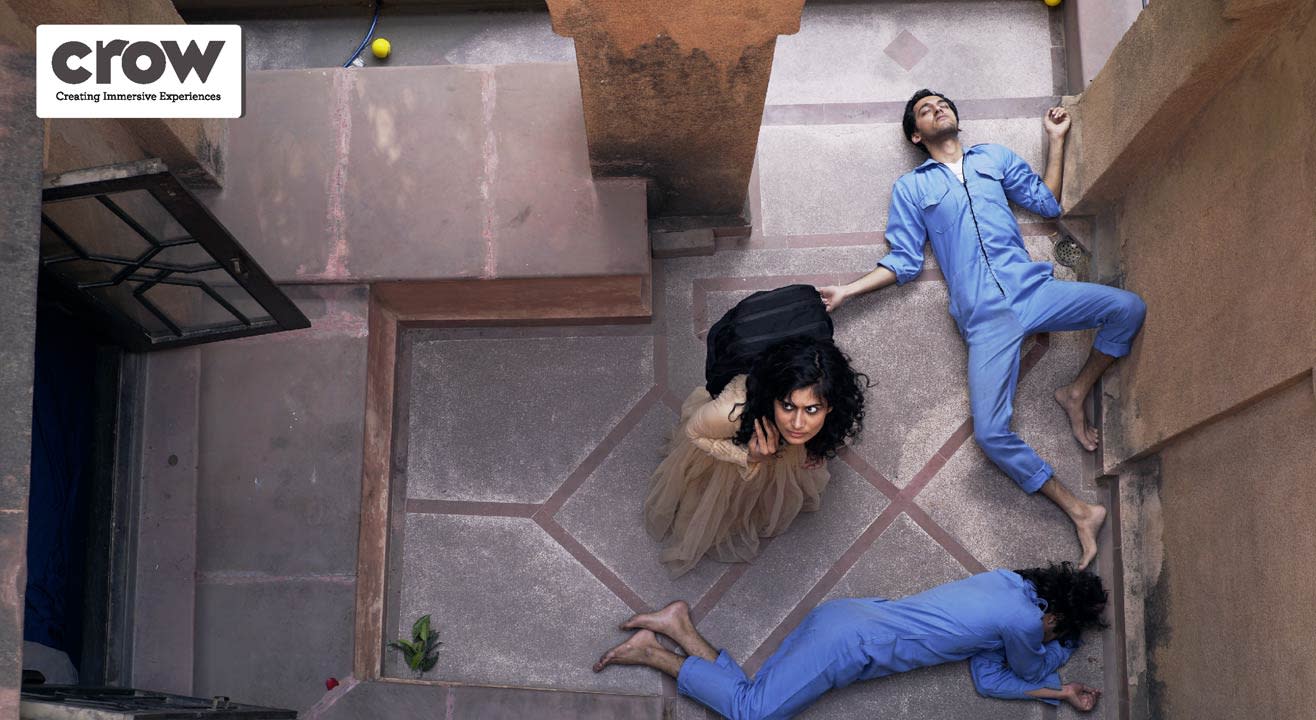 Theatre
Introduction to Immersive Theatre
Crow HQ Okhla, D-149 Okhla, Phase 3
About
Combining the live aspect of theatre and the immersion of gaming, immersive theatre is pushing the boundaries of what theatre can be. Non-linear narratives, unconventional spaces and audience participation all play a part in this unique form of storytelling. Learn the fundamentals of immersive theatre with Nayantara Kotian, founder and director at Crow, in this one day workshop at the site of Crow's next production.
This workshop is for anyone with an interest in performance and exploring new modes of storytelling.
Introduction to immersive theatre
Responding to the dynamics of a space
Exploring the body in space
Understanding the role of the audience
Nayantara is a theatre director, designer and award-winning filmmaker. She is the co-founder & director of immersive theatre company Crow, makers of The Floating Market, 2016, The Hungry Hearts Supper Club, 2017 & A Tall Tale, 2017. She is a graduate of the National Institute of Design, India and completed her Masters in Performance Design at Central Saint Martins, London in 2014. Nayantara has been a participant director at The Berlinale Talent Campus 2008, artist-in-residence at the Akademie Schloss Solitude, Germany, 2016 and was awarded the Charles Wallace scholarship 2013/14. For more events, check out our calendar at

https://www.facebook.com/pg/thecrowexperience/events/
Crow creates immersive experiences. By combining the live aspect of theatre and the interactivity of gaming, we build multi-sensorial worlds with their own sets of rules that the audience can explore, touch, inhabit and influence.

Founded by director-designer Nayantara Kotian and writer-actor Prashant Prakash in 2014, Crow is one of the first to bring this form of storytelling to India. Crow also created The Floating Market at U/A, a festival for all ages, in 2016.
Crow HQ Okhla is a unique space in Okhla Phase 3, New Delhi, kindly provided to Crow by the Gujral Foundation. Immersive theatre company, Crow is bringing it to life with workshops, talks and immersive experiences from Nov 2017- April 2018.
By Metro
The closest station is Govindpuri (Violet Line), from where it's a 5 minute auto ride. Ask for the NDTV office in Okhla Phase 3. We are at D-149. Adjacent to Designplus Associates Services (which is on Google Maps).

By Road
Cross Kalkaji Mandir metro station on your left, on outer ring road, from where it's an 8 minute drive.
Go straight from the signal and follow the road.
Less than a kilometer ahead, you will approach a flyover. Keep slightly left to stay off it, but do not make a left turn.
Make a u-turn under the flyover and then take the first left (beside Modi Flour Mills).
Follow the road, you will cross two roundabouts, go straight from both. Stop at the T point.
We are at D-149, to your left.