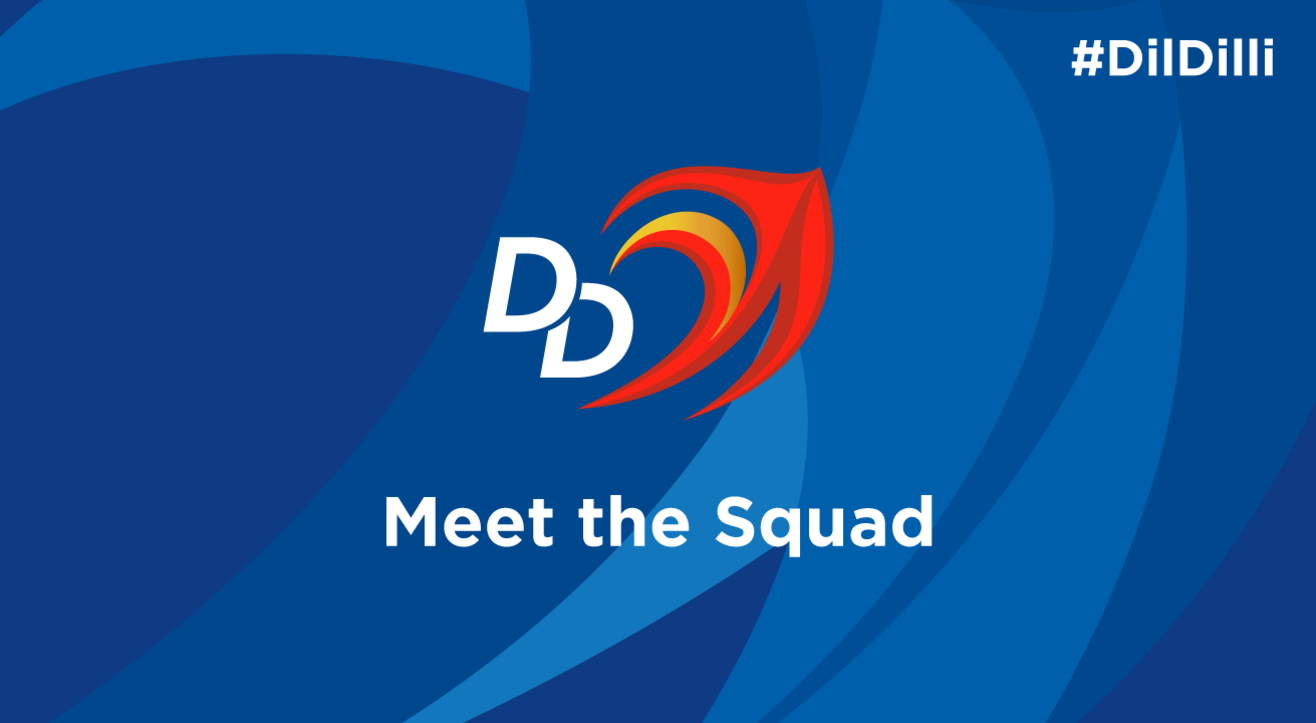 Cricket
Meet The DD team for VIVO IPL 2018
Check out the DD squad for VIVO IPL 2018 below!
DD SQUAD FOR VIVO IPL 2018 - INDIAN PLAYERS
Shreyas Iyer
The newly-appointed captain, the 24-year-old right-handed batsman and spinner is also making his DD debut. With his promising domestic batting average and sharp fielding, he's surely a player to watch out for.

Gautam Gambhir

Gambhir is a veteran left-arm batsman who has a proven record across all game formats for India. He has been reunited with his home team from playing with Kolkata Knight Riders.

Rishabh Pant

Roorkee-born wicket-keeper and batsman Pant is all of 20 years old. His exploits in the 2016 Under-19 World Cup include a match-winning century and a half-century from just 18 balls.


Amit Mishra

Right-arm spinner Amit Mishra can turn a match around for Delhi Daredevils with his flighty action. Often deployed towards the death overs for his disciplined bowling, batsmen are careful of his crafty deliveries.


Prithvi Shaw
Aged all of 18, Shaw held the domestic record in the Harris Shield for highest innings score at 546. Add his ability as an off-spin bowler, and the young all-rounder is a promising member of the Delhi Daredevils squad.

Mohammad Shami
Mohammed Shami is part of the new breed of Indian quicks, devastating with the old and new ball, red or white. With over 200 combined international wickets he is a potent weapon in DD's arsenal as they look to get early wickets.
Rahul Tewatia
Primarily a left-handed batsman, Tewatia can also bowl right arm leg break. His promising strike rate of 145 as a batsman and economy of 6.62 as a bowler make him a versatile player on the field.


Vijay Shankar
As a fresh addition to Delhi Daredevils, Vijay is an all-rounder with domestic experience for Tamil Nadu. Expect his quick ability to score runs under pressure and medium-paced deliveries to cement his place in the first team.


Harshal Patel
A right-arm seamer with a promising outswing, Harshal Patel is an attacking bowler capable of claiming upsetting wickets. He brings years of domestic experience to DD, along with an impressive record of playing across states around India.


Avesh Khan
First spotted as a 13-year-old at an MPCA trial, Avesh Khan was India's highest wicket-taker at the 2016 Under 19 World Cup in Bangladesh. After making IPL debut in 2017, the young pacer will be playing with the Delhi Daredevils this season.


Shahbaz Nadeem
The left-arm spinner played a decisive role in Delhi Daredevils' win over Mumbai Indians and Deccan Chargers in the 2012 edition. Shahbaz finished as the highest wicket-taker in two consecutive Ranji Trophy seasons with 51 and 56 wickets respectively. He has been a regular fixture in the Delhi Daredevils squad since 2014.

Jayant Yadav
An offspinner from Haryana, Jayant Yadav has played for the Delhi Daredevils since 2014. Besides his bowling prowess, Jayant has proved to be handy with the bat as well with a Test century to show for his ability.

Gurkeerat Singh
Having made his tournament debut in 2012 pulling off a last-ball victory for KXI Punjab, Gurkeerat Singh's impressive performances got him a place on the Indian ODI team. He made his ODI debut against Australia in 2016. He's got a good offspin hidden under those batting gloves and will be playing with the Daredevils for the first time this year.

Manjot Kalra
Manjot Kalra was instrumental in India's record fourth title win against Australia in the 2018 ICC U19 World Cup. Kalra smashed out 8 fours and 3 sixes in the innings that helped India chase 217 with more than 11 overs to spare. The 19-year old will make his tournament debut this year with the Delhi Daredevils.

Abhishek Sharma

17 year old bowler Abhishek Sharma led has many feathers in his helmet having taken India U19 to the Youth Asia Cup victory in December 2016 where he was the second-highest wicket taker. He also had a pivotal role in bringing home 2018 ICC U19 World Cup.


Naman Ojha
Naman Ojha is a top order batsman and wicket-keeper. Ojha exemplified his top form when he scored three consecutive centuries, including a double-century, in a first-class game in Australia in 2014. He was a part of the 2016 title-winning team Sunrisers Hyderabad.
Sayan Ghosh
Sayan Ghosh is a 25-year-old batsman from West Bengal where he's been an integral part of the Bengal and Bengal Under-19s teams. In the tournament, Sayan has played with Kolkata Knight Riders in 2017.
DD SQUAD FOR VIVO IPL 2018 - INTERNATIONAL PLAYERS
Chris Morris
With a knack to bat aggressively lower down the order and bowl through death overs with bounce, Morris can finish both ends of a cricket game. His fastest 50 in the tournament came from just 17 deliveries.

Glenn Maxwell
A powerful hitter, Maxwell is hard to contain when he fires from the crease. With superb fielding technique and free-hitting style, he's known to impact team scores nearly at will.

Jason Roy
Jason Roy's staggering strokeplay has made him the poster boy for England's T20 adventures. Born in South Africa, the Surrey batsman plays for many franchise teams including the Chittagong Kings, Sydney Sixers and Lahore Qalandars. This will be his debut innings with the Daredevils.

Colin Munro
A left-hander who's earned the reputation of being one of New Zealand's most reliable big hitters, Colin is a regular on the New Zealand T20 team. Well-known for his ability to take the game away from the opposition in a jiffy, Colin will open the game with captain Gautam Gambhir this season.

Liam Plunkett
Liam Plunkett is an English fast bowler who is somewhat of a white ball specialist. Having featured in 13 Tests, 65 ODIs and 15 T20is for his country, he brings a wealth of experience and T20 cunning to the DD squad.

Daniel Christian
Australian cricketer Daniel Christian is an all-rounder who, at home, represents Victoria. Christian represented Hampshire, who won the 2010 Twenty20 cup. Daniel has previously played for Deccan Chargers (2009), Royal Challengers Bangalore (2013) and Rising Pune Supergiants (2017).
Trent Boult
New Zealand national Trent Boult is a bowler who, in 2016, became the ICC's No.1 Ranked ODI Bowler. Cricket pundits have been impressed with Boult's ability to switch between the three formats. In Trans-Tasman trophy 2015–16 series, took a five-wicket haul in a day-night test and became the first New Zealander to do so. In this tournament in the past, Boult has played with Sunrisers Hyderabad (2015-16), and Kolkata Knight Riders (2017).

Sandeep Lamichhane
Nepal's stalwart cricketer, Sandeep Lamichhane, was discovered at the age of 14. He's a bowler who specialises in throwing leg-breaker googlys. Early this year, Lamichhane was named Player of the Tournament after taking 17 wickets in final ICC World Cricket League Division Two Nepal v UAE match.

DD SQUAD FOR VIVO IPL 2018 - COACHING & SUPPORT STAFF
Ricky Ponting - Head Coach

Iconic Australian cricketer, and two-time World Cup winning captain in 2003 and 2007, Ricky Ponting is head coach for DD.
Pravin Amre - Assistant Coach
Pravin Amre is a name taken from History books. The former cricketer is known for his century-scoring Test debut against South Africa in Durban in 1992. After retiring from playing professionally in 2001, Amre is now Assistant Coach for DD.

James Hopes - Bowling Coach
James 'Catfish' Hopes is a former Australian cricketer who has the record for most wickets in Australia's one-day domestic competition. Hopes played for DD in 2011 and will now be the bowling coach for the team.


Subhadeep Ghosh - Fielding Coach
Ex-Assam and Railways cricketer Subhadeep Ghosh took to the coaching arena as a specialist in fielding. Currently, he's also fielding coach to the Andhra Ranji Trophy side. Previously, Ghosh has been the fielding coach of Assam and done stints at the National Cricket Academy (NCA) and the Zonal Cricket Academy (ZCA).
Shreeram Sreedharan - Assistant Coach
The left-handed all-rounder from Chennai took the national spotlight when he became only the third batsman to score 1000 runs in a domestic season (1999-2000). He went on to be one of the most consistent openers in domestic cricket, before joining the rebel Indian Cricket League. In the past, he has served as coaching consultant for the Australian cricket team.

Sunil Valson - Team Manager
The left-handed all-rounder from Chennai took the national spotlight when he became only the third batsman to score 1000 runs in a domestic season (1999-2000). He went on to be one of the most consistent openers in domestic cricket, before joining the rebel Indian Cricket League. In the past, he has served as coaching consultant for the Australian cricket team.


Vaibhav Daga - Assistant Physio
A physiotherapist for the Indian cricket team among other teams, Daga is a seasoned professional. His efforts behind the scenes will keep the Delhi Daredevils squad energetic, light, and fighting fit.


Rajnikanth S - Team Trainer
Keeping players strong, focused, and disciplined through training, Rajnikanth S has a job that forms the base of Delhi Daredevils. Watch out for him at practise sessions as he takes teams through drills to keep them on their toes.


Paul Close - Head Physiotherapist
Mending muscles, easing strains, and keeping the Daredevils in top shape is Paul Close's role as the team's head physiotherapist. He has worked with the Indian national team in the past.
Sriram Somayajula - Team Analyst
Sriram Somayajula is a high performance analyst with many years of experience. He has worked for the Malaysian, Singapore, USA, Nepal and Sri Lankan cricket teams and associations in analyst roles. It was also at his suggestion that Sandeep Lamichhane was drafted into DD, having worked with Nepal Cricket in the past. He will help DD with analysing team and opposition performance, and create strategies to help them succeed. Sriram is also the co-founder of Sports Insight Technologies, a company that helps athletes with accurate and scientific data analysis.
Chetan Kumar - Masseur
Insider.in: Official ticketing partner for the VIVO IPL 2018 Playoffs (Eliminator & Qualifier 2) at Eden Gardens, Kolkata; and home games for DD & Kings XI Punjab (now completed).
Stay updated with cricket events that Insider.in will be ticketing in the future: Sign up here.
Need help regarding tickets or your order? Mail help@insider.in or call +91-22-61548585 / +91-9136622662.
For bulk / corporate bookings Mail corporatebookings@insider.in or call +91-22-33604736.
Subscribe to receive our newsletter!
Find the best experiences happening out there in your city or enjoy handpicked content while sitting comfortably at home. Insider is your go-to place to figure out what to do today!