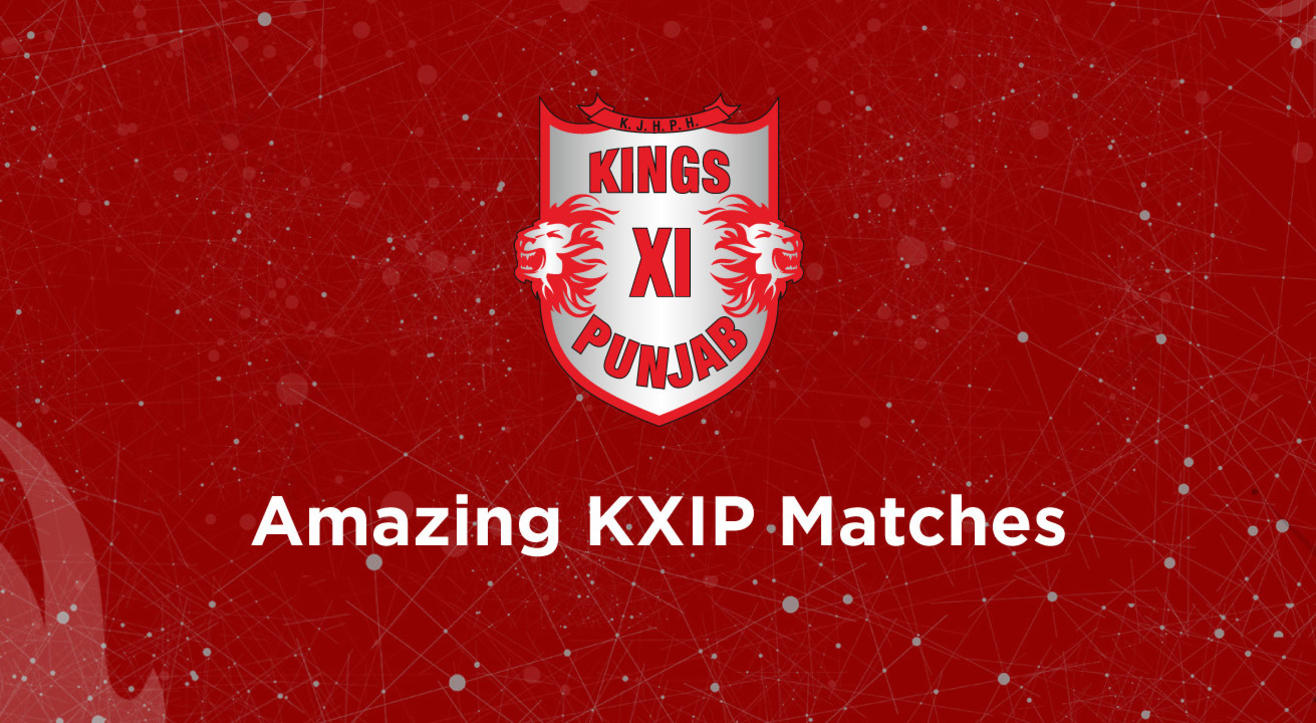 Cricket
Relive Kings XI Punjab's Greatest Moments With These Five Epic Matches
The best games that the enigmatic Punjab team has been a part of over the years.
The lads from Kings XI Punjab have had their fair share of ups and downs over the years, but they've given their fans plenty to cheer about with brilliant performances and thrilling matches that have now become classics. Let's rewind to some of KXIP's finest moments.
Kings XI Punjab vs Mumbai Indians (2017): The one where Saha takes centerstage
Not known for his big hitting, Wriddhiman Saha decided to take the MI bowlers to task with a swashbuckling 93* off 55 balls. With contributions from Glenn Maxwell and Martin Guptill, KXIP reached an imposing total of 230/3. MI's star-studded batting lineup went all out to chase the target, but the KXIP bowlers did just enough to earn a tight victory, winning by a margin of just 7 runs. Watch this runfest here.
Kings XI Punjab vs Rajasthan Royals (2015): The one with the Super Over
There's nothing more exciting than a Super Over, especially if your team comes out on top! In 2015, KXIP pulled off a remarkable win after equalling RR's total of 191, thanks to a last-ball boundary by Axar Patel. Before that, Shaun Marsh and David Miller struck 50s that helped KXIP reach the total. In the Super Over, Shaun Marsh struck 3 boundaries, as KXIP scored 15 runs. When RR came out to bat, Mitchell Johnson struck on the first ball and Saha effected a run out soon after to ensure a famous win for KXIP. Catch the Super Over here and relive the good times.
Kings XI Punjab vs Chennai Super Kings (2014): The one with The Maxwell Show
Even if you are not a KXIP fan, you will remember the 2014 season for Glenn Maxwell's heroics. It was in this season that he made his mark as a T20 phenom and helped KXIP reach the finals. He didn't waste any time, ensuring that KXIP got off to the best possible start in the tournament. In KXIP's first match of the season, CSK scored 205 runs and must have seemed favourites to win as KXIP's batsmen came out to bat. Maxwell, however, had different plans. With support from David Miller, Maxwell smashed the CSK bowlers out of the park, scoring 95 from 43 balls, as KXIP cruised to victory with more than over to spare. Watch The Big Show at his best.
Kings XI Punjab vs Kolkata Knight Riders (2013): The one where teamwork won
One of KXIP's best team efforts resulted in a thrilling 4-run victory over a seemingly dominant KKR. Batting first, KXIP put up 157 on the board, with contributions from Mandeep Singh, David Miller and Manpreet Gony. The bowlers put up an epic fight, with almost everyone picking up wickets and piling on the pressure. Finally, it was Praveen Kumar who held his nerve in the final over to hold KKR to 153, ensuring a brilliant team victory.
Kings XI Punjab vs Kolkata Knight Riders (2012): The low-scoring thriller
Low scoring matches are a rarity in T20 cricket, which is what makes them even more exciting to watch. In 2012, when KXIP scored just 134 after batting first (thanks to Mandeep Singh and David Hussey's contributions), KKR must have expected an easy victory. But when KXIP came out to bowl, KKR were shell-shocked. An early wicket added to the pressure and the bowlers never let up. With 9 needed to win, Harmeet Singh bowled the now-legendary final over and KKR fell short by 2 runs. What an epic match!
This season, The Kings are loaded with star power and will aim to make it their best season yet. Can they do it? Make sure you're there to find out as you cheer them on!
Kings XI Punjab Indore Match Tickets
KXIP Fan? Check out more cool content below!
Insider.in is ticketing the home games for DD & Kings XI Punjab in the VIVO IPL 2018.
If you have questions regarding these or your order, please mail help@insider.in or call +91-22-61548585 / +91-9136622662. For bulk / corporate bookings, please mail corporatebookings@insider.in or call +91-22-33604736.
Subscribe to receive our newsletter!
Find the best experiences happening out there in your city or enjoy handpicked content while sitting comfortably at home. Insider is your go-to place to figure out what to do today!