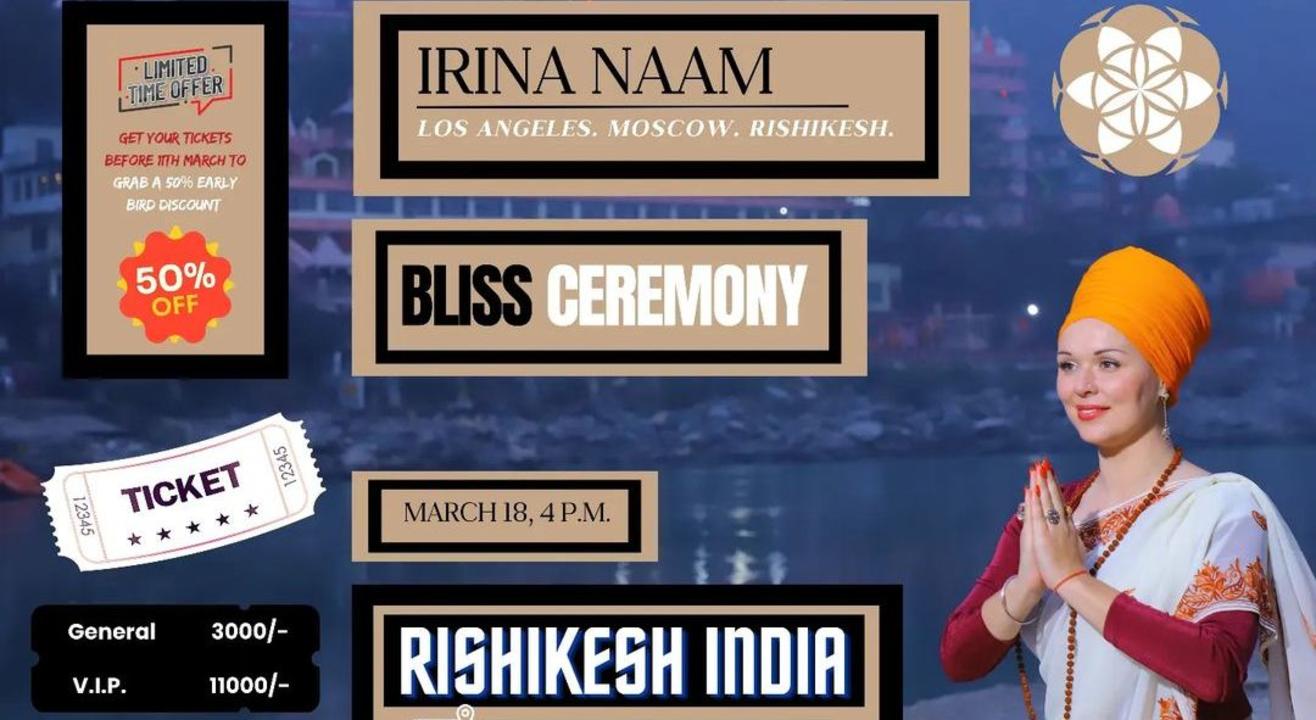 Irina Naam Bliss Ceremony
Irina Naam Initiation Center, Rishikesh
Step out and enjoy this event
Event Guide
For Age(s)
Family Friendly
Live Fitness
Workout with a pro
Invite your friends
and enjoy a shared experience
Irina Naam Bliss Ceremony
Irina Naam Initiation Center, Rishikesh
Step out and enjoy this event
Event Guide
For Age(s)
Family Friendly
Live Fitness
Workout with a pro
Invite your friends
and enjoy a shared experience
Event Guide
For Age(s)
Family Friendly
Live Fitness
Workout with a pro
Invite your friends
and enjoy a shared experience
Join us for an evening of blissful celebration with renowned spiritual teacher and healer, Irina Naam. The Irina Naam Bliss Ceremony will be a unique opportunity to connect with ancient wisdom and experience the transformative power of fire, yoga, breathwork, divine speech, and classical dance.
The event will begin with a Fire Ceremony, where attendees will have the chance to release negative energy and set positive intentions for the evening ahead. Following the ceremony, Irina Naam will guide the group through a dynamic yoga practice infused with ancient breathwork techniques designed to awaken the body, mind, and spirit.
In the second half of the ceremony, Irina Naam will deliver a powerful Divine Speech on Bliss, sharing insights and teachings on how to cultivate joy and fulfillment in our daily lives. The evening will culminate with a mesmerizing classical dance performance by renowned dancer Sujata Ray, who will infuse her movements with the energy of the ceremony and inspire attendees to embody the blissful state.
This event is open to all levels and backgrounds, and no prior experience is necessary. Whether you are looking to deepen your spiritual practice or simply seeking a moment of rejuvenation and joy, the Irina Naam Bliss Ceremony is not to be missed. Book your tickets now for an unforgettable evening of transformation and bliss.
Irina Naam Initiation Center
7, Swami Omkarananda Saraswati Rd, Ganga Vatika, Rishikesh, Uttarakhand 249137, India
GET DIRECTIONS
Irina Naam Bliss Ceremony
Irina Naam Initiation Center, Rishikesh
Step out and enjoy this event
Event Guide
For Age(s)
Family Friendly
Live Fitness
Workout with a pro
Invite your friends
and enjoy a shared experience