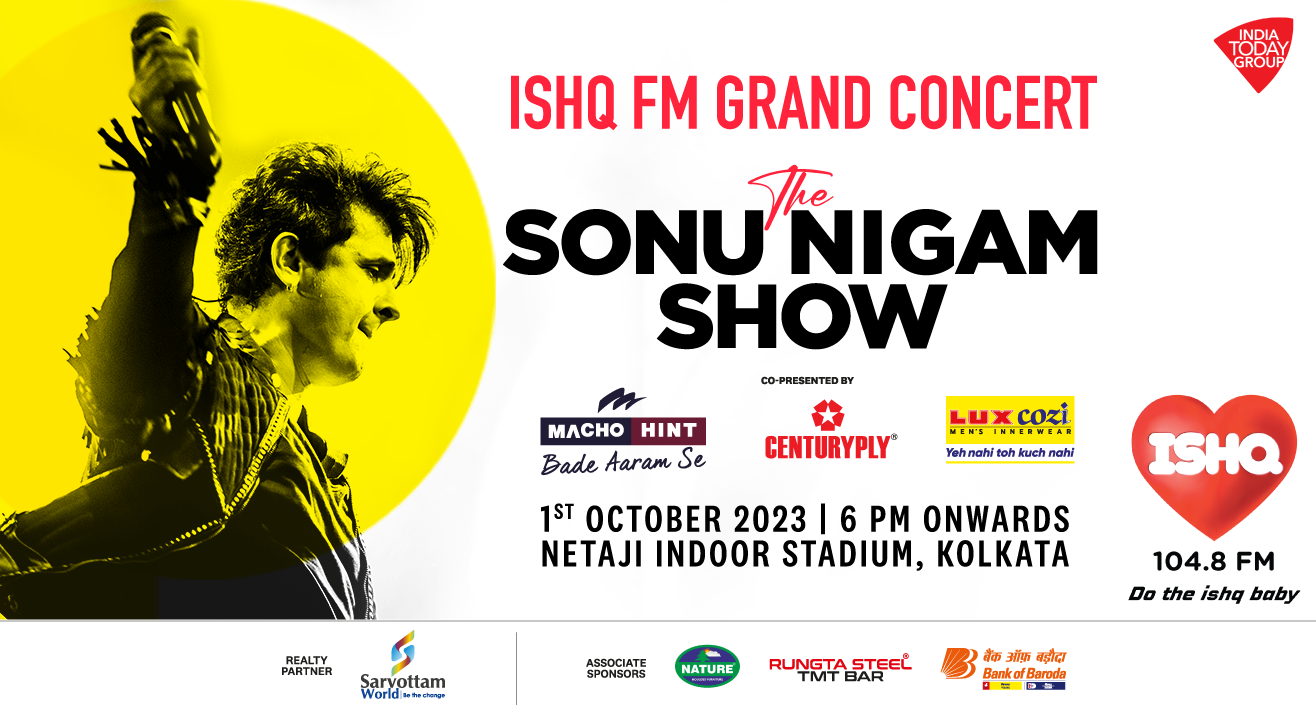 ISHQ FM GRAND CONCERT - THE SONU NIGAM SHOW
October 4 | 11:55AM - October 5 | 11:55AM
Netaji Indoor Stadium, Kolkata
Event Guide
For Age(s)
Family Friendly
Invite your friends
and enjoy a shared experience
ISHQ FM GRAND CONCERT - THE SONU NIGAM SHOW
October 4 | 11:55AM - October 5 | 11:55AM
Netaji Indoor Stadium, Kolkata
Event Guide
For Age(s)
Family Friendly
Invite your friends
and enjoy a shared experience
Event Guide
For Age(s)
Family Friendly
Invite your friends
and enjoy a shared experience
A must-attend for all music lovers! Get ready to experience an unforgettable night of music as the legendary singer Sonu Nigam comes to the city for 'Ishq FM Grand Concert'!
Ishq FM Grand Concert -'The Sonu Nigam Show', is going to be one of his grandest show and you definitely do not want to miss this.
The concert is scheduled to take place on the 1st of October, 2023 at the Netaji Indoor Stadium, Kolkata which promises to be the perfect venue for an unforgettable evening of soulful music.
With a career spanning over three decades, Sonu Nigam is known for his soulful and melodious voice, and has given us some of the most iconic Bollywood songs of all time. At this one-of-a-kind grand concert, Sonu Nigam will perform some of his biggest hits and take you on a musical journey through the decades. From romantic ballads to foot-tapping dance numbers, this concert promises to be a treat for fans of all ages.
So, mark your calendars and get ready to witness a magical night of music with Sonu Nigam.
Tickets are now available, and we urge you to grab them at the earliest before they are sold out.
Q: Is this a standing or a seated show?
A: This is a seated concert. The seat allotment within the designated zones are on first come
first serve basis.

Q. Will photography or videography be allowed?
A. No.

Q: Are the tickets refundable?
A: No.

Q: Are the tickets transferable online or offline?
A: No

Q: Can I upgrade my ticket after booking?
A: No

Q: What time do the gates open?
A: Box Office opens at 3 PM. The audience is requested to reach early to redeem their tickets and collect wrist bands. Entry into the concert premises will be allowed to those have
E- tickets and wristbands.

Q: Is re-entry into the venue allowed?
A: Yes

Q: Is there a minimum age requirement for the event or is it family-friendly?
A: No.

Q: If it is a family friendly event, please mention the age limit, above which a ticket needs to be purchased?
A: It is a family-friendly event. Ticket required for 8+ age and above. Valid ID Proof will be required.

Q: Is parking available at the venue?
A: YES. There are designated public parking zones around the venue where you can park your car. No vehicles are allowed inside the premises of Netaji Indoor Stadium Kolkata.

Q: Is there a facility to charge electronics at the venue?
A: No

Q: Is the venue wheelchair accessible?
A: YES. Guest Zone, VIP Zone & Platinum Zone are wheelchair accessible.
Q: Are there any restrictions on permissible items in the venue apart from those mentioned in T&C?
A: Cigarettes, E-Cigarettes, Tobacco, Lighters, Matchsticks, Fireworks, Water Bottle, Food, Arms, Drugs, Alcohol are not allowed within the concert premises. No animals/pets are
allowed within the premises.

Q: Will food & alcohol be available at the venue?
A: The audience will get multiple food stalls and food options at the venue. Alcohol is strictly prohibited at the venue.

Q: At what time will the event start?
A: 6 PM

Q: At what time will the event end?
A: 10 PM

Q: Is there a designated smoking area?
A: No. Smoking within the Netaji Indoor Stadium Kolkata premises is strictly prohibited.
Netaji Indoor Stadium
Kolkata Police Safe House, Eden Gardens, Strand Rd, Maidan, B.B.D. Bagh, Kolkata, West Bengal 700021, India
GET DIRECTIONS
ISHQ FM GRAND CONCERT - THE SONU NIGAM SHOW
October 4 | 11:55AM - October 5 | 11:55AM
Netaji Indoor Stadium, Kolkata
Event Guide
For Age(s)
Family Friendly
Invite your friends
and enjoy a shared experience