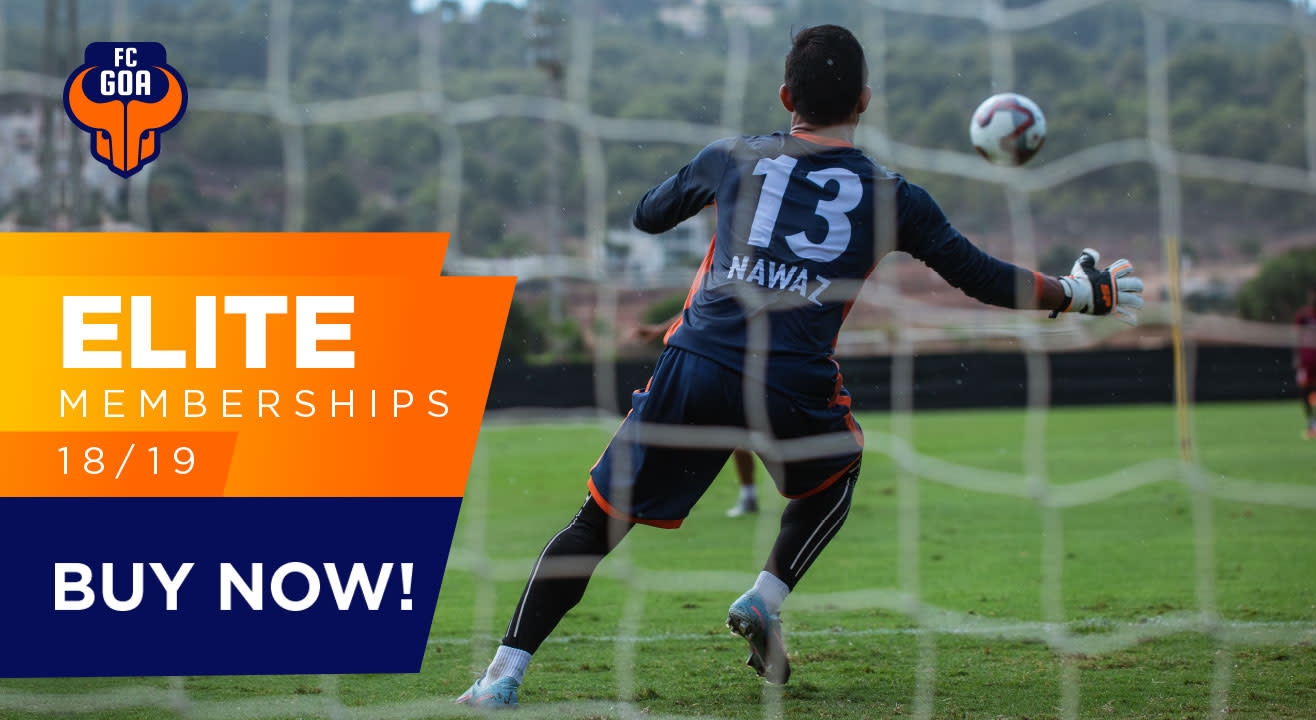 Football
Indian Super League 2018-2019: FC Goa Memberships, Tickets, Season Tickets, News, Schedule & More!
Everything you need to know about The Gaurs this season. Did someone say 'memberships'? Yup, they're out.
FC Goa ISL Memberships
Get more out of your fandom for FC Goa! Get memberships below - which come with a host of benefits: discounted season tickets, personalised membership card, discounts and more!


Limited time offer: Free Paytm Movie Voucher worth ₹200 per transaction for FC Goa's Season Ticket.
FC Goa Membership: What you get
This membership tier not only offers you guaranteed tickets for all home matches, but also provides you with rare opportunities to get closer to your favourite stars.

One Season Ticket at Discounted Prices: Never worry about missing a game at the Fatorda! Purchasing an Elite Membership will give you a guaranteed ticket for every home game. The best part - you will get these season tickets at discounted prices!

Personalised Membership Card: You will be provided with an exclusive Elite member card that will not only allow you entry into the stadium for FC Goa's home matches, but also give you the opportunity to use the card to avail exciting discounts with partners!

Discounts on FC Goa Match Jerseys: Get exclusive discounts to our Elite members for FC Goa jerseys: Now, nothing should stop you from wearing the club colours with pride.

Chance to win an Upgrade next Year: Your name will be put into a lucky draw and a lucky few Gaurs will win the chance to upgrade to Platinum for the 2019/20 season!

Chance to win Autographed Jerseys: Enter specially curated contests to win autographed jerseys throughout the season.

Win Away Match Tickets: While your support at the Fatorda is extraordinary, the team wants you to replicate this when the Gaurs are on the road as well. You will be given opportunities to win match tickets for away matches throughout the season by taking part in our contests.

Meet and Greet at the Training Ground: Elite members will have special access across various points of the season to watch the team prepare for crucial games. You will also get opportunities to meet and hang out with your favourite heroes!

About the team
One of the most popular and accomplished teams of the ISL, they have reached the semi-finals twice and the finals once. Additionally, they have been top scorers in the league stage twice along the way. This is a side that is built on the spirit of its people. Fearless, attacking and full of spirit. Born on the shoulders of the legendary Zico, the Goan club, with its incredible fan base and love for football has focussed heavily on positive, attacking football. The signings of Lalthuammawia Ralte, Lenny Rodrigues, Nirmal Chhetri and Jackichand Singh ahead of the 2018-19 season highlight an intent to focus on the best Indian talent and it will be fascinating to see how they balance their love for going forward with pragmatism to achieve the results they desire. FC Goa is a side that has been knocking on the doors of ISL success and the 2018-19 season might just be the perfect opportunity to finally make their mark.
FC Goa - ISL 2018-19 Schedule
ISL Season 5 starts on 29 Sep, 2018. While the 2019 dates are not announced yet, they will be updated shortly. Check out the schedule as it stands currently, here. Matches in bold are home games. Matches that are linked have tickets on Insider - click to buy.


01-Oct-2018, Monday, 19:30: NorthEast United FC vs FC Goa, Indira Gandhi Athletic Stadium, Guwahati

06-Oct-2018, Saturday, 19:30: FC Goa vs Chennaiyin FC, Jawaharlal Nehru Stadium, Chennai

24-Oct-2018, Wednesday, 19:30: FC Goa vs Mumbai City FC, Jawaharlal Nehru Stadium, Goa

28-Oct-2018, Sunday, 19:30: FC Goa vs FC Pune City, Jawaharlal Nehru Stadium, Goa

01-Nov-2018, Thursday, 19:30: Jamshedpur FC vs FC Goa, JRD Tata Sports Complex, Jamshedpur

08-Nov-2018, Thursday, 19:30: FC Goa vs Delhi Dynamos FC, Jawaharlal Nehru Stadium, Goa

22-Nov-2018, Friday, 19:30: FC Goa vs Bengaluru FC, Jawaharlal Nehru Stadium, Goa
28-Nov-2018, Wednesday, 19:30: ATK vs FC Goa, Vivekananda Yuba Bharati Krirangan, Kolkata

11-Dec-2018, Tuesday, 19:30: FC Pune City vs FC Goa, Shree Shiv Chattrapati Sports Complex Stadium, Pune

14-Dec-2018, Friday, 19:30: FC Goa vs NorthEast United FC, Jawaharlal Nehru Stadium, Goa

Some action while you wait
The 100th game of the Indian Super League. Two hat-tricks. The largest winning margin in the history of the competition. It was raining goals at the Fatorda Stadium as FC Goa demolished Mumbai City FC 7-0 and created history! Watch it here.

Two teams that went for it, and how! 3 goals in the first 15 minutes, 5 by half-time and 9 by the end of the game and it was Sahil Tavora's 95th minute winner that clinched it for the Goan side. Incredible action! Watch it here.

An incredible 42 goals were scored in FC Goa's 18 league games in the 2017-18 ISL season. They scored 3, 4 and 5 goals in a game multiple times on their way to a 3rd placed finish. A thrilling 4-3 victory over eventual runners-up Bengaluru FC was a particular highlight. Watch it here.
About the stadium
The Jawaharlal Nehru Stadium in Fatorda, Goa is the home ground for FC Goa. The stadium is widely considered to be one of the best in the country. The venue has been a mainstay of Indian football, having played host to a number of international games over the years.
About Hero Indian Super League
The Hero Indian Super League (ISL) is India's unrivalled football championship which kicked off on 12 October, 2014. The league has ten franchises based in the following cities: Chennai, Delhi, Goa, Guwahati, Kochi, Kolkata, Mumbai, Pune, Bengaluru and Jamshedpur. Their aim is for India to become a global football power and qualify for the 2026 FIFA World Cup!
Some action while you wait
Have questions regarding this event or your order?
Please mail help@insider.in or call us at +91-22-61548585 / +91-9136622662.

For corporate (bulk and hospitality) bookings
Please mail corporatebookings@insider.in, or call us at +91-22-33604736.
Subscribe to receive our newsletter!
Find the best experiences happening out there in your city or enjoy handpicked content while sitting comfortably at home. Insider is your go-to place to figure out what to do today!