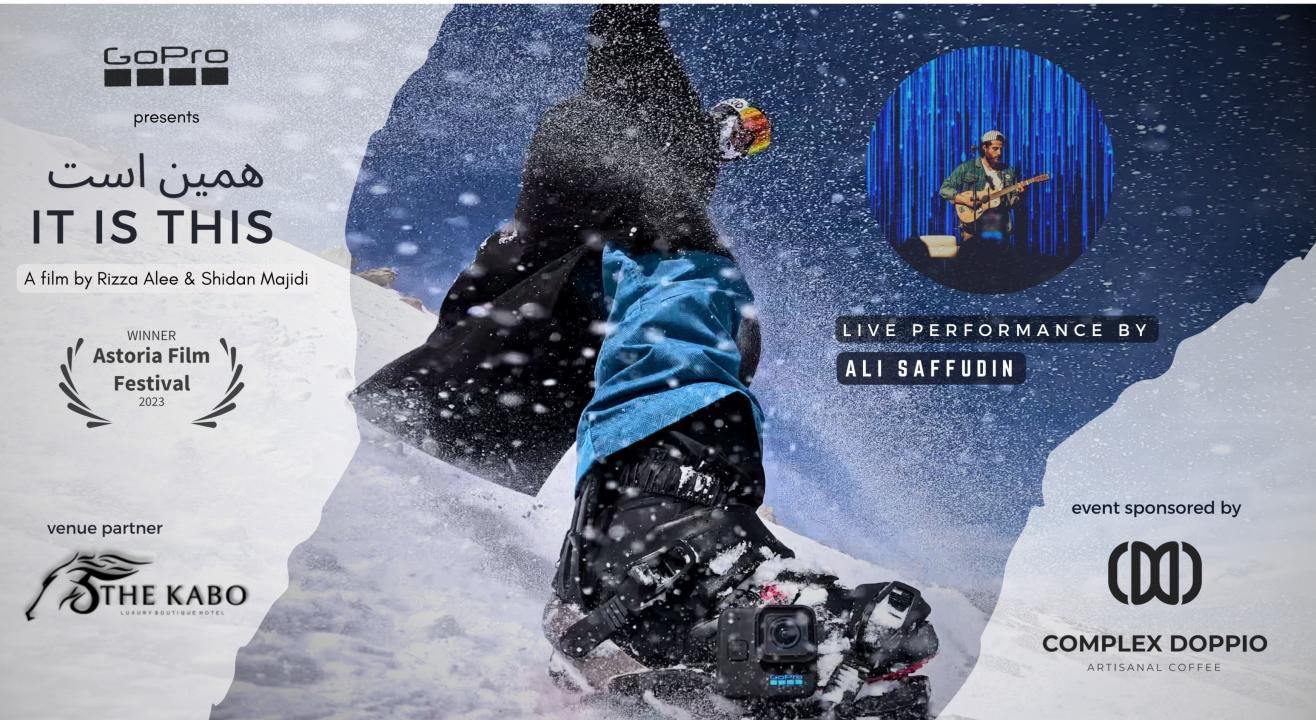 IT IS THIS همین است Screening and Concert
The Kabo | Luxury Boutique Hotel, Srinagar
Event Guide
For Age(s)
Family Friendly
Language
English, Hindi, Kashmiri
Live Performance
Enjoy a unique experience
Invite your friends
and enjoy a shared experience
IT IS THIS همین است Screening and Concert
The Kabo | Luxury Boutique Hotel, Srinagar
Event Guide
For Age(s)
Family Friendly
Language
English, Hindi, Kashmiri
Live Performance
Enjoy a unique experience
Invite your friends
and enjoy a shared experience
Event Guide
For Age(s)
Family Friendly
Language
English, Hindi, Kashmiri
Live Performance
Enjoy a unique experience
Invite your friends
and enjoy a shared experience
A celebration not to be missed for an award-winning Kashmiri film!
The evening starts at 6:00 pm with a concert by the film's soundtrack composer, Ali Saffudin. The audience will then have the chance to win a GoPro HERO11 Black camera followed by the screening of the award-winning film. The evening will conclude with a Q&A featuring a distinguished panel that includes Yatish Suvarna, Director of Marketing and Communications for GoPro India, Firdous Chaila, Ali Saffudin, and Rizza Alee. The evening will be hosted by popular radio personality, RJ Nasir.
IT IS THIS (همین است) is a short 11-minute film about snowboarding and winter sports in Gulmarg by Kashmiri filmmaker and athlete, Rizza Alee won the prestigious Audience Award in New York City's Astoria Film Festival last month, and will celebrate its Premiere Screening in Kashmir on Tuesday, July 18th at 6:00 pm at The Kabo, near Tagore Hall in Srinagar.
IT IS THIS (همین است) tells the inspirational and groundbreaking story of 54 year-old Kashmiri, Firdous Ahmad Chaila who introduced snowboarding to the region. The sport is slowly growing in popularity in Kashmir and the film promotes Gulmarg as a world class winter sports destination.
The event is proudly sponsored by The Kabo | Luxury Boutique Hotel and Complex Doppio.
Event planner Basit Fazili.
1.Smoking and alcohol strictly prohibited.
2. People entering without tickets will be removed and charged with a fine.
3. Valet parking available.
4. Outside food is not allowed on the premises.
The Kabo | Luxury Boutique Hotel
3R75+J8V, opp. Tagore Hall, Wazir Bagh, Srinagar, 190008
GET DIRECTIONS
IT IS THIS همین است Screening and Concert
The Kabo | Luxury Boutique Hotel, Srinagar
Event Guide
For Age(s)
Family Friendly
Language
English, Hindi, Kashmiri
Live Performance
Enjoy a unique experience
Invite your friends
and enjoy a shared experience