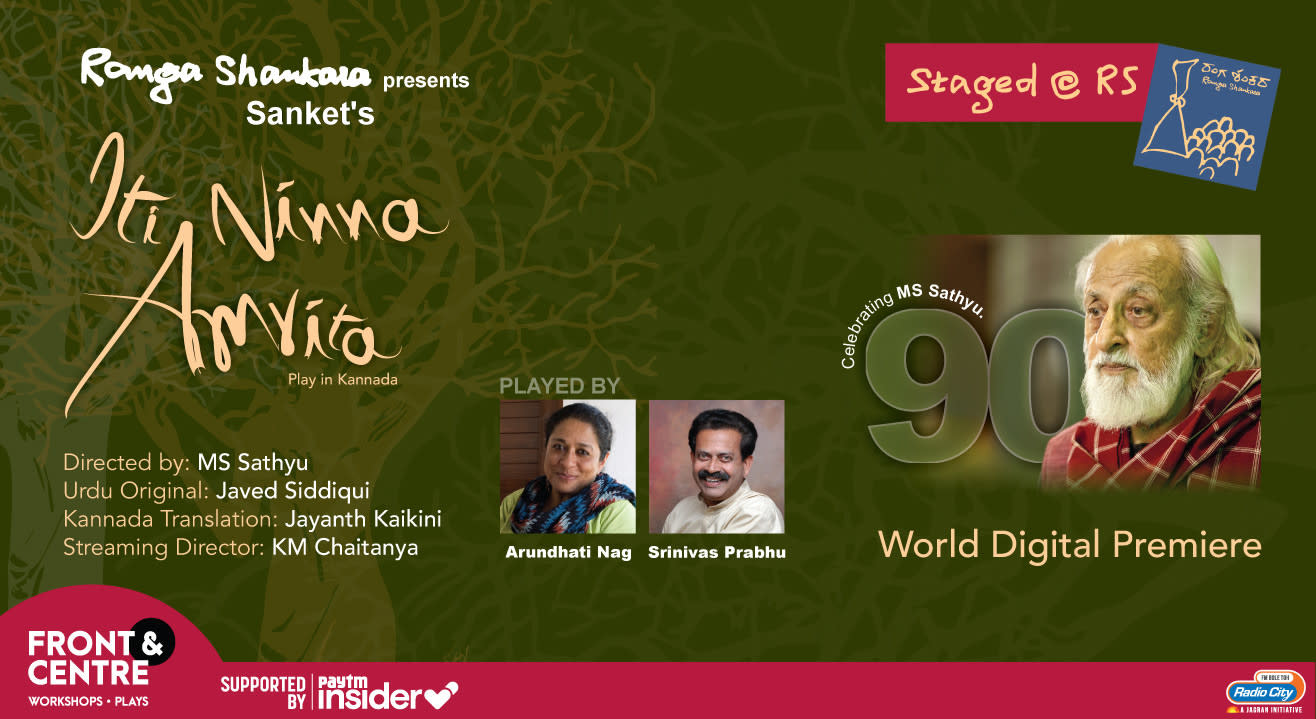 Ranga Shankara's Staged@RS brings back Iti Ninna Amrita digitally
Front & Centre - Paytm Insider's theatre initiative, in association with Bangalore's Ranga Shankara theatre brings the masterpiece to your home.
Invite your friends
and enjoy a shared experience
Legendary director, scenographer and art director M S Sathyu turned 90 this July, and to honor his birthday - Ranga Shankara theatre from Bangalore brings back one of its most celebrated Kannada plays - 'Iti Ninna Amrita', digitally.
'Iti Ninna Amrita' is a sublime love story, based on the highly acclaimed play 'Tumhari Amrita' that was written by Javed Siddiqui and featured Shabana Azmi & Farooq Sheikh.
For the first time ever in India, a play is about to premiere digitally via a livestream, and you can experience it from the comfort of your home.
Designed and directed by MS Sathyu, 'Iti Ninna Amrita' brings together stellar talent. The original Urdu version of the play is written by Javed Siddiqui, while the Kannada translation is by Jayant Kaikini. The cast features veteran actors Arundhati Nag and Srinivasa Prabhu Reputed director of films and theatre, KM Chaitanya will helm the digital streaming while Pradeep Belawadi will oversee the lighting.
"The play was first produced in 2001 as a fundraiser for Ranga Shankara", says Arundhati Nag. "Sathyu was deeply involved in the technical design of Ranga Shankara and it is only befitting that we do the first streaming of a play from here in his honour."
Sri M S Sathyu
One of India's finest scenographers and art directors, M S Sathyu's long and illustrious career also saw him direct over 15 documentaries and 8 feature films in Kannada, Hindi and Urdu. A recipient of the Padma Shri for his work, Sathyu's directorial debut, Garm Hava, created waves in both the national and international film circuits, garnering several National Film Awards and a 'Golden Palm' nomination at the Cannes Film Festival, besides being India's official entry at the Oscars. M S Sathyu's contribution to Indian theatre doesn't only come in the form of his art direction and scenography – his Dara Shikoh is considered a modern classic that 'turned theatrical sensibilities'.
Jayant Kaikini
A multi-faceted personality, Jayant Kaikini dons the hats of columnist, playwright, poet, short-story writer, lyricist and script and dialogue writer. With over 5 poetry collections, 3 plays and 6 short-story volumes to his credit, he is the recipient of several prestigious awards for his work in both the literary and movie fields, including 4 Karnataka Sahitya Akademi Awards, the Katha National Award, 4 Filmfare Awards, 2 Karnataka State Awards, and the Kusumagraj Rashtriya Bhasha Sahitya Puruskar.
Arundhati Nag
Artistic Advisor and Founder of Ranga Shankara, Arundhati Nag is a well-known presence in the pan-Indian theatre community, having been a part of it for over 40 years. The thespian is a recipient of several notable awards for her work, including the Padma Shri, Sangeet Natak Akademi Award and the National Film Award. She is most noted for her performances in Jogi, Paa, The Man Who Knew Infinity, and most recently for Girish Karnad's Bikhre Bimb (Odakalu Bimba in Kannada).
Srinivasa Prabhu
Actor, voice-over artist, singer and lyricist, Srinivas Prabhu is a multi-faceted personality, one of Kannada's finest actors, having contributed significantly to Kannada film, television and theatre. A graduate from the National School of Drama, he is most renowned for his roles in Kanooru Heggadithi, Bimba – Those 90 Minutes, Gupthagamini and Gulle Nari, an adaptation of Benjamin Jonson's Volpone.
About Ranga Shankara
It is the definitive space for quality theatre in Bangalore. Since it opened its doors in October 2004, Ranga Shankara has developed into one of the nerve centres of theatre in India, firmly believing in 'a play a day', resulting in over 6000 performances by local, national and international troupes in a range of languages in Ranga Shankara's 15 years. One of the most affordable, accessible theatres in the country (making it a favourite among amateur theatre troupes), Ranga Shankara is also known for its many festivals such as the annual Theatre Festival, AHA! Festival of Theatre for Children and Equal, all contributing to the richness of cultural fabric of not just Bangalore, but India, too.
Subscribe to receive our newsletter!
Find the best experiences happening out there in your city or enjoy handpicked content while sitting comfortably at home. Paytm Insider is your go-to place to figure out what to do today!