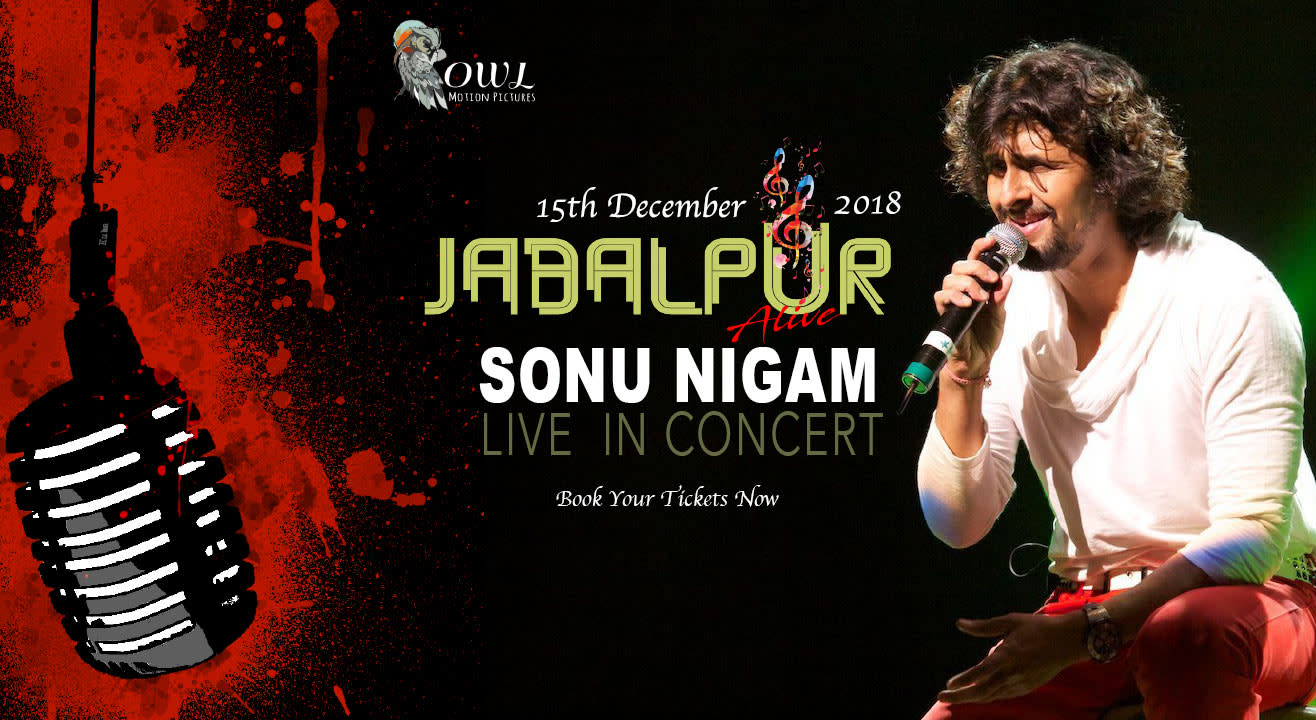 Jabalpur Alive with Sonu Nigam
Ayurvedic campus, Jabalpur
Step out and enjoy this event
Invite your friends
and enjoy a shared experience
Jabalpur Alive with Sonu Nigam
Ayurvedic campus, Jabalpur
Step out and enjoy this event
Invite your friends
and enjoy a shared experience
Invite your friends
and enjoy a shared experience
Jabalpur Alive, be Alive when Music go live., Jabalpur Alive is an event which brings people alive
with music this December enjoy the Soulful music night with non other then renown Bollywood
singer Sonu Nigam, 3 hrs live music concert with power pack performance of Music, Dance &
EDM with Sonu Nigam & Team. Event Organized by Owl Motion Pictures.
Sonu Nigam is a genuine artist, a student of life! A musician who strives to better himself everyday! A performer par excellence who can energize souls with merely his presence! A multi-talented showman whose capabilities are limited by no boundaries! An intellectual who craves for knowledge from all walks of life!

Born on 30th July 1973, Sonuji started singing on stage at the age of 3. In his teenage years he accompanied his father for several singing assignments and also worked as a child artist in several movies..He came to Bombay in 1991 to make a career as a singer and started off by singing cover versions to Rafi Saab's songs - Rafi Saab. whom he lovingly refers to as his musical father. His first hit was Accha Sila Diya from Bewafa Sanam which gave him the recognition as an established playback singer. And with songs like Sandese Aate Hai from Border,Satrangi Re from Dil se and Yeh Dil Deewana from Pardes, Sonu Niigaam the Star was born..The rest is history!!

All coveted awards adorn his mantlepiece, the most significant being the National award for the song Kal Ho Na Ho in 2003. His pop albums like Sapne Ki Baat,Naya Naya Pyar, Kismat, Deewana, Mausam, Jaan, Yaad, Sanskar,Chanda Ki Doli (self-composed, programmed and arranged),Classically Mild,Rafi Resurrected,Maha Ganesha and Neene bari Neene over the years have all appealed to the masses and have collectively demonstrated his versatility and prowess as a musician!!

He is also the safest choice for any music director to do justice to their compositions and a voice which suits actors of all ages. He is a complete musician and an institution in himself - he plays almost every instrument,and he's a composer,programmer and lyricist!! He has travelled all around the globe and enthralled audiences with his live performances and still continues to do so, so much so that he got invited to perform at Harvard University in 2007 - a very big honour!!. He has also featured as an actor(Jaani Dushman,Kash Aap Hamare Hote,Love In Nepal),TV Host(TVS Sa Re Ga Ma,Kismey Kitna Hai Dum),RJ(Life Ki Dhun with Sonu Niigaam for RadioCity) and judge(Indian idol and Sa Re Ga Ma Pa) all of which has added value to his profile. He is a legend at the age of 36 and his journey has just begun..He is an international icon today, with millions of fans and admirers all over the world!!
Jabalpur Alive with Sonu Nigam
Ayurvedic campus, Jabalpur
Step out and enjoy this event
Invite your friends
and enjoy a shared experience