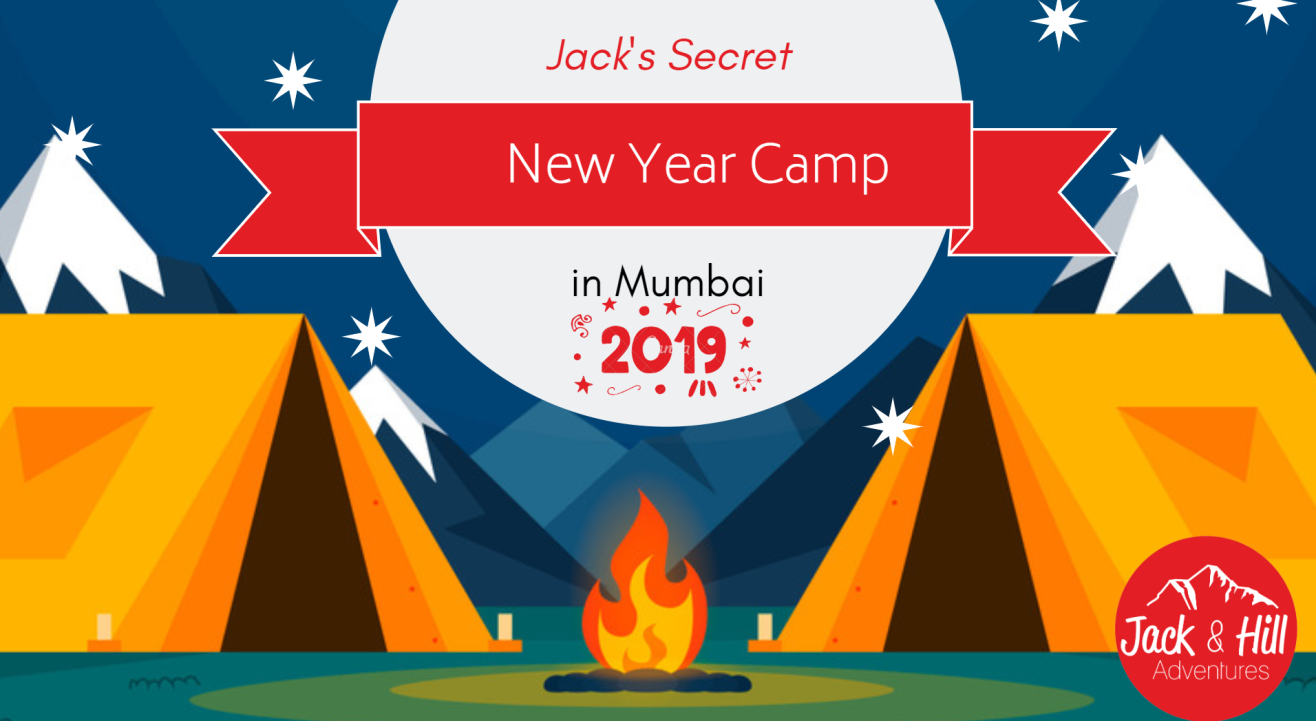 Jack's Secret New Year Camp in Mumbai
Invite your friends
and enjoy a shared experience
Invite your friends
and enjoy a shared experience
About the Event
It's our favorite time of the year - a time to gather all those who are dear & spread cheer - coz it's the New Year!
Let's greet the new year in a fresh environment... at an open field you'd be surprised exists in Mumbai. A nightly escape nestled within as well as outside the city, which gives the retreat a close yet remote, urban yet wild and comfortable yet adventurous vibe.
Sing, Dance, Dine under a canopy of stars, with a nightlife of a bustling forest on one side and foggy, mysterious mangroves on the other. Reflect on the passing year gazing at the sparkling Mumbai Skyline view as you connect with your friends, both old and new.
It's going to be a fond farewell and a warm welcome celebration done in a rustic way where we enjoy to the fullest while appreciating the environmental and civic beauty that we overlook on the routine days of the year.
New Year is calling, are you coming?
We meet at Marwe Beach at 9 pm.
Soon, we begin our journey to the secret camping spot that is unbelievably nestled within the city.
On arrival, introductions are followed by a campsite briefing
Learn to pitch your tent session
The party begins
Fun games and activities
Dinner
Dream diving in comfy sleeping bags & cozy tents
Rising with the sun & soaking in a fresh village morning
A scrumptious breakfast
Pack up & head back home to make the most out of the coming year while keeping our little campsite a secret.

- Camping in a secret location within the city of Mumbai
- Stay in tents
- Individual cozy sleeping bags
- Dinner
- A few fun games & activities
- A scrumptious Breakfast
-Transport from meeting point to campsite & back
- First Aid by a certified Wilderness First Responder (WFR)

This is a leisure camping event but reaching the secluded camping spot requires a bit of walking through village farms and uneven terrain. The walk is quite easy and almost anyone can make it.
- Grab a small to medium sized bag and put in items mentioned in our Essentials list.
The less heavier your bag is, the more enjoyable your experience will be.

- Flashlight or Headlamp (Preferable)
- Snacks and munchies
- Personal Identification
- Personal medication
(Please do let us know in advance about any medical conditions, if any.)
This is a leisure camping event where so feel free to wear clothing of your choice. Full clothing is recommended.
The campsite is equipped with an earthen style toilet.
A 2 to 4 -person tent will be shared among 2-4 Individual participants. Each participant shall receive an individual sleeping bag.
Staying open minded, positive & faithful
Camping is an outdoor activity so it essential to respect nature and be mindful of our surroundings. This is a leisure camping event but to enjoy the secluded camping spot atop a hill requires a bit of walking along an inclined uneven terrain. The walk is quite easy and almost anyone can make it.
We should always mind that Mother Nature chooses the weather and it is important for us to stay grounded and keep our heads over our shoulders, to not panic and to keep confidence in the decision of the organizers.