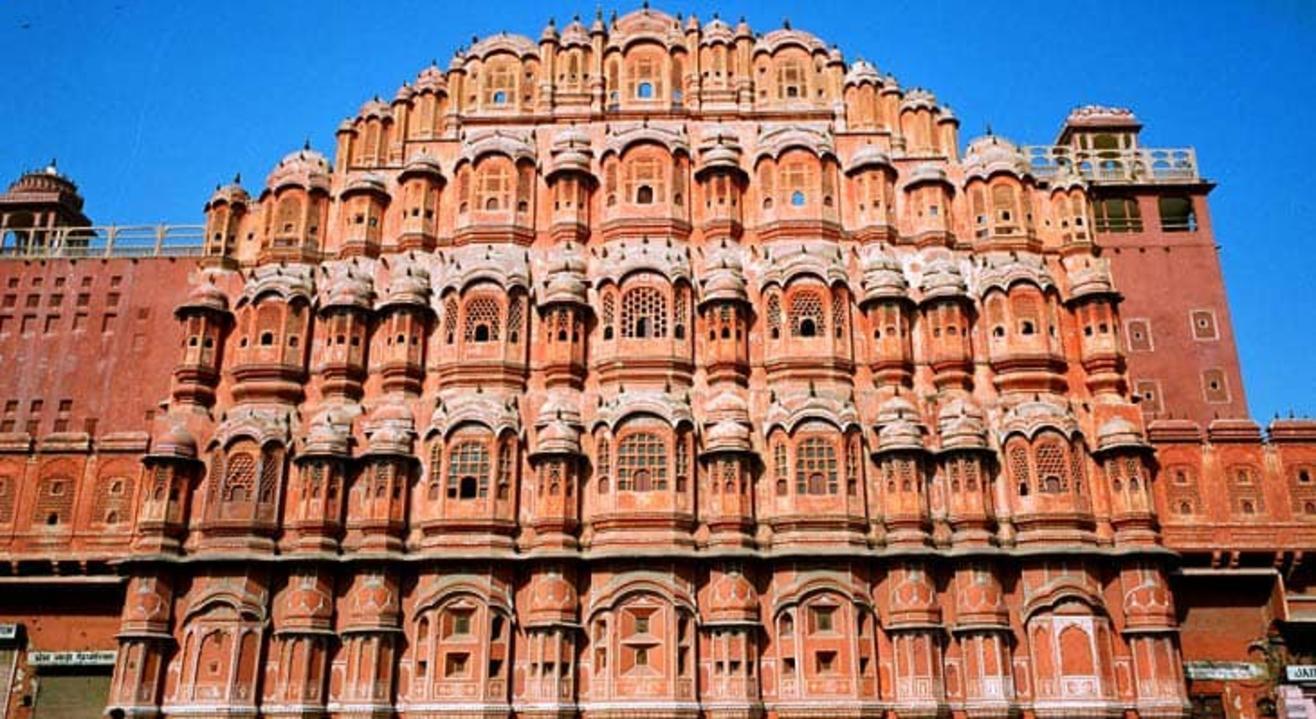 Jaipur City Tour by TripAdvisor Tour
September 14 | 3:40PM - December 31 | 7:40PM
Venue to be announced, Jaipur
Step out and enjoy this event
Event Guide
Getaways
Enjoy the outdoors
Invite your friends
and enjoy a shared experience
Jaipur City Tour by TripAdvisor Tour
September 14 | 3:40PM - December 31 | 7:40PM
Venue to be announced, Jaipur
Step out and enjoy this event
Event Guide
Getaways
Enjoy the outdoors
Invite your friends
and enjoy a shared experience
Event Guide
Getaways
Enjoy the outdoors
Invite your friends
and enjoy a shared experience
Overview
Jaipur was founded in 1727 by the Rajput ruler Jai Singh II, the ruler of Amer, after whom the city is named. It was one of the earliest planned cities of modern India, designed by Vidyadhar Bhattacharya. During the British Colonial period, the city served as the capital of Jaipur State. After independence in 1947, Jaipur was made capital of the newly-formed state of Rajasthan.
Jaipur is a popular tourist destination in India and forms a part of the west Golden Triangle tourist circuit along with Delhi and Agra. It is home to two UNESCO World Heritage Sites – the Jantar Mantar and the Amer Fort. It also serves as a gateway to other tourist destinations in Rajasthan such as Jodhpur, Jaisalmer, Udaipur, Kota, and Mount Abu.
Day 1 :
Highlights of the tour:
Amber Fort – The famous Amber Fort is located on the hills exterior of the Jaipur town. It is locally known as 'Amer Fort' and was built by Raja Man Singh in 1592 A.D. There is also a famous temple of Goddess within the Amber Fort. Don't miss your chance to ride up an elephant to this mesmerizing spot of Jaipur. Hawa Mahal – Explore the impressive beauty of the Hawa Mahal. This structure constitutes as a major historical monument of India and holds impressive uniqueness. Jantar Mantar – The Jaipur's Jantar Mantar is the world's largest stone sundial. This observatory was built by the Emperor Sawai Jai Singh and is the best preserved as compared to other similar observatories built in different regions of India. The intricate masonry within this observatory offers a precise measurement of the time, the azimuth and the altitude, the declining of the sun, and the position of the constellations in the sky for the eclipses, and astronomical marvels. Visit the City Palace – Encompassed by crenelated walls, this is the previous royal residence with an imposing blend of Mughal and Rajasthan Architecture. it is inclusive of some divine halls and palaces such as the Chandra Mahal, Shri Gobind Dev Ji Temple, and the marvelous Jai Niwas Garden. It also hosts a museum with an assortment of exquisite miniatures, galleries of precious paintings, artifacts, scholarly miniatures, and traditional architectural treasures. Its elite collection of swords and guns date back to the 15th century and is one of the most amazing in India. Visit Jal Mahal and have tea As its name personifies, this is a beautiful palace in the mid of a lake. You can enjoy its marvel beauty by sipping hot tea served at nearby local shops. This palace is noted for its exceptionally intricate architecture. Drive to Hawa Mahal Hawa Mahal ranks among important historical places of India and is known for its architectural beauty. It is also famous as the 'Palace of Winds'.
Call us, we are open 24/7
(+91) 83569 57765
Jaipur City Tour by TripAdvisor Tour
September 14 | 3:40PM - December 31 | 7:40PM
Venue to be announced, Jaipur
Step out and enjoy this event
Event Guide
Getaways
Enjoy the outdoors
Invite your friends
and enjoy a shared experience