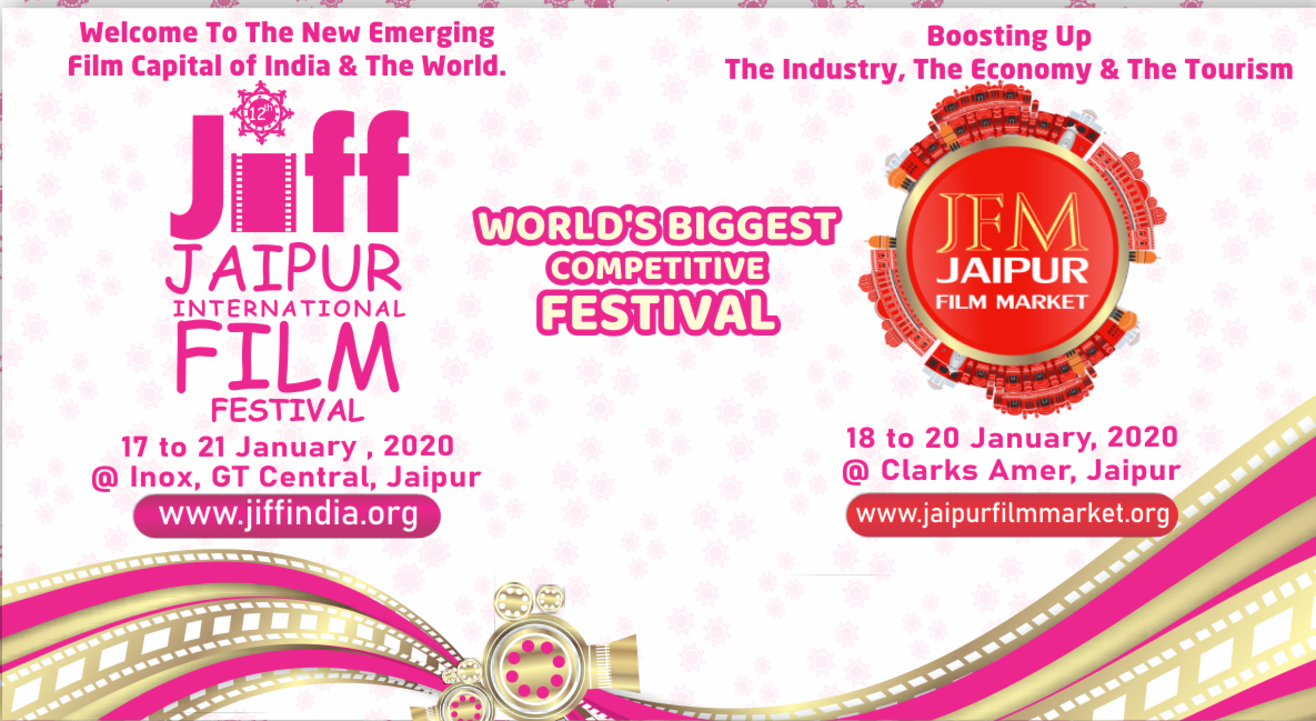 Jaipur International Film Festival-JIFF 2020
Invite your friends
and enjoy a shared experience
Invite your friends
and enjoy a shared experience
About the Event
12th Jaipur International Film Festival Festival - JIFF
17 to 21 January 2020
Venue
Inox, 4th Floor, G.T Central, JLN Raod, Jaipur &
Jaipur Film Market - JFM 2020
18 to 20 January 2020
Venue
Hotel Clarks Amer, JLN Raod, Jaipur
WELCOME to Jaipur the New Emerging Film Capital of India & the World.
WORLD'S BIGGEST COMPETITIVE FILM FESTIVAL
Watch 300+ films in five days from 64+ Countries.
50+ Meets, Seminars/Workshops etc.
See more & learn more. Be a part of JFM.
100+ Speakers
Grab a chance to listen good Speakers for amazing results.
INTERNATIONAL CO-PRODUCTION MEET
I have never seen such a Co-Production Meet in India, well planned and well managed.
– Hariharan, South Indian Filmmaker (In JIFF 2017 Co-Production Meet)
JIFF launched maximum programs in minimum time all over the world.
Jaipur International Film Festival is the world's fastest growing and now a prestigious Film Festival.
Where you are living does not matter, if you are a film buff, come to JIFF, Jaipur every January. You can find and see wonderful films, world Cinema, Oscar nominee films, films in many regional languages of the World, debutant director's films at one place. Meet here with talented people & film makers, writers, directors, producers, distributors, sales agents, find here new thoughts, ideas and business.
JIFF has provided a new platform to filmmakers from all over the world where they meet each other and try to find opportunities across borders and get together to collaborate with one another for making films. The 'Co-Production Meet' during the festival has played a very significant role in establishing Jaipur as the capital of the world cinema. (from SUJAS magazine, published by Government of Rajasthan)
Evolving fast among all the Film Festivals of the world JIFF through its nine yearly festivals has been able to establish Jaipur as the prominent capital of the world cinema. SUJAS magazine, published by Government of Rajasthan
Organised by Jaipur International Film Festival Trust
Founder
Hanu Roj
www.jiffindia.org
www.jaipurfilmmarket.org
GT Central Mall
No. 306, Gaurav Tower, Jawahar Lal Nehru Marg, D-Block, Crystal Court, Malviya Nagar, Jaipur, Rajasthan 302017
GET DIRECTIONS