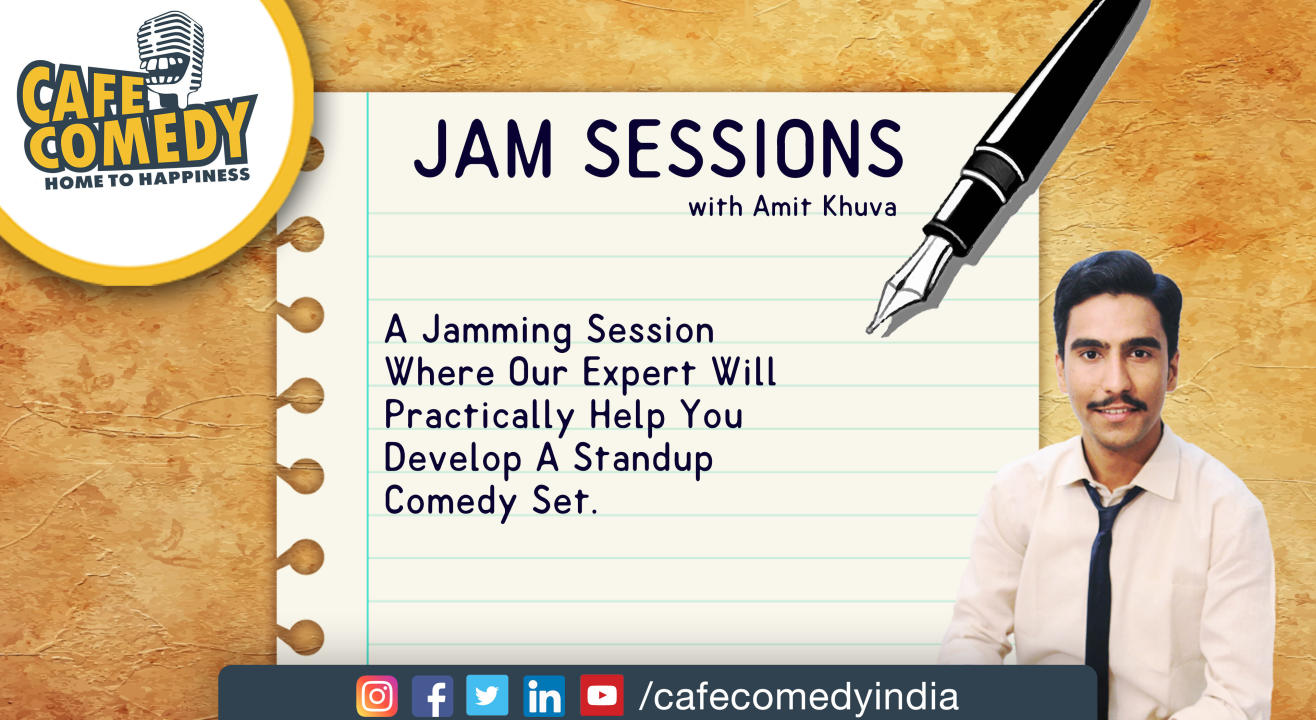 Jam Sessions with Amit Khuva : Jam Your Standup Comedy Script With Expert
January 10 | 9AM - January 20 | 9AM
Enjoy this event from your home
Event Guide
For Age(s)
Family Friendly
Masterclass
Learn from an expert
Invite your friends
and enjoy a shared experience
Jam Sessions with Amit Khuva : Jam Your Standup Comedy Script With Expert
January 10 | 9AM - January 20 | 9AM
Enjoy this event from your home
Event Guide
For Age(s)
Family Friendly
Masterclass
Learn from an expert
Invite your friends
and enjoy a shared experience
Event Guide
For Age(s)
Family Friendly
Masterclass
Learn from an expert
Invite your friends
and enjoy a shared experience
Here's Where We Help You Being A Better Comic. Yes, Jams Are A Choice Based Session Where Our Expert Works On Your Standup Comedy Script Along With You. We Help You Churn Out The Essence, By Giving You A Better Story-line & Delivery To Enhance Your Overall Performance. We Believe In Making World A Better Place Through The Craft Of Comedy.
◼️ Features :
▪️ One-On-One 30 Minute Session
▪️ Formatting Of Jokes In A Set
▪️ Identification Of Comedy Type Of A Set
▪️ Modifications Based On Audience Research
▪️ Modifications Based On Emotions Of A Set
▪️ Making Your Script Crisp & Interesting
▪️ Identification & Removal Of Plagiarism In Your Set
◼️ Takeaways :
▪️ Enhancing Your Traits As A Comic
▪️ Audio/Video Review After The Session
▪️ Linking Cheat-Sheet For Your Set
▪️ Handy Resources
◼️ Pre- Requisites:
▪️ A Mobile/Laptop
▪️ Good Internet Connection
▪️ A Written Script
▪️ A Set Should've Been Performed At Least Twice
▪️ Keep Your Previous Drafts Handy
▪️ Keep An Open Mind :)
(In Addition To This If You Have Any Questions Regarding Your Set, Please Be Prepared With It Before The Session As We Would Be Happy To Address All Your Doubts Within The Time Frame)
◼️ Frequently Asked Questions :
▪️ Who Are We?
We are Cafe Comedy, which is Asia's First & Only Premier Comedy Training Academy and a Group of Comedians with more than six years of experience. We are focused on exploring 30+ globally accepted types of Comedy. Cafe Comedy Is Home To Happiness for the one who performs or just wants to enjoy it.
▪️ Who Is An Expert?
Our Expert is Amit Khuva, who is a Standup Comedian with experience of 12+ Years (2500+ Live shows & 500+ TV Episodes). He is the founder of Cafe Comedy and also one of the frontier for clean comedy concept in Gujarat, India. Amit has two world records on his name as World's Youngest Comedy Trainer and Youngest Comedian of India. Amit is currently pursuing his Doctorate (PhD) on Comedy from London. He is the YouTube Sensation of Gujarat and the Master of both Traditional & Urban Humor.
▪️ Who Should Attend?
A Beginner, Open Micer, & Anyone Who Is Actively Working As A Comedian And Wants An Expert Advice Before Producing A Video/Show, Or Performing At A Dream Event.
▪️ Why Should I Attend This Session?
This session is exclusively designed for standup comedians who want to pursue careers in this art form. This one of a kind session will contribute in overall development of you to be better at your craft.
▪️ How Does This Work?
You Book A Session -> You Receive A Confirmation Email -> Prepare For A Meet (Check Pre-Requisites) -> You Receive An Email With Timing Of The Session One Day Prior To The Session-> We Mutually Work On Your Script (Via Zoom) -> Takeaways -> You Send Us Your 1st Performance After The Session Wherein You Apply The Modifications Suggested -> We Send You An Email Reviewing Your Performance.
▪️ Is It A Workshop?
Yes, It's a workshop with just two of us where we exclusively decipher your script and help you with your development of your standup comedy.
▪️ Is The Time Enough?
Yes, As per our experience with more than 100 team members, an average 5 minutes set takes no more than 26 minutes to make it a laugh riot.
Jam Sessions with Amit Khuva : Jam Your Standup Comedy Script With Expert
January 10 | 9AM - January 20 | 9AM
Enjoy this event from your home
Event Guide
For Age(s)
Family Friendly
Masterclass
Learn from an expert
Invite your friends
and enjoy a shared experience