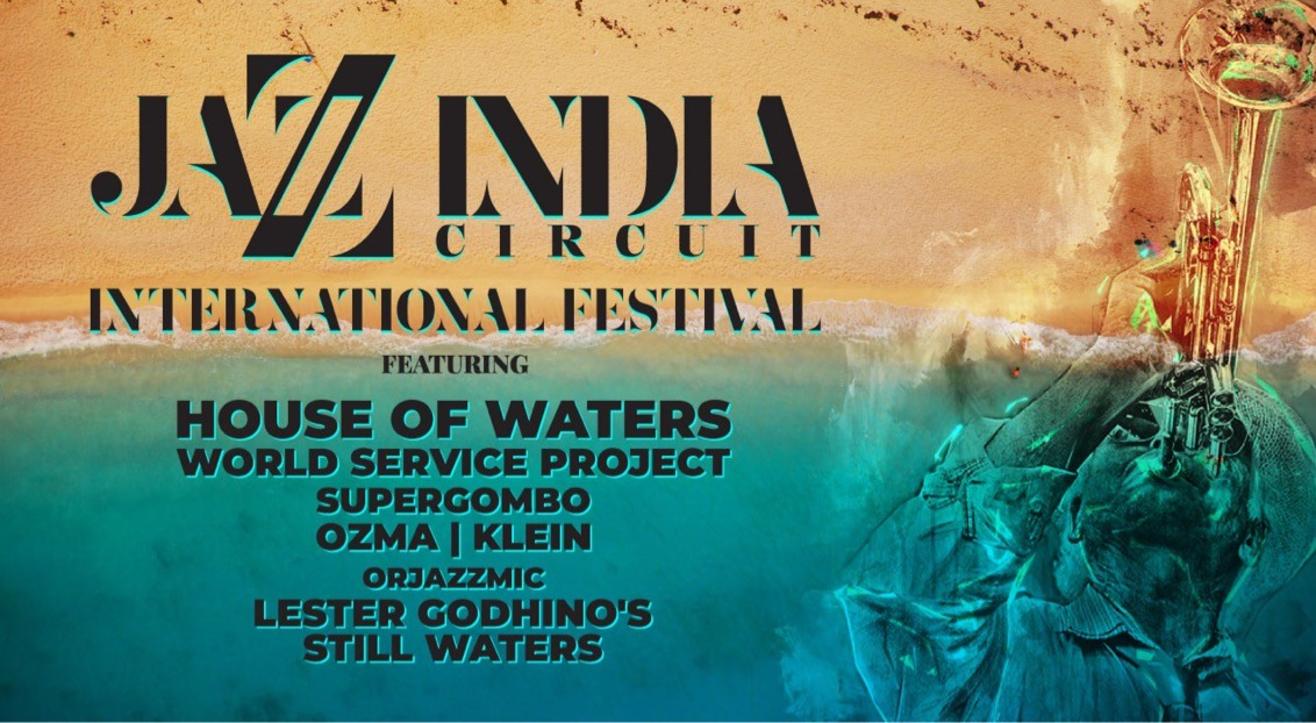 Music
Jazz India Circuit, 2018
The International Centre Goa, Dona Paula
About
Jazz India Circuit 2018 brings to you the best jazz acts from across the world in Goa.

The two-day fest will feature legends such as WorldService Project, Supergombo, Orjazzmic and more!
House of Waters is a trio that breaks boundaries as they incorporate elements of West-African, jazz, psychedelic, indie rock, classical and world music into their astonishingly versatile sounds. The band's music is both complex and easy to enjoy, a musical exploration that invites listeners to open themselves up to entirely new notes.
The album House of Waters marks the band's first record for Ground UP, the artiste-friendly label started by Snarky Puppy's Michael League. With musical and cultural influences that stretch from India and Senegal through Ireland and the heart of New York City, you have, as one critic noted, "The most original band on the planet". House of Waters has shared the stage with Ravi Shankar, Tinariwen, Jimmy Cliff, KODO, Blitz the Ambassador, Dave Eggar and more. Their concerts are beautiful and electrifying moments of mastery and magic.


In collaboration with
The Transformation of Karsh Kale
The word 'prolific' barely begins to describe Karsh Kale's storied career. The British-born, New York City-raised producer and multi-instrumentalist of Indian heritage has spent the last two decades zigzagging the world, headlining major festivals and even spinning records at the White House for Barack Obama. He has appeared on Coke Studio sessions, as well as on The Dewarists, shared the stage with Ustad Zakir Hussain, A.R. Rahman, the Black Keys, and Norah Jones, and appeared on several albums from a diverse range of artistes. The culmination of his planetary library can be heard on his fifth studio album for Six Degrees Records, UP.
Warren Mendonsa is the lead guitarist of Indian rock legends, 'Zero', and currently fronts his own instrumental act, 'Black Strat Blues'. He has worked with the who's who of the Indian music world and is the most popular guitarist in the country today. Warren has worked as a music producer for artistes like Emma Walter, Johnny Barker, The Aristocrats, Ghosts of Motat, and Donna Dean.
Warren has worked and regularly performs live with with Karsh Kale, Nikhil D'Souza, Vishal & Shekhar, Amit Trivedi and Oscar-winner A.R Rahman.
The Papua New Guinea-born Kaiit grew up listening to the likes of Pink Floyd and Fleetwood Mac. Over the years though, the Melbourne based musician, developed a love for jazz, rap and neo soul, which is evident in her signature future-soul and RnB sound.
Kaiit draws inspiration from her idols Amy Winehouse, Lauryn Hill, Noname Gypsy and SZA. Her artistic background in both beauty and fashion is apparent in her inimitable style and edgy aesthetic.
She's been named as one of the 'Best Rappers under 25' by RedBull Music, released two singles, 'Natural Woman' and '2000 n Somethin', which were heard over a million times on Spotify. She is currently touring Australia with The Internet and is set to release her first EP by the end of 2018.
Supergombo is an exciting new offshoot of a cultural blend from France. Their Afrofunk sound probably comes from the Tout Puissant Orchestre Poly-Rythmo and the Headhunters, blended with influences such as Senegalese Mbalax, Congolese Soukous, funk and jazz. Their music is not really "World" although they do retain its frenzied, uncontrollable rhythm. Supergombo's seven musicians borrow influences from genres, styles, even neighbourhoods such as la Guillotière, a lively Lyon neighbourhood known for its own cultural mix. Their music is distinct and gets people on the dance floor. From his father's years in Africa, band member Etienne Kermarc inherited West African sounds – which he blended with his own jazz idiom. His fellow music travellers are Aurélien Joly and Nacim Brahimi with their horns: Romain Nassini and Riad Klaï for harmony, David Doris from Reunion Island and Wendlavim Zabsonré from Burkina Faso on percussions and drums – all of them involved in the writing and arrangements. Finally, the indie label, Z Production, with Vincent Taurelle, Etienne Meunier and Benoît Bel, work on recordings.
Supergombo's music never forgets its roots, nor the stories it tells.
WorldService Project are the leading specialists of British 'punk-jazz', and are one of the most exported live acts in their field. Their energetic live shows have taken them to festivals across the world, to tour in 18 countries and releasing three highly-acclaimed studio albums.
This spring, WorldService Project launch their highly anticipated fourth album; Serve on Rare Noise Records. Fresh off the back of mammoth tours across America, Europe, Japan, India and China, the epic and anthemic live sound of WorldService Project is both thrilling and heart-wrenching, with a theatrical live performance thrown in for good measure making them one of the finest live acts in Europe.
Lester Godinho: Still Waters
Lester Godinho, the Still Waters lead, began his rendezvous with music at the age of six, studying violin up to Grade 8, before switching to drums which was natural since his father, Leslie Godinho, is one of India's most illustrious drummers. Lester's passion for music has covered diverse genres encompassing pop, rock, funk, Latin, gospel, jazz, fusion, Western/Indian classical, opera, Bollywood and even hip-hop! Besides being a great performer, Lester is also a good teacher and most of his students are now established drummers.
Delegate Package Inclusions
Airport transfers
All three meals
Shuttle service to the venue for the festival
Festival passes for both days
Accommodation for single/double occupancy

Venue
The International Centre Goa, Dona Paula
The International Center Goa(ICG), Dona Paula, Panjim, North Goa, Goa- 403004