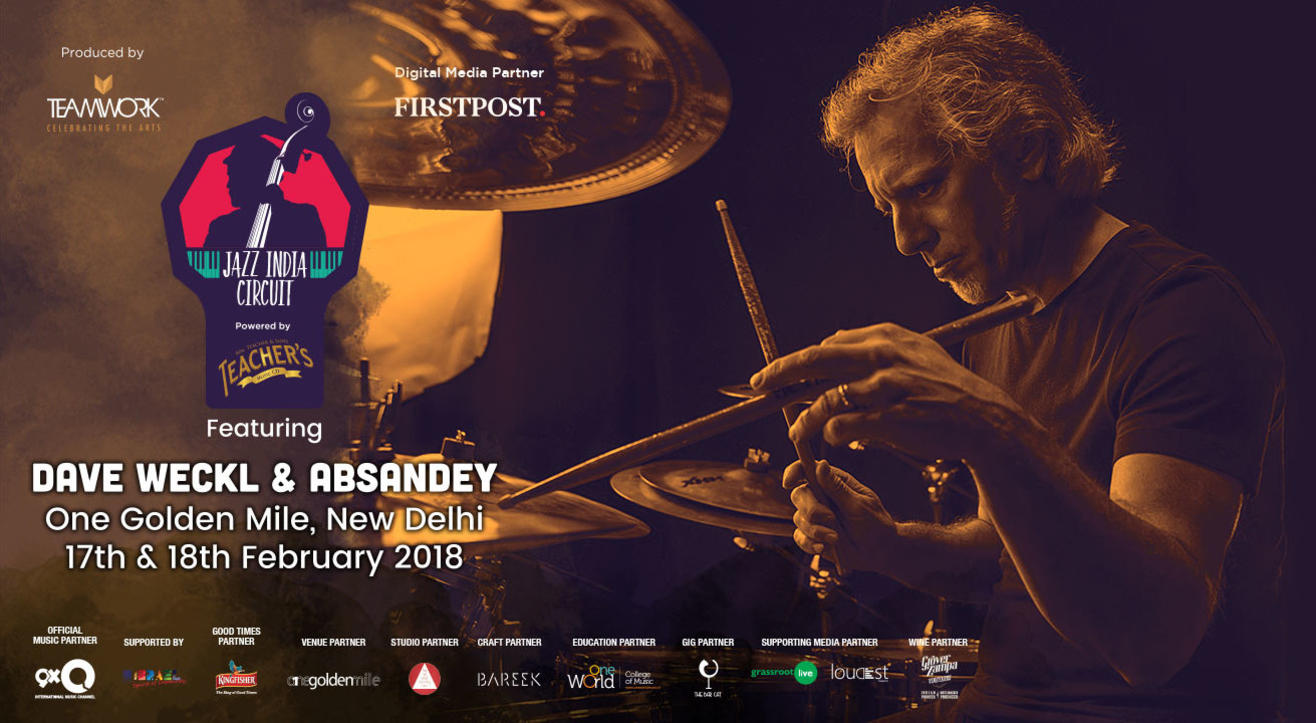 Music
Jazz India Circuit feat Dave Weckl (Delhi)
February 17 & 18 | 6:30PM
About
Teamwork Arts' Jazz India Circuit presents its set of concerts in Delhi as a celebration of the classic sounds of jazz - a throwback to the golden era of the music with a line-up of artistes who are at the top of the musical game.
Jazz India Circuit is one of the biggest celebrations of jazz in India, exploring the entire spectrum of the fascinating genre from across the world, and culminating in the beautiful cities of Delhi and Goa. In the current season, 6 concerts of the Circuit are split between Goa and Delhi, from December 2017 to March 2018. It truly is the most anticipated jazz spectacle in the country.
For more than 35 years, Dave Weckl has developed and maintained a reputation among fans, peers, and the international music community, as one of the greatest living drummers. Modern Drummer Magazine has inducted Weckl into their Hall of Fame (2000) and named him "one of the 25 best drummers of all time". Weckl's dynamic and diverse drumming, which has inspired musicians worldwide, is built on a foundation of knowledge and passion. More recently, Weckl has returned to touring while completing sessions in his Los Angeles area home studio. He has also formed an online school with comprehensive lessons, play-along products, and live footage from current tours.
Mohini Dey, daughter of bass player Sujoy Dey, has been described as a prodigy by many acclaimed musicians. Mohini started learning the bass guitar at the age of 3, performed at concerts and recordings at the age of 10, and now, at 17, is an extraordinary bass player playing across the world with celebrated musicians.

Abhijith P.S. Nair is a sensational young violinist and film music composer based in India. Known for his instrumental video projects, he was introduced to Carnatic music at the age of 13. He has recently collaborated with legendary drummer Dave Weckl for his first international instrumental jazz fusion album "Saraswati At Montreux". He has shared the stage with great artistes like Padmashree K.J. Yesudas, Hariharan, Shankar Mahadevan, Sivamani, and many more.

Sandeep Mohan is a talented young guitarist who did his 8th grade in Western classical guitar from Trinity College, London. Sandeep founded his first band in 2008 called Wings. The band did many shows within Kerala and outside. Sandeep has played in S36, the official band for the Rajasthan Royals in the 2010 IPL season. He has worked in many Malayalam and Telegu films and collaborated with Dave Weckl for his first "Saraswati At Montreux".

Joe Johnson is one of the finest keyboard players from South India and has worked with the jazz fusion band Karnatrix led by the popular guitarist John Antony. He performed with the jazz drummer Senri Kawaguchi on her Indian tour and has worked with many bands and artistes in Malaysia, Singapore, Mauritius, Maldives, UAE, etc.


Alex Jønsson is an award-winning Danish guitarist, composer, and improviser based in Copenhagen. Jonsson, who was born and grew up in West Jutland, obtained the prestigious Nordic Master of Jazz (NOMAZZ) from the Royal Academy of Music, Aarhus in 2013. In fall 2016, Jønsson released his third album, "Heart of Gold", a live recording from a living-room concert in his old hometown, Aarhus, which captures the close intimacy of a living room. Along with Jens Mikkel Madsen on double bass and Andreas Skamby on drums, Jønsson creates an intimate musical universe, which effortlessly sneaks up on the listener.
The Diaspora House is a project that combines original music by Udi Shlomo (drummer, arranger, and composer) which is inspired by his childhood in Israel and blends fresh new sounds with old Jewish songs. The project began in 2013, playing Jewish music from around the world (hence the name "The Diaspora House"), bringing the diverse sound of Ashkenazi (East European), Sefaradi (Spanish) and Mizrachi (Arabic) Jewish music in new arrangements while preserving the unique sound of jazz and world music.
John Law is a prize-winning classical prodigy on the piano, who turned away from classical piano studies to pursue jazz and improvised music when he was 23 and has been involved in and acclaimed for his work in a wide variety of contemporary jazz projects. John's main project currently is his acclaimed trio Congregation, which has toured all over Europe to audience adulation in concert halls, clubs and at festivals such as the North Sea Jazz Festival (Rotterdam), the Queen Elizabeth Hall at the London Jazz Festival.
Rhythm Shaw, a 21-year-old Mumbai-based guitarist who was hailed as a child prodigy at the age of 8, had immense national television coverage and accolades from his audiences through his school and college years. Rhythm is also a multi-instrumentalist with abilities to enthral audiences on the tabla, where he had begun his musical journey, having trained in Hindustani classical. His skills on the acoustic guitar are further amplified on the electric guitar; his nuanced understanding of his instrument coupled with technical proficiency has him presently at the pinnacle of musical success in genres across jazz, metal, and progressive rock and the massive experimental soundscapes in between. Rhythm's artistic development has been shaped by legendary musicians like A.R. Rahman, Gino Banks and Zakir Hussain. His album has been one of the highest grossing CDs in Germany. He regularly tours Europe and has done a tour of South America too.
The Karan Khosla Trio is an instrumental jazz outfit focussed on "bebop" - a genre that dominated the jazz world through the 1940s and was made famous by the likes of Charlie Parker, Bud Powell, Dizzy Gillespie, Barry Harris, Thelonious Monk and many others.

Karan Khosla, the Trio's main guitarist, has a passion for playing bebop, blues and good old rock and roll. He is a long time protégé of jazz guitar icon and pedagogue, Matthew Warnock with hundreds of sessions to his credit and plays regularly for some of the city's most popular music acts such as BollyJazz, The NuDeli Rhythm Section and many others. As a songwriter, Karan has written music for popular alternative-rock band, "The Limited Experience", whose video "Constitution of Love" has been widely featured on MTV Asia.

Ekaterina Aristova, who is on upright bass, is originally from St. Petersburg, Russia and finished music school as a classical piano player. She graduated from the M.P. Musorgskys St. Petersburg State Music College as a double bass/bass guitar player and music teacher. She has also learnt the art of improvising, arrangement and performing with jazz orchestras in special workshops at the Bayerisch Musikakademy, Marktoberdorf, Germany and has trained in the theory of jazz music and improvising at the workshops of the legendary American piano player Barry Harris.

Delhi-based drummer Aditya Dutta is part of The Piano Man Jazz Club's in- house band. He performs and collaborates as a session musician with various artistes from independent music circuits of Delhi and NCR. He is also on the drumming faculty at music schools across the city.
Teamwork Arts is a highly versatile entertainment company, with roots in the performing arts, social action and the corporate world. They currently produce over 25 highly acclaimed performing arts, visual arts and literary festivals across 40 cities in countries such as Australia, Canada, Egypt, France, Germany, Hong Kong, Italy, Israel, Korea, Singapore, South Africa, Spain, UK and USA, including the world's largest free literary gathering — the annual ZEE Jaipur Literature Festival.
New Delhi has always had a taste for the finer things in life - whether its food, art, music or fine things. One Golden Mile is a celebration of the city's exquisite taste. Often, the place is described as a rejuvenation of a green space within the city to bring back memories of the days gone by when one was closer to nature. Ecologically planned & environmentally positive, it's an interplay of vision & passion to be in harmony with nature. Earth, water, fire & air -all precious resources to be honoured are present.
Venue
One Golden Mile
One Golden Mile, Shaheed Sudhir Tyagi Marg, Off Africa Avenue,Chanakyapuri New Delhi - 110023