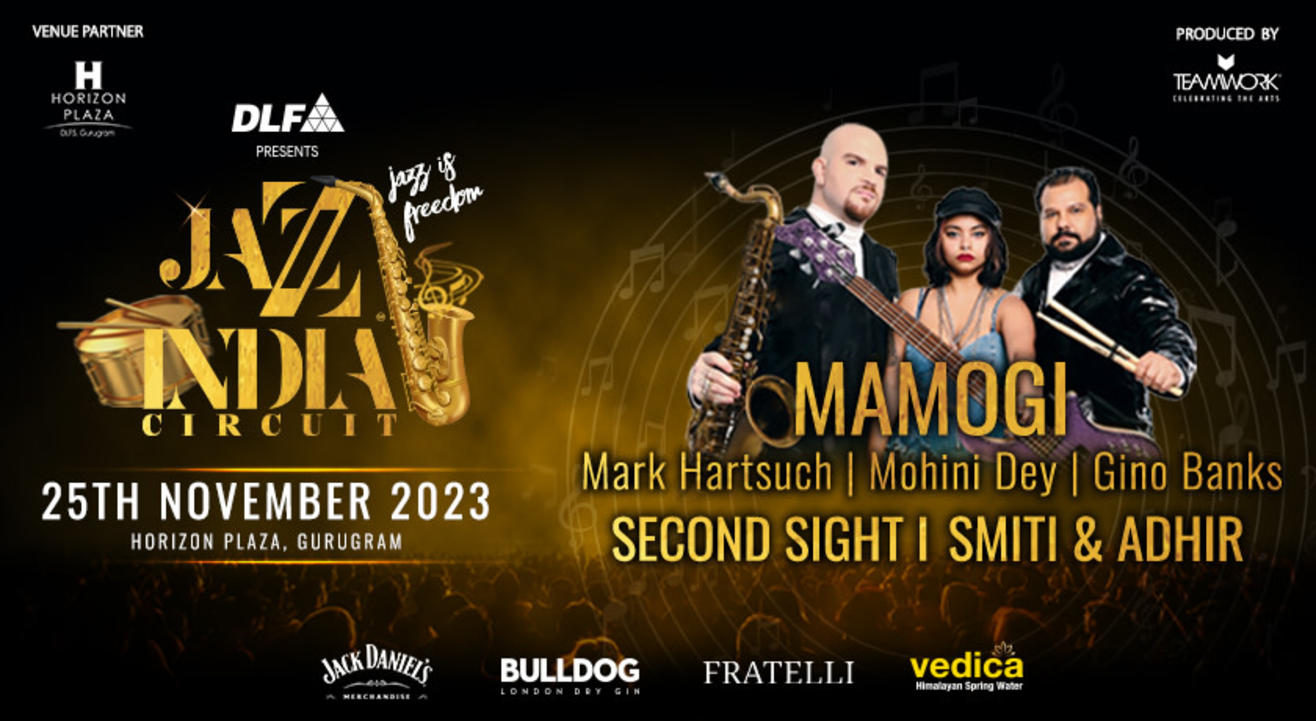 One Horizon Center, Gurugram
Event Guide
For Age(s)
Family Friendly
Language
English, Hindi, Hinglish
Live Performance
Enjoy a unique experience
Invite your friends
and enjoy a shared experience
One Horizon Center, Gurugram
Event Guide
For Age(s)
Family Friendly
Language
English, Hindi, Hinglish
Live Performance
Enjoy a unique experience
Invite your friends
and enjoy a shared experience
Event Guide
For Age(s)
Family Friendly
Language
English, Hindi, Hinglish
Live Performance
Enjoy a unique experience
Invite your friends
and enjoy a shared experience
The Jazz India Circuit is a celebration of the soul-stirring, improvisational and edgy genre of music, known as jazz. The circuit is an endeavour to showcase jazz's vibrant contemporary forms while creating an immersive experience while also honouring its rich history and evolution. The festival serves as a platform for exploring the diverse cultural influences that have shaped the genre, including African, European, and Latin elements. Featuring a range of jazz styles, from classic and smooth jazz to avant-garde and fusion, the Jazz India Circuit is an evening that offers something for every jazz enthusiast - jazz-lovers, musicians, and artists - and will foster a sense of community for both aficionados and the common listener.
Over the last 6 years, the Jazz India Circuit has featured the likes of Stanley Jordan, Dave Weckl, Jojo Mayer |NERVE, Jamison Ross, House of Waters, Adam Neely's Sungazer, Darshan Doshi Trio, and 30+ riff-tearing, chops-flaring, brilliant musicians from around the country and the world.
Our November 2023 edition will be headlined by the magnificent trio MaMoGi, a power-packed band excelling in contemporary rock, jazz and electronic beats. The band features prodigy bassist Mohini Dey, the incredible Gino Banks and superstar American saxophonist Mark Hartsuch.
We also have the charming Mumbai-based band, Second Sight, a sonically kaleidoscopic, lyrically rich brainchild of Anusha Ramasubramoney and Pushkar Srivatsal. Second Sight completes its outfit with Ralph Menezes on the bass, Jigar Shah on the drums, and Jayakrishnan Unnithan on the keys.
Finally, we will feature the versatile duo of Smiti Malik and Adhir Ghosh, who offer a glimpse into the diverse repertoire of The Great American Songbook through the medium of Guitar-and-Voice. They have performed at several sought-after venues and music festivals across the city, including the annual Jazz Utsav 2017, with their live-sets featuring jazz classics by legends like Ella Fitzgerald, Nina Simone and Billie Holiday.
Such a delectable line-up can only be complemented with a mouth-watering variety of food and beverages elevating the music's hypnotic ambience, with three free beverage coupons up for grabs provided you register with us on ground!
With its characteristic accent on bringing the best in the arts to the country, pioneering art and entertainment company Teamwork Arts along with presenting partners DLF, venue partners Horizon Plaza and partners Vedica, Bulldog, Jack Daniel's and Fratelli put together this truly magical night of musical revelry.
Get ready to groove with us to some slick silken tunes at the Jazz India Circuit on the 25th of November, 2023 at Horizon Plaza Gurgaon.
Listen Links:
MaMoGi: https://open.spotify.com/artist/3SfrnAD2eMuABoxsnjudLh
Second Sight: https://open.spotify.com/artist/7Gj4NjNVPzzn00yDDVmrla
Smiti & Adhir: https://www.youtube.com/watch?v=R8InjpcOOzQ
Please carry a valid ID proof along with you.
Students need to carry official student ID along with you for validation.
No refunds on purchased ticket are possible, even in case of any rescheduling.
Security procedures, including frisking remain the right of the management.
No dangerous or potentially hazardous objects including but not limited to weapons, knives, guns, fireworks, helmets, lazer devices, bottles, musical instruments will be allowed in the venue and may be ejected with or without the owner from the venue.
The sponsors/performers/organizers are not responsible for any injury or damage occurring due to the event. Any claims regarding the same would be settled in courts in Mumbai.
People in an inebriated state may not be allowed entry.
Organizers hold the right to deny late entry to the event.
Venue rules apply.


Experience the magic of our exceptional line-up at the upcoming Jazz India Circuit
One Horizon Center
Golf Course Rd, Harizan Colony, DLF Phase 5, Sector 43, Gurugram, Haryana 122002, India
GET DIRECTIONS
One Horizon Center, Gurugram
Event Guide
For Age(s)
Family Friendly
Language
English, Hindi, Hinglish
Live Performance
Enjoy a unique experience
Invite your friends
and enjoy a shared experience