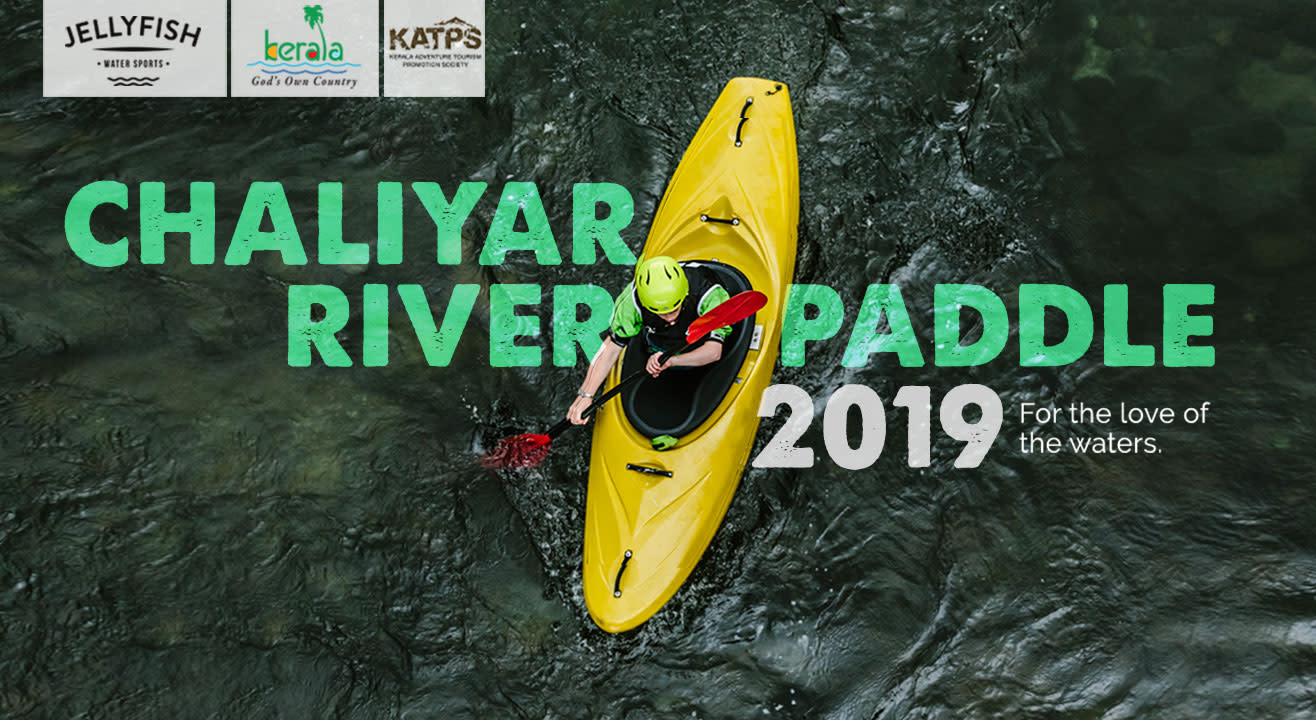 Adventure
Chaliyar River Paddle 2019
About
3 DAYS | 68 KM | KERALA
#PaddletoPreserve our rivers
The 6th edition of Chaliyar River Paddle 2019 is here. From Sep 20 - 22, we will be back on the beautiful Chaliyar River paddling and exploring its length, enjoying the local food, camping, collecting garbage clogging our beloved Chaliyar and helping the recently flood hit Kerala bounce back to its evergreen glory.
We will start from Nilambur and paddle for 68 kms. all the way to Beypore Estuary
Eligibility Age and Skill level:
Anyone from 10 years and above age is eligible to participate in the event. If you haven't done kayaking before, not to worry, our trainers will teach you all the basic techniques required during the Paddle.
Safety Arrangements:
Jellyfish in association with Kerala Tourism has a well-experienced team to take care of you during the course of your Paddle. Our safety measures include:
On water team of expert kayakers, river guides and lifeguards
On land team of support vehicles/staff for logistics, camping, medical emergencies, and safety & rescue assistance
For every 5 participants, we will have one river expert to guide them
Frequent hydration points and checkpoints along the waterway
Certified life jackets and world class equipments
How to get there?
Reporting point on Sep 20th: Manavedan Higher Secondary School, Nilambur
Reach via taxi/bus from Kozhikode Airport, Kozhikode Railway Station, Kozhikode Bus Station and Shoranur Railway Station
Pricing & Inclusions: Click "BUY NOW" to see the different options we have for you.
Itinerary:
DAY1:
10 AM - Check-in
11 AM - Beginner's Training
1:30 PM - Lunch
2:30 PM - Expedition begins
5 PM - Reach Campsite 1 and set camp
7 PM - Yoga, Dinner, Bonfire
DAY2:
6 AM - Start Paddle with sunrise
8AM - Breakfast
10 AM - Meet local school kids
12 PM - Lunch
2 PM - Paddle to the next campsite
5PM - Reach Campsite 2 and set camp
7 PM - Dinner, Music, Bonfire
DAY3:
10 AM - Breakfast
12 PM - Lunch
2:30 PM - Paddle to Beypore
5:30 PM - Reach Malabar Marina, the end point
Join us for 3 days full of nature, adventure and fun.
Venue
Jellyfish Watersports
Jellyfish Lane, Kozhikode, Kerala 673655
GET DIRECTIONS