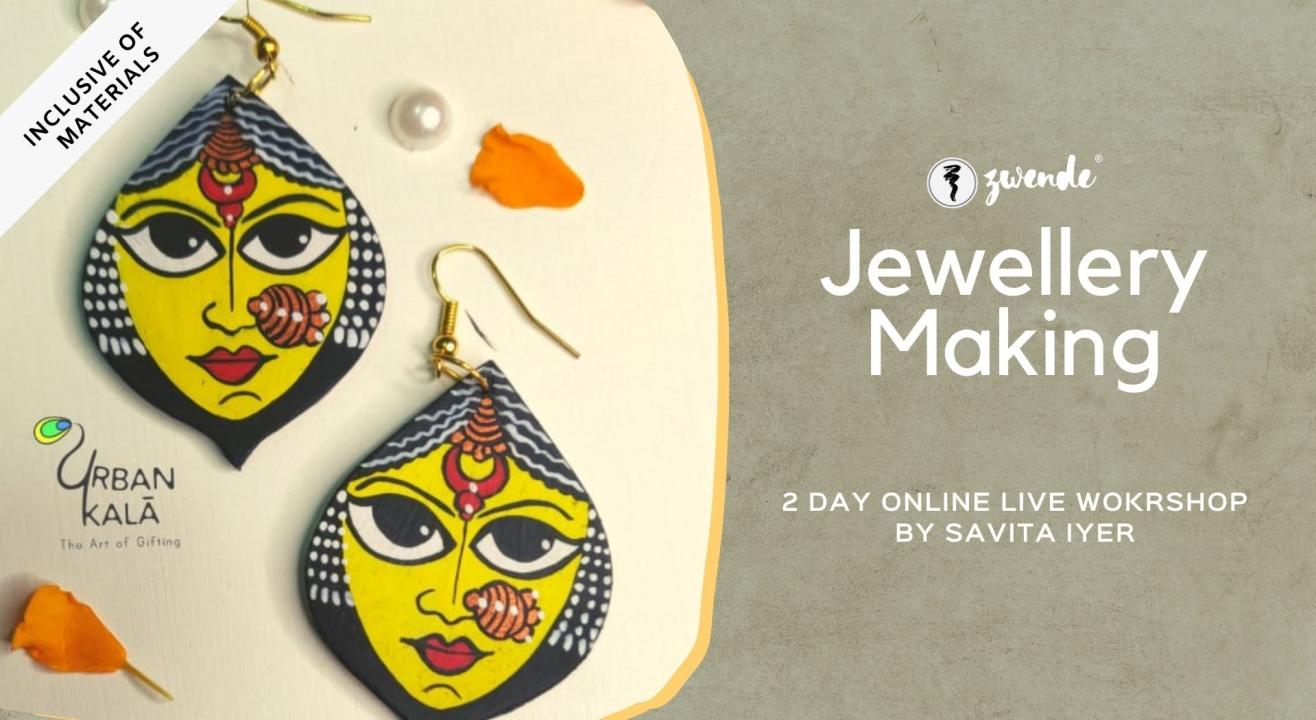 Jewellery Making [Online Live Workshop - Inclusive of Materials]
Enjoy this event from your home
Event Guide
Masterclass
Learn from an expert
Invite your friends
and enjoy a shared experience
Event Guide
Masterclass
Learn from an expert
Invite your friends
and enjoy a shared experience
About the Event
About the Artform
Jewellery making is the art or profession of designing and creating jewellery. The art dates back to many centuries ago and is one of mankind's earliest forms of decoration. It has taken many forms throughout the centuries, ranging from simple beadwork from the ancient times to the sophisticated metal work and gem cutting that we know of, today.
The process of designing and making jewellery is very intricate and difficult. It takes skill and creativity to come up with designs that suit the customer's palette. However, the process is also fun and exciting as you let your creativity run free.
About the workshop
The Canvas
Overall Details
This two day workshop will help you learn the art of jewellery making step by step. You will learn everything required to make a stunning masterpiece, ranging from the conception of the piece to the finishing of the jewellery. At the end of the workshop, you will take home your very own pair of earrings, a pendant, and a ring!
The DIY kit provided to you will contain all the materials that you will need to make the jewellery of your liking!
The colours in the palette
Elements you will learn
During the 2-day workshop, the participants will learn to make their own pair of earrings, ring and a neckpiece.
Day 1
: Making a pair of earrings and ring from scratch.
How to conceptualize a piece of jewellery
How to cut the material into the desired shape
How to put the different parts together
How to sketch the form and design of their choice
How to paint the jewellery
How to assemble everything together to create a beautiful piece of wearable art
Day 2: Making a neckpiece from scratch.
How to sketch the form and design of their choice
How to paint the jewellery and finish the product
How to assemble everything together to create a gorgeous neckpiece
Who is this workshop "just right" for?
This workshop is a treat for aspiring jewellery artists, housewives, art lovers and jewellery addicts.
If you're also a person who loves working with DIY kits, this workshop is perfect for you!
The workshop is beginner friendly (age 12+)


What your Material kit will contain
Materials at your doorstep
Precision knife
Colors
Brushes
Pencil
Tracing sheet
Jewellery hooks and jump rings
Plier
Instructions sheet
Sample coloring sheet
Glue
Sand paper
Other Materials Required:
The scope of creativity
Further prospects and application of what you will be learning
Using the skills acquired during the workshop, the participants can design and create different pieces of jewellery. This can be for personal use or can be used for gifting as well!