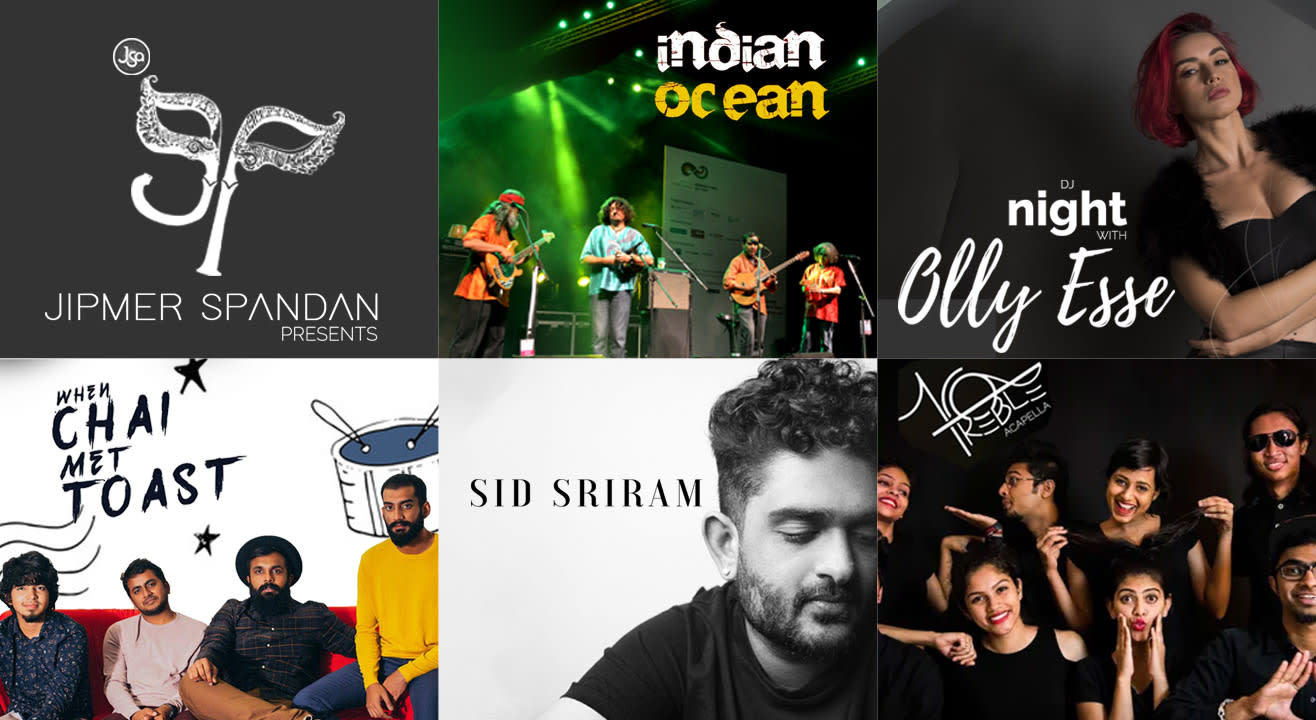 College Fest
Guess who's jamming at JIPMER?
Spandan, one of India's biggest college fests, is back with some super-sweet music acts!

Bands have put up their most memorable performances at college fests, and it's been no different at Spandan. They've seen the likes of Benny Dayal, Thaikuddam Bridge, Andrea Jeremiah and DAIRA fire up the stage. This year, the lineup is just as big! Whether you're listening to a music act for the first time or going to support your favourite musician, doing it with the enthusiastic crowd at JIPMER is a great experience.

Don't miss out on their epic music lineup!

Bands and artists for every preference - melody, electronic, indie pop, folk, rock and more.

No Treble
This Bangalore-based acapella group is quite the internet sensation! They bring together regional and Western music in a quirky way that's also pleasing to hear.

Indian Ocean

One of the most influential Indian rock bands to ever hit the stage in the modern music era, Indian Ocean is a pioneer in IndoRock fusion. Their mix of folk and rock has been a hit across generations, and there's no better place than at a college fest to catch their signature energetic performance. Watch the making of their collab, Roday, with Vishal Dadlani!

When Chai Met Toast

An indie band based out of Kerala, these guys are known for their feel good vibes. They've just finished a wildly successful tour of India, and listening to their music is best done with a young, energetic crowd!

Sid Sriram

This musician's captured hearts almost all too quickly. Having lent voice to a countless number of film songs, he's also experimented with various styles of music in his new indie album, 'Entropy'. Sriram's Carnatic prowess and blend of jazz + hip-hop has made him wildly popular among young and old alike.

Olly Esse

An internationally acclaimed DJ, Esse has performed with some big names in the electronic music scene, such as Robin Schulz, Lost Stories and Anish Sood. Her beats have found resonance with a staggeringly large fan base around the world.

Subscribe to receive our newsletter!
Find the best experiences happening out there in your city or enjoy handpicked content while sitting comfortably at home. Paytm Insider is your go-to place to figure out what to do today!