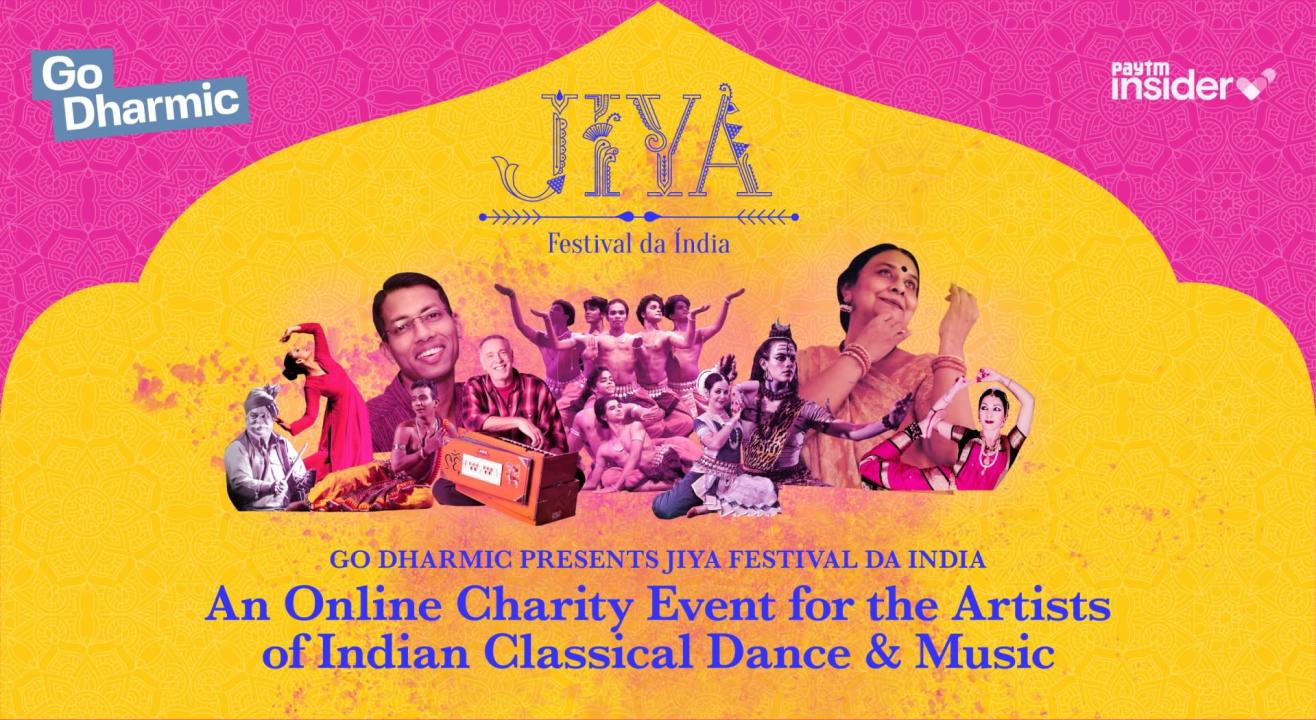 Jiya, Festival da India 2020
Event Guide
Digital Event
Live On Insider
For Age(s)
Family Friendly
Live Performance
Enjoy a unique experience
Invite your friends
and enjoy a shared experience
Jiya, Festival da India 2020
Event Guide
Digital Event
Live On Insider
For Age(s)
Family Friendly
Live Performance
Enjoy a unique experience
Invite your friends
and enjoy a shared experience
Event Guide
Digital Event
Live On Insider
For Age(s)
Family Friendly
Live Performance
Enjoy a unique experience
Invite your friends
and enjoy a shared experience
Go Dharmic presents
JIYA, Festival da India 2020 (Online Edition)
In Aid Of the Folk Artist Community in India
After two successful editions of Jiya, Festival da India in Lisbon, Portugal - we are back with the third edition to celebrate Indian Classical Music and Dance.
We are glad to announce that this year Jiya, Festival da India will be an Online Charity Event in partnership with Go Dharmic Welfare Foundation and the proceeds from the ticket sales and donations will go towards providing ration kits to vulnerable artist families in rural India.
The COVID 19 outbreak has proved to be a major setback to millions financially, emotionally and mentally. The pandemic has had an especially devastating effect on those who rely on regular incomes from festivals, weddings, shows, and various public gatherings.
A small act of yours can help us raise sufficient funds and resources for these artists and their families.
Click here to learn how you can purchase tickets and donate!
It is essential for the larger community to come together, spread the word and advocate effective change.
In this digital show, experience cultural and aesthetic talks from renowned Scholars and assist 7 artists from diverse backgrounds take the stage and display their talent in various Indian Classical Art forms.
Artist line-up:
Cultural and Aesthetic talks:
Prof. Guru Ranjana Shrivastava - 'Narthaki'
Rahul Acharya - Lord Jagannatha and Mahari tradition
Show:
Krishna Das - Grammy-nominated devotional singer (USA)
Carolina Prada - Mayurbhanj Chhau (Colombia)
Lamia Barbara - Bharatanatyam (Italy)
Nathulam Solanki - Nagada Drums (Pushkar, India)
Rudrakshya Foundation - Odissi (Bhubaneswar, India)
Sanjukta Sinha Company - Kathaka (Ahmedabad, India)
Tara-Chantelle Gomez - Odissi (Lisboa/Goa)
Vishwanath Mangaraj - Odissi (Delhi, India)
For more info visit: https://fb.me/e/1GGsnfY1O or email: info@godharmic.com
Jiya, Festival da India 2020
Event Guide
Digital Event
Live On Insider
For Age(s)
Family Friendly
Live Performance
Enjoy a unique experience
Invite your friends
and enjoy a shared experience