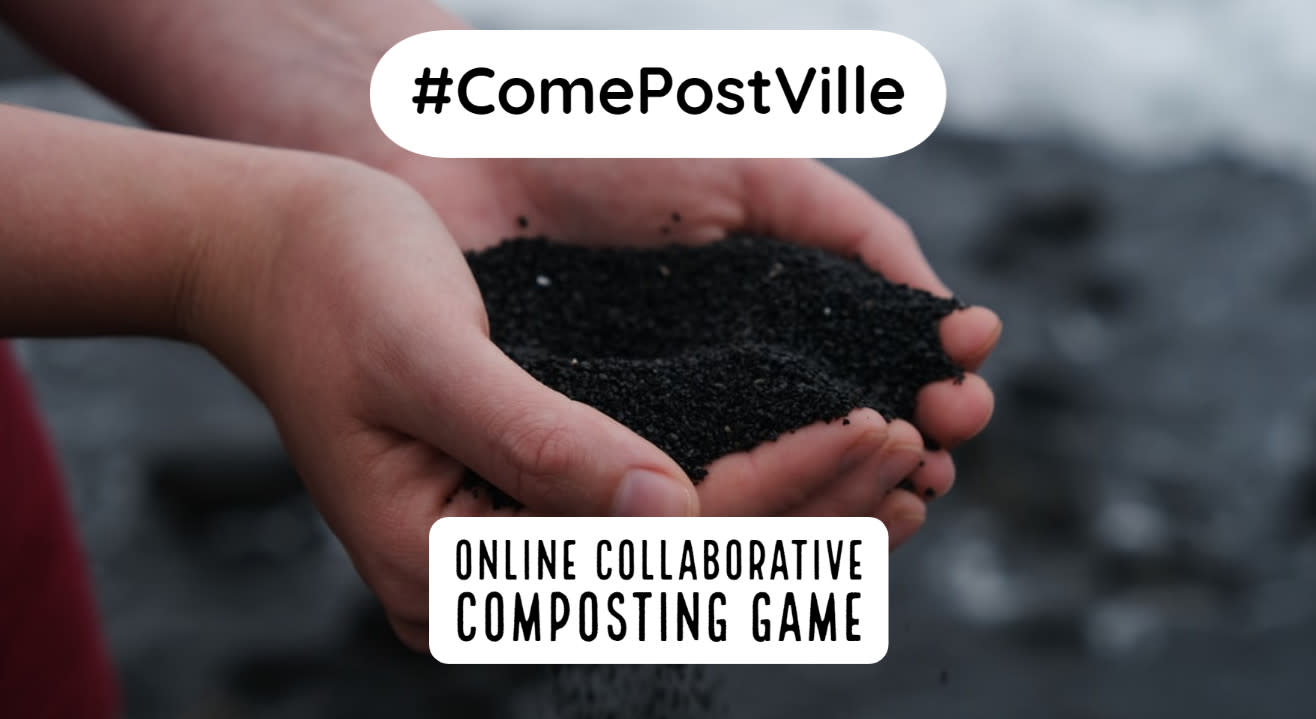 Join this game to help make Goa cleaner
Sign up before December 31
Enjoy this event from your home
Invite your friends
and enjoy a shared experience
Invite your friends
and enjoy a shared experience
About the Event
Interested in contributing positively to our environment and having fun while you're at it?
If you're in Goa, join ComePostVille, a community collaborative game to promote simple steps towards eco-friendly living like composting.
Did you know, most of our waste ends up in dumping grounds, waterways, is buried or burnt? This causes pollution and contributes to climate change. But with simple steps like composting, we can convert our kitchen waste into nutrient-rich food for soil.
About the Game:
ComePostVille aims to build an ecosystem for collaborative learning towards composting. It was started on October 4, 2020 and the game's goal is to reach 1000 Composters in Goa by 31st Dec 2020.
Participants can sign up for different roles such as Player, Coach, Referee, Scorer or Cheerleader/ Audience. They will be split into teams to enable faster learning based on their location, and added to the team's Whatsapp group. There are also regular huddles (small catch up sessions) conducted to discuss problems and experiences.
Each role has a set of simple tasks to be done during the 90-day game. Each participant will receive points for completing tasks/ milestones and there will be bonus points as well! The participants gaining highest points in each role shall be felicitated.
How you can join:
Once you sign up, the ComePostVille team will share with you the relevant documents with details about the rules, points system and a link to the Whatsapp group of your selected area. You can choose to participate as any of the following:
Player - As a player you will either start or restart composting and you will have to work towards milestones or targets in terms of your composting cycle
Coach - If you've been composting for a while, you can join can as coach and guide players to successfully complete one composting cycle during the 90 day period
Referee - As a referee, you shall oversee that the game goes on as per the rules set out
Scorer - You will be responsible for maintaining scores of players on your team
Audience and Cheerleader - As a cheerleader you can help keep up the momentum of the game by encouraging players, support the game and spread the word in your circles
Safety Measures:
You are welcome to join the in-person huddles or meetings that are conducted for the teams when possible. For this, participants are requested to:
Maintain a minimum distance of 6 feet at all times
Wear face covers/masks at all times
Things to Keep in Mind:
Mobile/ computer to access Whatsapp is required
Age no Bar
Meet the Team:
ComePostVille was initiated by Abhinav Apte, who is passionate about waste management and has been composting for more than 8 years. He has seen many composting enthusiasts get discouraged due to issues like smell, insects, leachate etc which can be easily managed. With this game, he aims to encourage citizens to take up composting and provide positive reinforcement to continue.
Have Questions? Reach out to:
Abhinav - 7972779311
More details at: https://1000compostersingoa.wordpress.com/2020/10/04/comepost-ville/