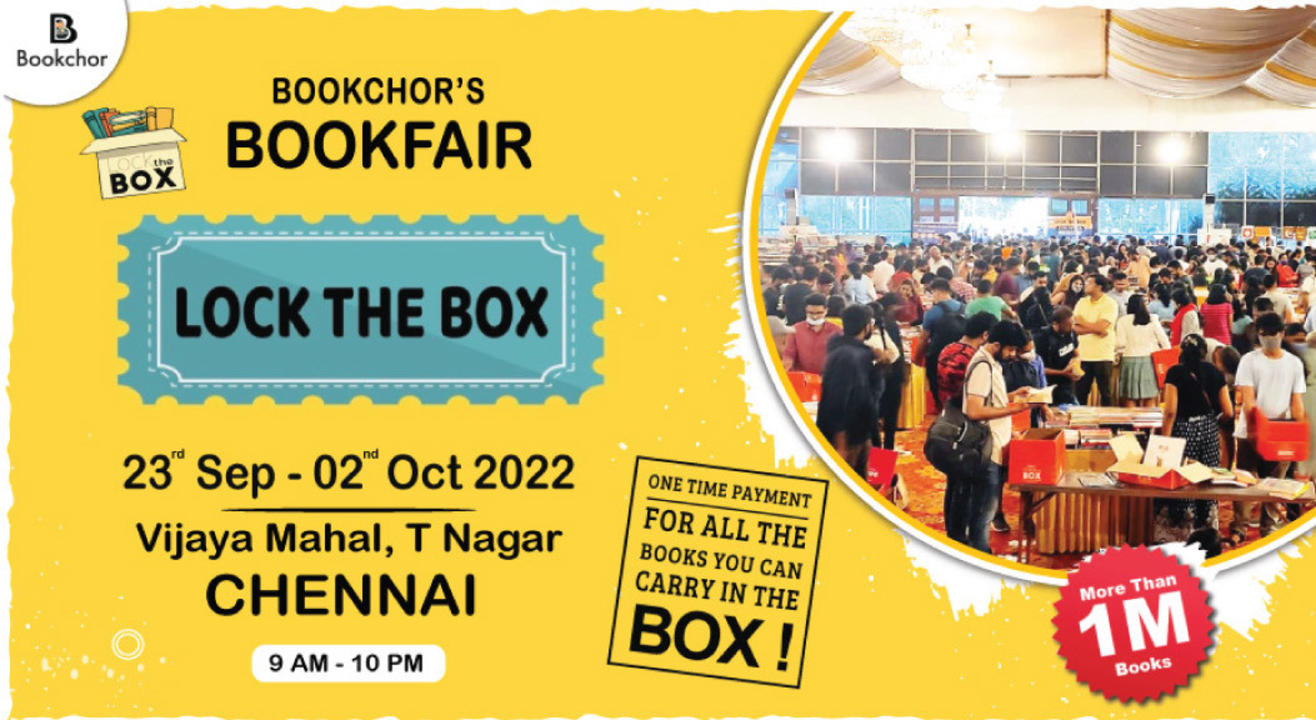 Join us on India's Largest Book Fair in Chennai
September 23 | 9AM - October 2 | 10PM
Event Guide
For Age(s)
Family Friendly
Invite your friends
and enjoy a shared experience
Join us on India's Largest Book Fair in Chennai
September 23 | 9AM - October 2 | 10PM
Event Guide
For Age(s)
Family Friendly
Invite your friends
and enjoy a shared experience
Event Guide
For Age(s)
Family Friendly
Invite your friends
and enjoy a shared experience
:: 𝗟𝗼𝗰𝗸 𝗧𝗵𝗲 𝗕𝗼𝘅 ::: Chennai
𝗟𝗼𝗰𝗸 𝘁𝗵𝗲 𝗯𝗼𝘅 𝗶𝘀 𝘁𝗵𝗲 𝗲𝘃𝗲𝗻𝘁 𝘄𝗵𝗲𝗿𝗲 𝘄𝗲 𝗵𝗮𝘃𝗲 𝗰𝗼𝗺𝗲 𝘂𝗽 𝘄𝗶𝘁𝗵 𝗮 𝗯𝗼𝘅 𝗼𝗳 𝗵𝗮𝗽𝗽𝗶𝗻𝗲𝘀𝘀 𝗳𝗼𝗿 𝗮𝗹𝗹 𝘁𝗵𝗲 𝗯𝗼𝗼𝗸𝘄𝗼𝗿𝗺𝘀 𝗼𝘂𝘁 𝘁𝗵𝗲𝗿𝗲.
𝗢𝗻𝗲-𝘁𝗶𝗺𝗲 𝗽𝗮𝘆𝗺𝗲𝗻𝘁 𝗳𝗼𝗿 𝗮𝗹𝗹 𝘁𝗵𝗲 𝗯𝗼𝗼𝗸𝘀 𝘆𝗼𝘂 𝗰𝗮𝗻 𝗰𝗮𝗿𝗿𝘆 𝗶𝗻 𝗮 𝗯𝗼𝘅.
The idea is to give all the readers a golden opportunity where you can get all of your favourite reads together at a lesser price. The Lock-The-Box-Sale would have over 1 Million pre-owned books for you and a deal that you have never seen before. Forget about discounts on specific titles, this is even bigger than books-by-Kgs. This is a one-time payment for all the books you can carry in a box.
There is a total of 3 boxes of different prices according to their size of which you can choose any as per the number of books you want. You can collect whichever book you want from our huge collection and put it in the box unless it gets filled. Once the box gets filled and there is no space left for more you can lock the box.
𝟭 𝗠𝗶𝗹𝗹𝗶𝗼𝗻 𝗕𝗼𝗼𝗸𝘀
𝟭 𝗟𝗮𝗸𝗵 𝗧𝗶𝘁𝗹𝗲𝘀
𝟱𝟬𝟬𝗞 𝗦𝗮𝘁𝗶𝘀𝗳𝗶𝗲𝗱 𝗙𝗮𝗰𝗲𝘀
𝗣𝗜𝗖𝗞 𝗬𝗢𝗨𝗥 𝗣𝗘𝗥𝗙𝗘𝗖𝗧 𝗕𝗢𝗫 𝗦𝗜𝗭𝗘
𝟭. 𝗧𝗵𝗲 '𝗢𝗱𝘆𝘀𝘀𝗲𝘂𝘀' 𝗕𝗼𝘅 - It can hold approximately 8-10 books depending upon the book size. Make the best use of this box priced at INR 1199 only.
𝟮. 𝗧𝗵𝗲 '𝗣𝗲𝗿𝘀𝗲𝘂𝘀' 𝗕𝗼𝘅 - Here comes our second box which is comparatively large and can carry approximately 15-17 books and also can differ as per book size only at INR 1799. Saturate the box very wisely.
𝟯. 𝗧𝗵𝗲 '𝗛𝗲𝗿𝗰𝘂𝗹𝗲𝘀' 𝗕𝗼𝘅 - This is our biggest and bulkiest box. Costs INR 2999 and can contain approximately 28-30 books or less/more as per book size. Aren't you already excited to decorate your dream bookshelf?
Dates: 23rd September - 2nd October 2022 Mark the dates!
Venue: Vijaya Mahal, T. Nagar, Chennai
Google Map: https://goo.gl/maps/avZdehqEcHsWeVNb6
Timings: 9:00 AM - 10:00 PM
Call Us: 8683811218
Free Entry
Free Car Parking
Vijaya Mahal
26RR+2HH, Sir Thyagaraya Rd, Parthasarathi Puram, T. Nagar, Chennai, Tamil Nadu 600017, India
GET DIRECTIONS
Join us on India's Largest Book Fair in Chennai
September 23 | 9AM - October 2 | 10PM
Event Guide
For Age(s)
Family Friendly
Invite your friends
and enjoy a shared experience