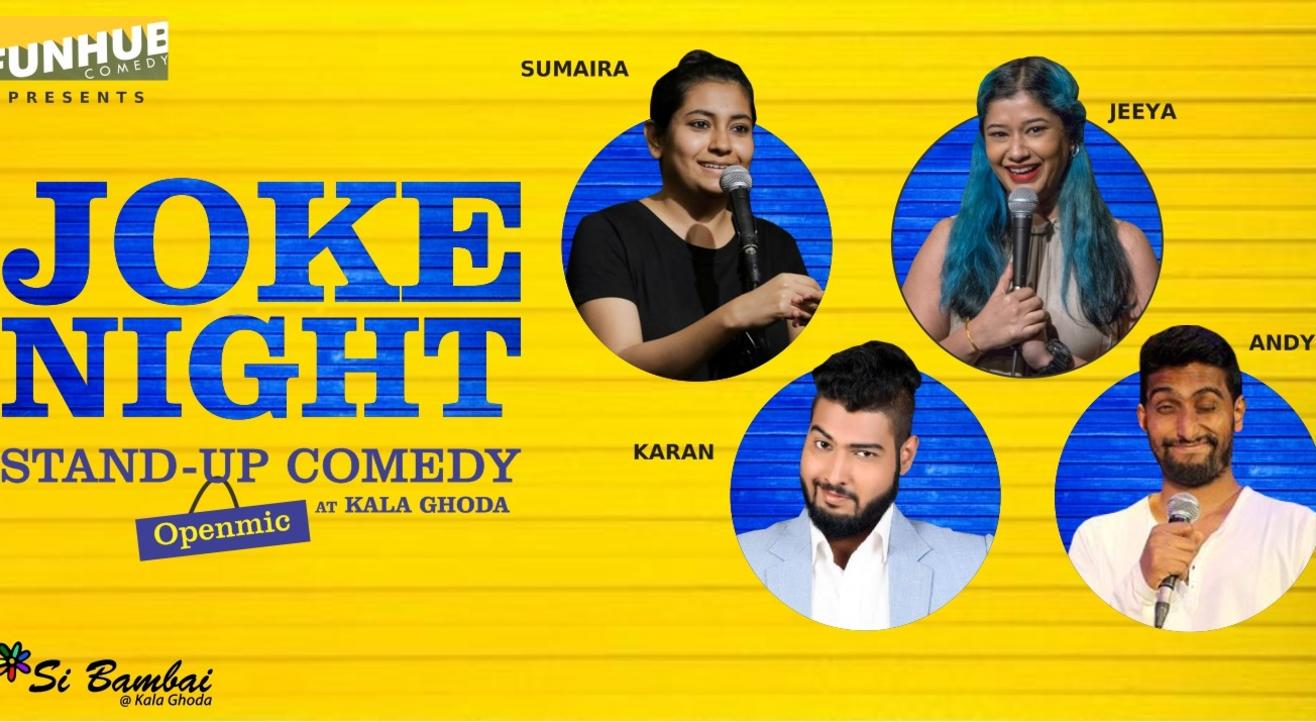 Comedy
About
JOKE NIGHT is a STAND-UP COMEDY Openmic show where new and some seasoned stand-up comedians will come and try their new and old material.
Come and watch them live and give your week a worthy start with this laughter ride!
This show will be hosted by the superfunny Munawar Faruqui and have special acts by Jeeya Sethi, Andy Reghu, Sumaira Shaikh and Karan Chauhan
Jeeya believes if you are fat once (by fat she means FAAAAT) you are fat forever, mentally you never become thin even after losing all the weight. An event manager turned stand-up comedian, improviser and actor, she has made entertainment her new life's mission since nothing else is going for her!
ANDY is a writer, a professor and a spiritual leader - Andy Reghu wears multiple hats. He is from Kurla so he automatically has a criminal past. His hobbies include substance abuse and some more substance abuse. He also claims to be a TV writer and producer and he is wondering why the hell are you reading this.
Munawar is a Muslim Stand-up comedian. Born and survived in Gujarat, now Lives in Mumbai. He is the quintessential cute guy for every girl out there but hes also funny. He has won various competitions organised by the local buildings for the musical chairs.
He fights like a hero in PUBG battles. Has 5k followers on Instagram to show off. After 100+ houseful shows he finally left his job as Ticket Blacker at Maratha mandir and now he is pursuing his career as a Stand Up Comedian. He was listed as the #1 comedian in an imaginary article by Scoopwhoop and Buzzfeed of Top 10 comedians you should watch before they stop doing comedy.
Venue
Si Bambai
No 25, 105 opposite lakshmi vilas bank, Mumbai Samachar Marg, Kala Ghoda, Fort, Mumbai, Maharashtra 400001