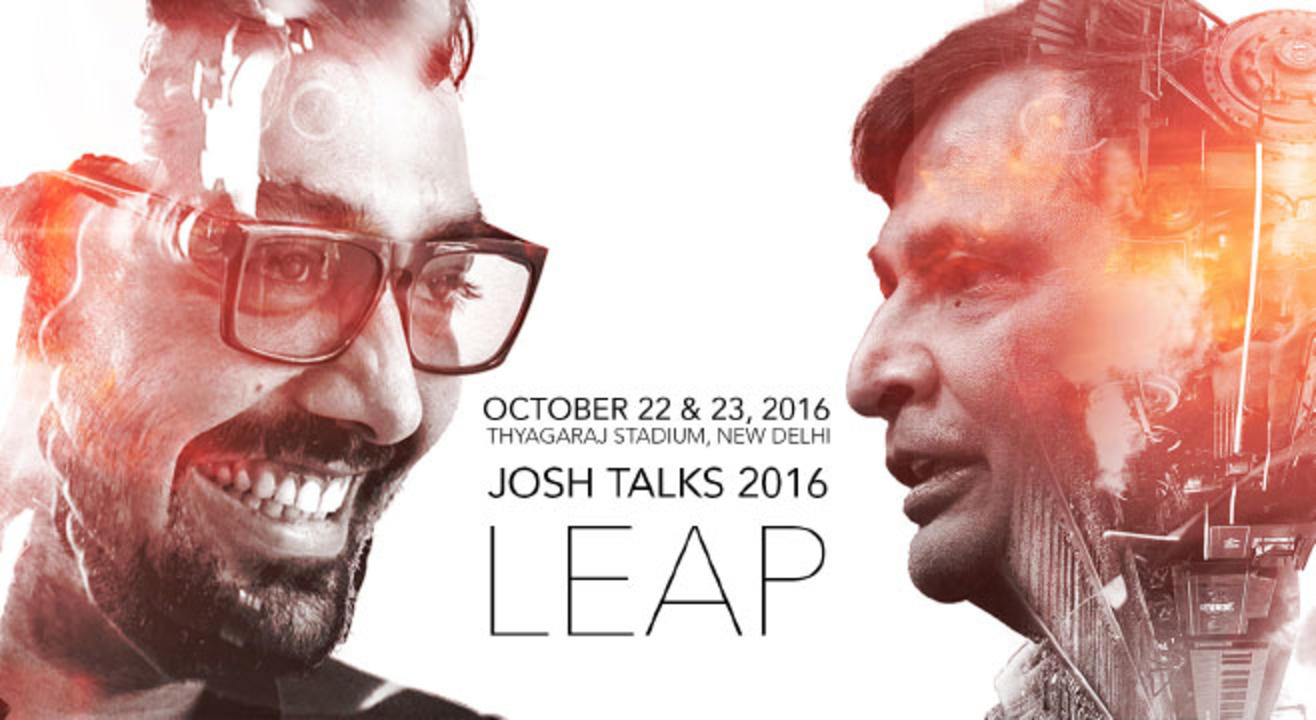 Conference
Josh Talks 2016 : LEAP
Thyagaraj Stadium, New Delhi
About
Join us for the Josh Talks 2016 conference where we will discuss remarkable ideas and hear stories of people who are changing the world. From technology to science, conservation, politics, sports and the arts, over 2 days we will showcase 24 thought provoking talks delivered by speakers from varied fields.
Come and get an insight into some of the remarkable outcomes brought about by a combination of fresh ideas, optimism, and tireless creative energy. Here are a few issues that will come alive during the weekend:
How an Indian mission to the Mars has become a hallmark for success and economy in space exploration
What it takes to carry the weight of the Indian Olympic dream (from a current Olympian)
The 3 Idiots story for real: how the effort of an inventor and educator is transforming the landscape in India's snow desert
How vision, direction, and constructive action is transforming a neglected public sector giant (Indian Railways) into an efficient, modern enterprise
These, and 20 other journeys, will come alive during the weekend. You will find out about the ideas and people driving our country forward. With that you will take back thoughts and anecdotes to chew on. Network and build new relationships.
The gates to our year's BIG weekend are now open – come be a part.
Speakers List
1. Anurag Kashyap - Bollywood Director
2. Suresh Prabhu - Minister for Railways, Government of India
3. Ritu Karidhal - Mars Orbiter Mission Director at ISRO
4. Arunachalam Muruganantham - Social Entrepreneur (TIME Magazine's 100 most influential people in the world alongside Barack Obama)
5. Deepak Ramola - Working with Syrian Refugees
6. Zeishan Quadri - Director/Writer/Actor (Scriptwriter of Gangs of Wasseypur - one of the best scripts ever written in Indian Cinema)
7. Sonam Wangchuk - Educator from Ladakh, Ashoka Fellow ('Phunsukh Wangdu from 3 Idiots' played by Amir Khan)
8. Vicky Roy - From rag picker to one of the World's Best Photographers
9. Papa CJ – Stand-up Comedian (Winner of Asia's Best Stand-up Comedian Award by Top 10 Magazine)
10. Kuldeep Dantewadia, Founder of Reap Benefit, Ashoka Fellow
11. Saket Modi - Forbes India 30 Under 30 for Technology, Co-founder, Lucideus, Cyber Security Expert
12. Robin Chaurasiya - Rehabilitating Daughters of Sex Workers
13. Ishita Katyal - Child Prodigy (Youngest TED Global speaker)
14. Sofia Ashraf - Rapper (Raps about environmental issues)
15. Vineeth Vincent - Musician and Beatboxer
16. Sheelika Ravishankar - Member, Team Indus (India's entry to Google Lunar X Prize), Mission to the Moon
17. Ryan MArtyr - Dancer
18. Tanmoy Ghosh - Wildlife Conservationist
19. Babita Kumari -Olympian Wrestler
20. Ankit Kawatra - On a mission to end hunger in his lifetime
Anurag Kashyap - Bollywood Director
Suresh Prabhu - Minister for Railways, Government of India
Ritu Karidhal - Mars Orbiter Mission Director at ISRO
Arunachalam Muruganantham - Social Entrepreneur (TIME Magazine's 100 most influential people in the world alongside Barack Obama)
Deepak Ramola - Working with Syrian Refugees
Zeishan Quadri - Director/Writer/Actor (Scriptwriter of Gangs of Wasseypur - one of the best scripts ever written in Indian Cinema)
Sonam Wangchuk - Educator from Ladakh, Ashoka Fellow ('Phunsukh Wangdu from 3 Idiots' played by Amir Khan)
Vicky Roy - From rag picker to one of the World's Best Photographers
Papa CJ – Stand-up Comedian (Winner of Asia's Best Stand-up Comedian Award by Top 10 Magazine)
Kuldeep Dantewadia -Founder of Reap Benefit, Ashoka Fellow
Saket Modi - Forbes India 30 Under 30 for Technology, Co-founder, Lucideus, Cyber Security Expert
Robin Chaurasiya - Rehabilitating Daughters of Sex Workers
Ishita Katyal - Child Prodigy (Youngest TED Global speaker)
Sofia Ashraf - Rapper (Raps about environmental issues)
Vineeth Vincent - Musician and Beatboxer
Sheelika Ravishankar - Member, Team Indus (India's entry to Google Lunar X Prize), Mission to the Moon
Ryan MArtyr - Dancer
Tanmoy Ghosh - Wildlife Conservationist
Babita Kumari -Olympian Wrestler
Ankit Kawatra - On a mission to end hunger in his lifetime