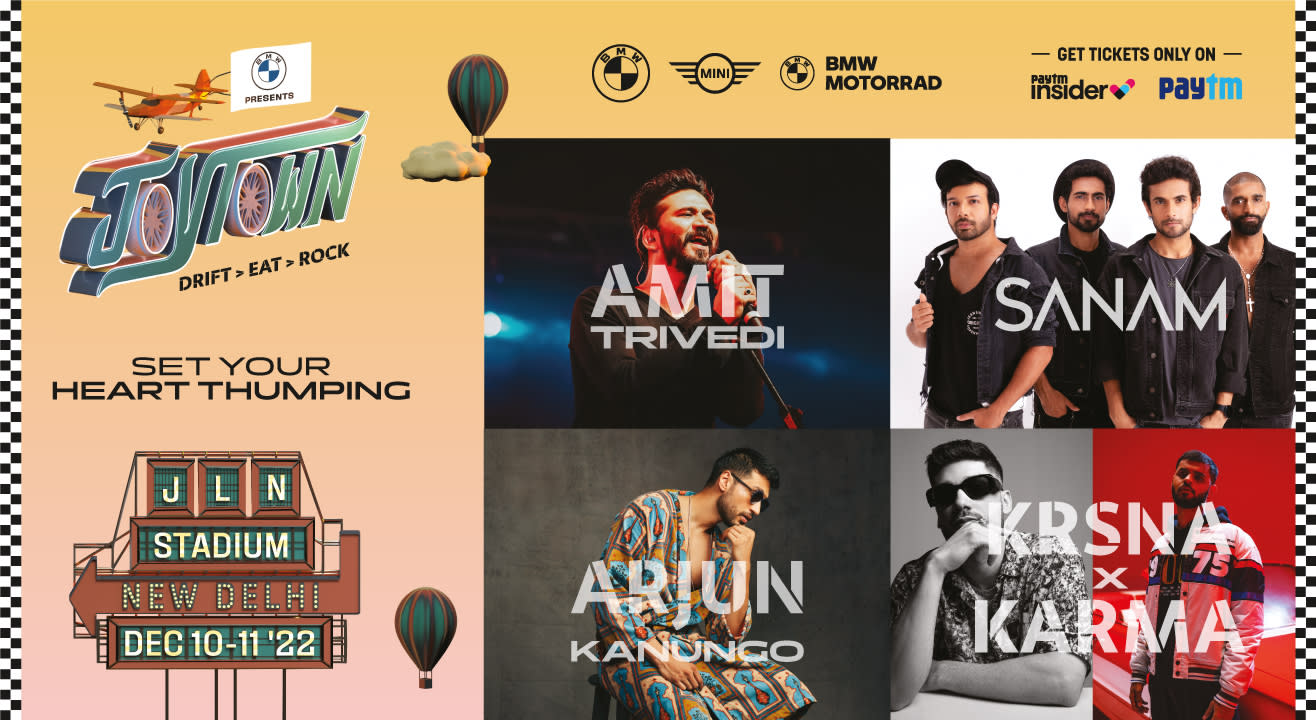 December 10 & 11 | 12 PM Onwards
JLN Stadium, New Delhi, Delhi
Step out and enjoy this event
Invite your friends
and enjoy a shared experience
December 10 & 11 | 12 PM Onwards
JLN Stadium, New Delhi, Delhi
Step out and enjoy this event
Invite your friends
and enjoy a shared experience
Invite your friends
and enjoy a shared experience
Come on down to a one-of-a-kind festival that's going to be an edge-of-your-seat joyride and the talk of the town. Get insider access to the thrilling world of BMW motoring as you get your drift mode on in a BMW, witness insane stunts by BMW Motorrad riders, and experience that go-kart feeling in a MINI.
Groove to the beats and tunes of your favourite artists.
10th Dec: SANAM | LISA MISHRA | KAYAN (DJ SET) | SOUND AVTAR
11th Dec: AMIT TRIVEDI | ARJUN KANUNGO | KR$NA KARMA | MADBOY & MINK | PROJECT 91
Indulge in culinary delights and wash it all down with a beer at our exclusive beer garden. Or if you fancy a cocktail, our mixologists will be keeping the mood high and the vibe heady well into the evening.
Experience sheer entertainment at its peak where automotive thrills, music, food and fun converge.
Won't you take me to JoyTown?
To drift. To dance. To eat. And to rock out!
xDrive Offroad Adventure
Because smooth roads are real bummers.
Keep as much difference as possible from the mundane. Hop on a BMW X Series and let our offroad experts take you to see the world from a different point of view. Trust us, the view will be spectacular.
The Gymkhana Experience
Accelerate. Brake. Drift. Repeat.
Forget navigating mundane challenges for a while and experience maneuvering your favorite BMW or MINI. Buckle up for a thrill like no other on specially prepared track.
BMW M Adrenaline Laps
Get your adrenaline fix.
Get a front-seat ride to experience the wildest beamers—BMW M Series. Watch your adrenaline shoot up as your pilot takes you on an unforgettable ride.
Drift Showcase
Does the sound of a revving engine give you an adrenaline rush? Watch seasoned drivers in action as they take the beamers out to where they belong—the track. The outcomes of which will be airborne specks of dust, skid marks, and dropped jaws. If you don't want to miss the riveting performances, catch the action-packed drift showcase.
Motorrad Stunts
If you thought the only time gravity failed was in the outer space, we're about to prove you wrong. Brace yourselves for mind-blowing, gravity-defying performances at the Motorrad stunt showcase. Watch out for the kind of stunts that would make even the non-petrolheads go 'whoaa'.
BMW Group Showcase
M Garage
Have you ever seen power and sophistication coexist? That's M Series for you, the fiercest beasts from the house of BMW. Come and witness the mean machines on display.
Electric Garden
Gear up to meet the rides of the future in their absolute glory. The electrifying looks and future-oriented design of the BMW i4 and iX are sure to leave you enchanted. If you sense a spark, fret not, it's only natural after being in the company of these majestic beasts.
The BMW, MINI, and Motorrad Display
Witness a spectacular display of driving machines that are sure to give you goosebumps. Whether you're an enthusiast or not, you can't help but admire the grandeur of these rides from BMW, MINI and Motorrad.
The Autobahn for gourmet connoisseurs
Experience a gastronomical event that's unmatched by all standards. Go food truck hopping and relish soul-stirring delicacies freshly whipped up by our in-house chefs, and when it tires you down, stop by the Beer Garden and take a long chug of the beer of your choice
On successful purchase of Joytown entry tickets, you shall receive an email with a special link to purchase tickets for the xDrive Offroad Adventure, The Gymkhana Experience and BMW M Adrenaline Laps.
For any queries, please write to us at queries@joytown.co.in
Drift. Eat. Rock. Only at JoyTown.
JLN Stadium, New Delhi
Jawaharlal Nehru Stadium, Pragati Vihar, New Delhi, Delhi 110003
GET DIRECTIONS
December 10 & 11 | 12 PM Onwards
JLN Stadium, New Delhi, Delhi
Step out and enjoy this event
Invite your friends
and enjoy a shared experience