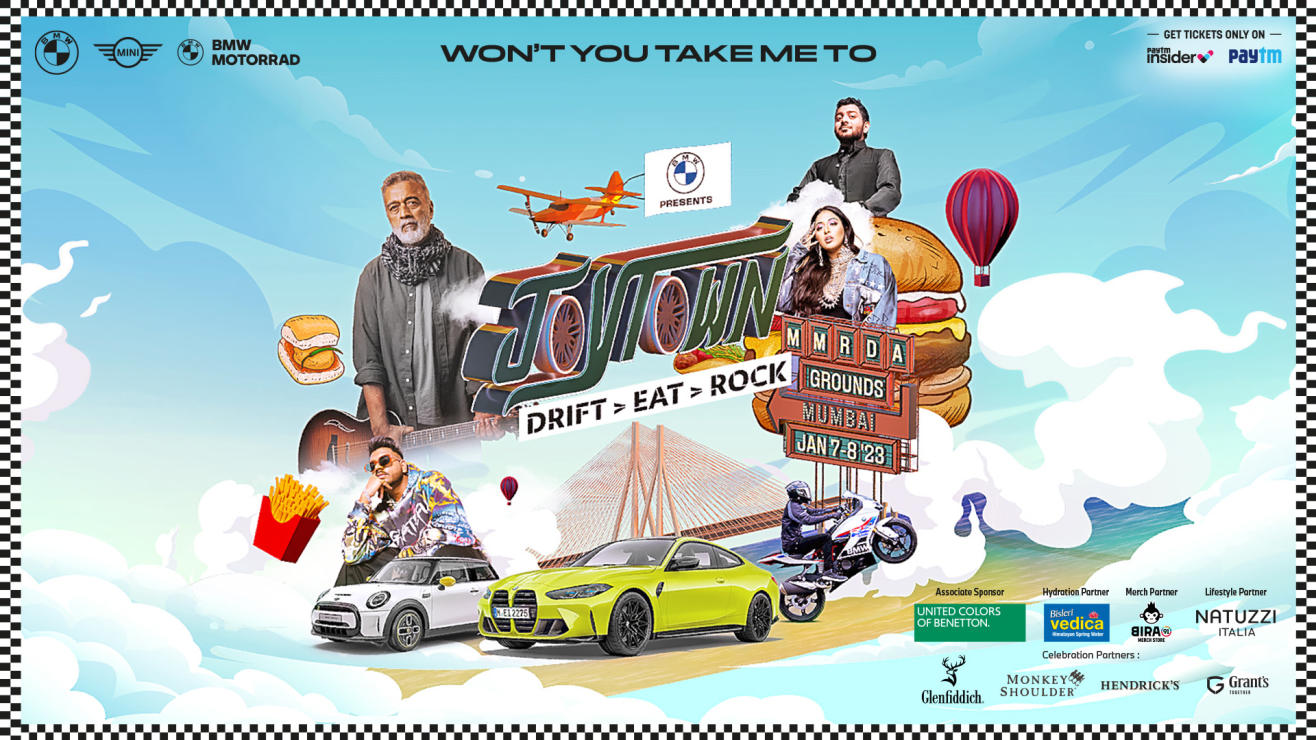 January 7th & 8th | 12 PM Onwards
MMRDA Grounds, BKC, Mumbai
Invite your friends
and enjoy a shared experience
January 7th & 8th | 12 PM Onwards
MMRDA Grounds, BKC, Mumbai
Invite your friends
and enjoy a shared experience
Invite your friends
and enjoy a shared experience
Come on down to a one-of-a-kind festival that's going to be an edge-of-your-seat joyride and the talk of the town. Get insider access to the thrilling world of BMW motoring as your favourite BMW gets its drift mode on, witness insane stunts by BMW Motorrad riders, and experience that big love feeling of a MINI.
Groove to the beats and tunes of your favourite artists.
7th Jan: RITVIZ | KING | RAJAKUMARI | RAGHAV MEATTLE | TECH PANDA + KENZANI
8th Jan: LUCKY ALI | PETER CAT RECORDING CO. | FARIDKOT FEAT. AMAR JALAL | MITRAZ | DJ TASNNEEM
Indulge in culinary delights and wash it all down with a beer at our exclusive beer garden. Or if you fancy a cocktail, our mixologists will be keeping the mood high and the vibe heady well into the evening.
Experience sheer entertainment at its peak where automotive thrills, music, food, and fun converge.
Won't you take me to JoyTown?
To drift. To dance. To eat. And to rock out!
Drift Showcase
Does the sound of a revving engine give you an adrenaline rush? Watch seasoned drivers in action as they take the beamers out to where they belong—the track. The outcomes of which will be airborne specks of dust, skid marks, and dropped jaws. If you don't want to miss the riveting performances, catch the action-packed drift showcase.
Motorrad Stunts
If you thought the only time gravity failed was in the outer space, we're about to prove you wrong. Brace yourselves for mind-blowing, gravity-defying performances at the Motorrad stunt showcase. Watch out for the kind of stunts that would make even the non-petrolheads go 'whoaa'.
BMW Group Showcase
M Garage
Have you ever seen power and sophistication coexist? That's M Series for you, the fiercest beasts from the house of BMW. Come and witness the mean machines on display.
Electric Garden
Gear up to meet the rides of the future in their absolute glory. The electrifying looks and future-oriented design of the BMW i4 and iX are sure to leave you enchanted. If you sense a spark, fret not, it's only natural after being in the company of these majestic beasts.
The BMW, MINI, and Motorrad Display
Witness a spectacular display of driving machines that are sure to give you goosebumps. Whether you're an enthusiast or not, you can't help but admire the grandeur of these rides from BMW, MINI and Motorrad.
The Autobahn for gourmet connoisseurs
Experience a gastronomical event that's unmatched by all standards. Go food truck hopping and relish soul-stirring delicacies freshly whipped up by our in-house chefs, and when it tires you down, stop by the Beer Garden and take a long chug of the beer of your choice
For any queries, please write to us at queries@joytown.co.in
Free entry for children under the age of 10.
Festival entry permitted only along with a parent or guardian. ID cards need to be provided at the time of entry.
Please carry a valid ID proof along with you
No refunds on purchased ticket are possible, even in case of any rescheduling.
Security procedures, including frisking remain the right of the management.
No dangerous or potentially hazardous objects including but not limited to weapons, knives, guns, fireworks, helmets, laser devices, bottles, musical instruments will be allowed in the venue and may be ejected with or without the owner from the venue.
The sponsors/performers/organizers are not responsible for any injury or damage occurring due to the event. Any claims regarding the same would be settled in courts in Mumbai.
People in an inebriated state may not be allowed entry.
Organizers hold the right to deny late entry to the event.
Venue rules apply.
Festival Parking Zone Map
MMRDA Grounds, BKC
R2 Ground, C-32, G Block BKC, Bandra Kurla Complex, Bandra East, Mumbai, Maharashtra 400051
GET DIRECTIONS
January 7th & 8th | 12 PM Onwards
MMRDA Grounds, BKC, Mumbai
Invite your friends
and enjoy a shared experience