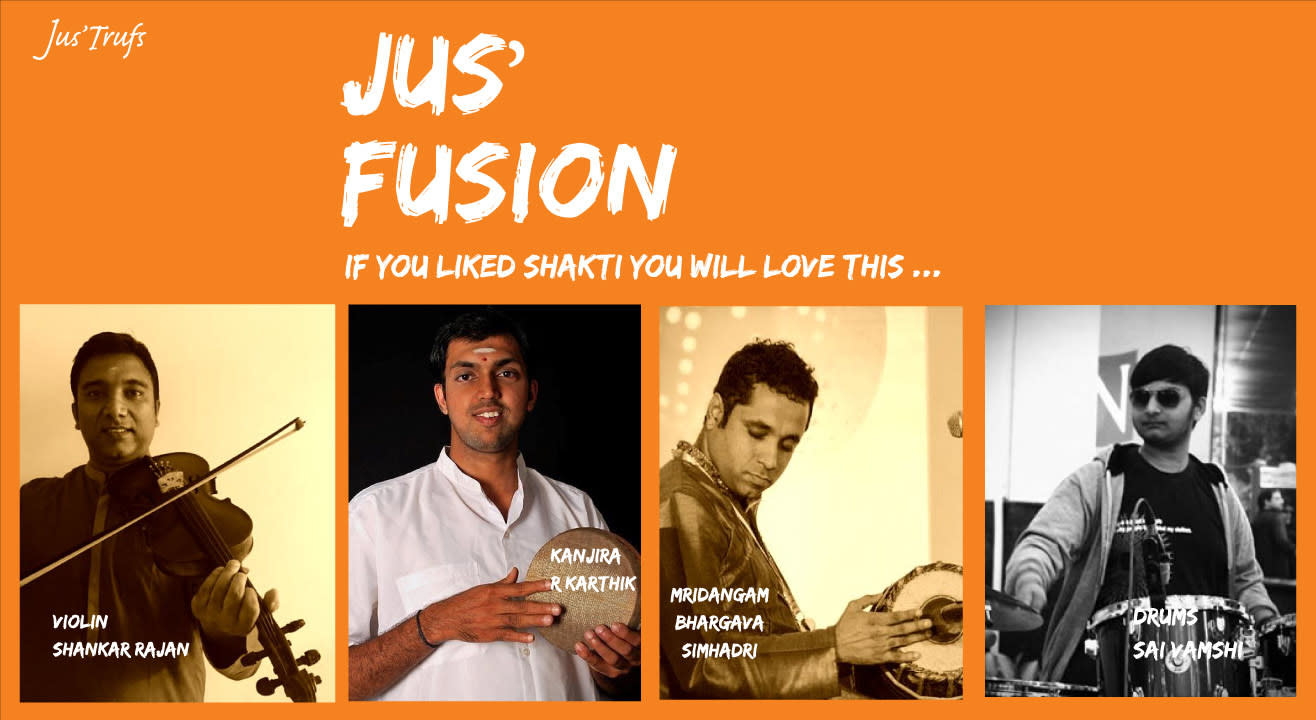 Music
Jus'Fusion with, Violin, Mridangam, Drums & Kanjira
About
It is a Carnatic Instrumental fusion recital. The team presents, a few popular compositions in Carnatic Music with western percussion. The event can be approximately timed for 2 hours beginning with a Varnam ( Cartnatic Style ) , A popular composition on Ganapathy in a fusion approach. This is followed by a melody chosen from western symphonies, and its Carnatic interpretation of notes.
A medley of few popular film melodies and its equivalent Carnatic interpretation. Percussion ensemble ( Mridangam, Kanjira, Drums ) for one main piece of the concert. Finally concluding with a folk melody or any light piece.
Vidwan Sri Shankar Rajan - Sri Shankar Rajan was initiated into music at the age of 14 by his mother and received his advanced training in Violin from Vidwan Sri P Sundar Rajan, and Vidushi Smt Seetha Lakshmi venkatesan. He has rendered his Violin Solo and accompaniment recitals in AIR Bangalore Morris Music festival Chennai, VaniMahal Chennai and a lot many other places. He also has performed in few Corporate events held at Bangalore International Centre etc. He is an engineering graduate and a project Manager at Techtronics India ltd Bangalore.

Vidwan Sri Bhargava Simhadri - Sri Bhargava Simhadri was initially trained on Vocal Music under his mother Smt Rajeshwari Simhadri and later he received mridangam training from renowned artists Vidwan Sri Anoor Dattatreya Sharma and Sri Anoor Anantha krishna Sharma. He has extensively performed in all premier institutions for classical music like Nadabrahma Sangeetha Sabha Mysore, Indian institute of World Culture Bangalore, Krutagnya Trust Chennai, etc. He has participated in corporate fusion ensembles held in Intel technologies India ltd. He also has teamed up with Vidushi Smt Chitra Srikrishna and Shankar Rajan in the thematic event by name "Classical roots of Indian popular Music" held at Bangalore International Centre in 2014. He is a Masters Graduate in Micro electronics BITS PILANI and works for Globalfoundries India ltd Bangalore.

Vidwan Sri R Karthik- Sri R Karthik hails from a family of music connoisseurs and was trained initially in Mridangam by Vidwan Sri K N Krishnamurthy and Vidwan Sri V Praveen. He is receiving his advanced training from Vidwan Sri C P Vyasa Vittala in Kanjira ( The Indian frame Drum ). He is an "A" grade artist in All India Radio Bangalore and has shared the Diaz with doyens of Carnatic Music. He also has rendered his recitals in Doordarshan-Chandana channel Bangalore. He is an engineering graduate and works for Cognizant technologies India Ltd.

Vidwan Sri Sai Vamshi - Sri Sai Vamshi is a Child prodigy talent and seem to be the most youngest drummers in India in fusion and contemporary music. He has been trained in Mridangam under renowned Vidwan Sri Anoor Ananthakrishna Sharma and is receiving guidance from Vidwan Sri Arun Kumar for drums and other percussions. He has performed more than 300 concerts. He has accompanied the Maestros like Sri P Unnikrishnan, Sri Prapancham Balachandran, Sri O S Arun etc. He has participated in NAVIKA Vishwa Kannada Sammelana in BOSTON USA- 2013,AKKA-Kannada Sammelana held at SAN JOSE USA - 2014. He has performed around 30 concerts across USA..He has been featured in UDAYAVANI kannada daily under the Young Achievers category.