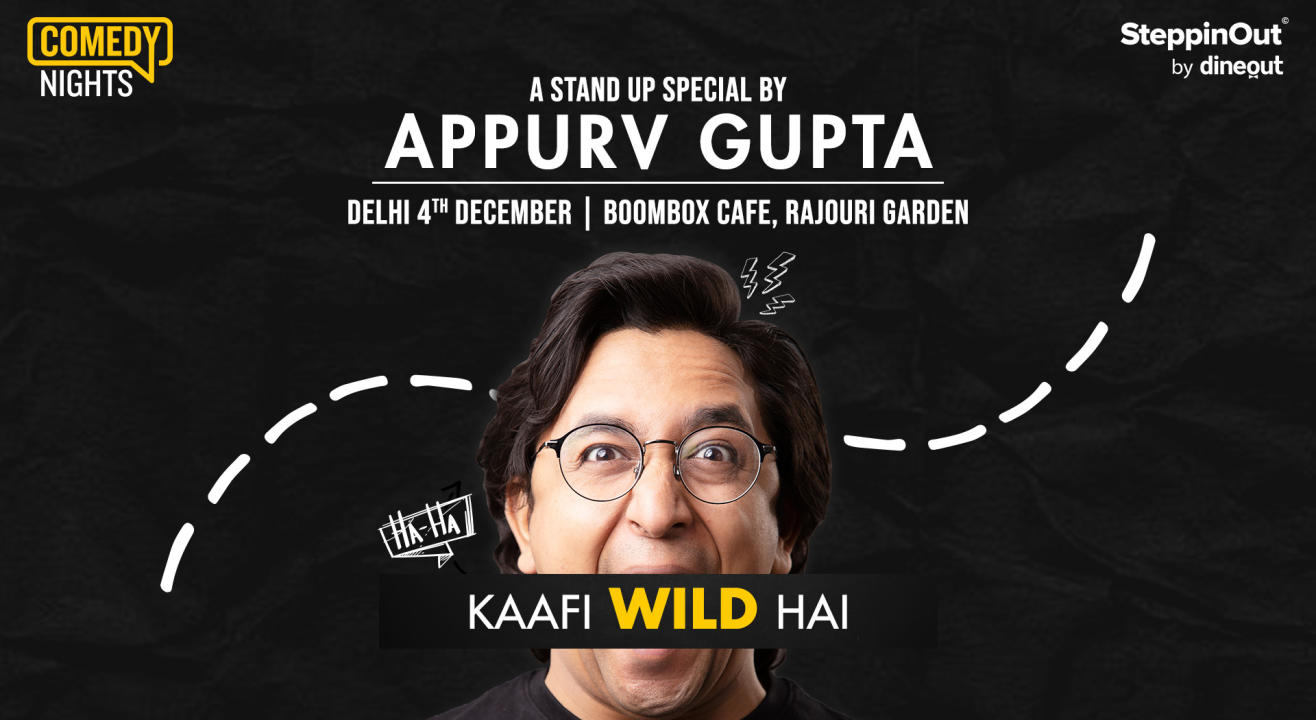 Kaafi Wild Hai - A Comedy Special by Appurv Gupta | Delhi
Boom Box Cafe Reloaded, Delhi
Invite your friends
and enjoy a shared experience
Kaafi Wild Hai - A Comedy Special by Appurv Gupta | Delhi
Boom Box Cafe Reloaded, Delhi
Invite your friends
and enjoy a shared experience
Invite your friends
and enjoy a shared experience
Our favorite GuptaJi is back to tickle our funny bones with his new comedy special, 'Kaafi Wild Hai'.
Appurv Gupta, popularly known as 'GuptaJi' is a rage amongst his fans across the nation. With his 3 back to back super-hit solos in the last few years itself, Appurv tries outstanding himself with all his new acts. AppurView, Relationship or RelationShit and Laugh with an Engineer2.0 have been loved by audiences all over the country. His latest show, 'Best of GuptaJi' was a hit and had Appurv travel the world with it.
Kaafi Wild Hai is a new stand-up comedy special by Appurv Gupta aka GuptaJi in which he shares his few favorite stories. Every story has a wild character which makes the story interesting and unique. The story will revolve around this character, adding more flavor to the format of the show. Guptaji tries to become the wild character himself in every story, but as God always has it, every time he is destined to say to someone else: Aap toh "Kaafi Wild Hai".
About Appurv Gupta aka GuptaJi: Engineer turned Stand-Up Comic, Appurv Gupta has one of the unique voices in the Stand-Up Comedy scene in India. With over 200 Million plus views on Social media, CNN-Network 18 has listed him in the Top 20 Stand-Up Comedians to watch out for.
Comedy Central India says that he is India's leading Hinglish Stand Up Comic. NDTV Prime shows him regularly with his exclusive show ''The Rising Stars of Comedy with Appurv Gupta." His recent videos on Chai, Maggi, Biryani, Neend, Tinder, Cookery, and Aeroplane have already got millions of views on social media. Recently, Forbes India had listed his name in the Forbes India Celebrity 100 Nominees list.
So get your tickets now!
Boom Box Cafe Reloaded
C-10 Tagore Garden, Block A, Vishal Enclave, Tagore Garden Extension, New Delhi, Delhi 110027, India
GET DIRECTIONS
Kaafi Wild Hai - A Comedy Special by Appurv Gupta | Delhi
Boom Box Cafe Reloaded, Delhi
Invite your friends
and enjoy a shared experience