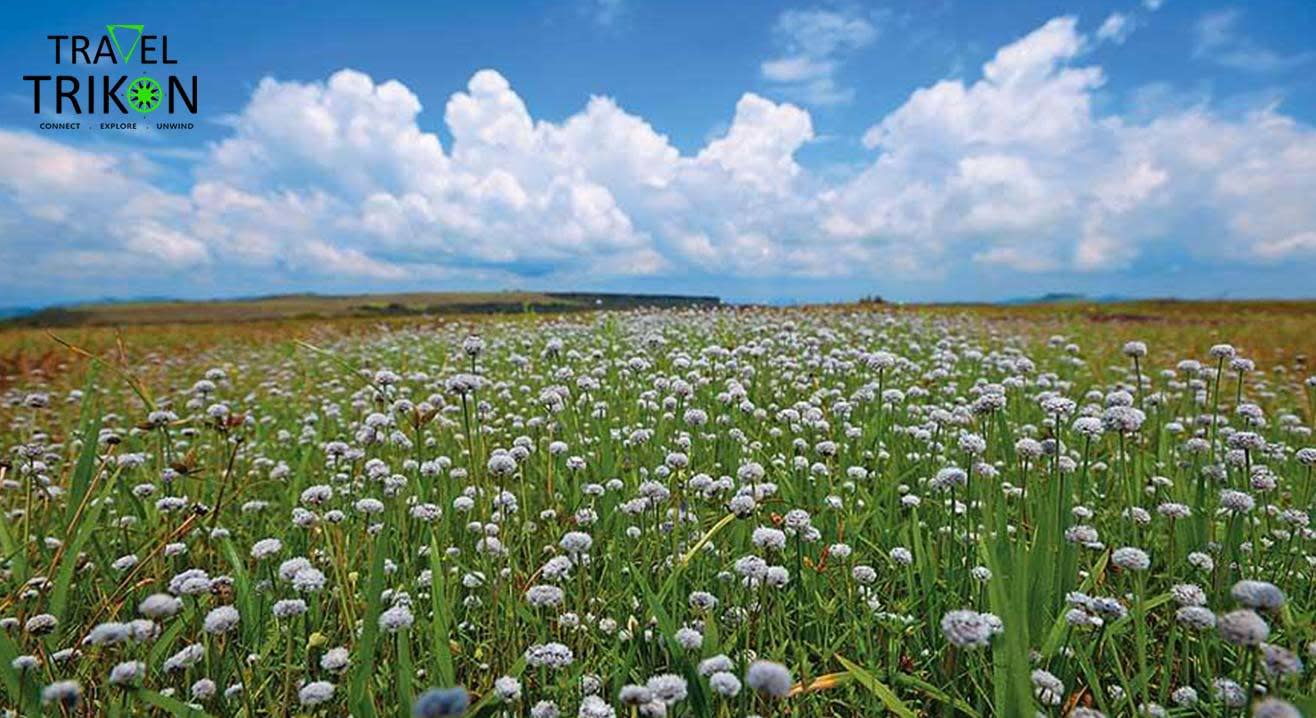 Explore
Kaas Plateau Tour
Multiple Batches | 11:15PM
About
Kaas Plateau also known as the "Kaas Pathar" is situated in the Western Ghat's Sahyadri range, 22 km from Satara city in the state of Maharashtra, India. The name Kaas originates from Kaasa tree. As the leaves of this tree mature, they turn from green to red.
During the flowering season from mid –August to October, almost every inch of the plateau is bedecked with flowers of various colors and sizes. In fact, recently, Kaas has been declared as a "Biodiversity World Heritage Site" by The United Nations Educational Scientific and Cultural Organization (UNESCO) due to the floral diversity found here.
Kaas Lake, which is surrounded by a dense forest, lies between Sajjangad fort and the Kanher Dam. The place has more than 850 different species of flowers and other plants including Orchids, Karvy and even carnivorous plants such as Drosera Indica.
Day 1: Saturday Night
11:15 pm Meet the Travel Trikon Team at Pritam Hotel, Dadar (East)
11:30 pm Departure from Dadar
11:30 pm Pickup from K Star Mall, Chembur
12:15 am Pickup from Sec 17, Vashi (Below the flyover)
12:30 am Pickup from Hotel 3 Star, Kharghar

Day 2: Sunday
06:00 am Reach Kaas Plateau
06:30 am Breakfast & Introduction
07:00 am Start the tour of Kaas, explore the area, enjoy clicking
11:00 am Move towards Kaas Lake
03:00 pm Start our return journey post lunch
10:00 pm Reach Mumbai
No doubt Kaas is a visual delight but it is also important to understand the Ecology of the place and how we can protect it from degradation. We will guide you on the same.

History of KAAS
Know about Carnivorous Plants
Ecology of Kaas and how it is changing
Flora and fauna around KAAS
How we can protect it?
Transport by Private Non AC Bus from Dadar to Dadar
Food: Breakfast, Lunch (Veg/Non Veg) & Evening tea
Kaas Plateau Entry Charges
Trikon Expertise Charges
Camera Charges
Any personal expenses such as soft drinks etc.
Anything other than above mentioned inclusion
Venue
Pritam Hotel, Dadar
Dharamputra, Survey No. 32, Pritam Estate, Dadar T. T, Mumbai, Maharashtra 400014