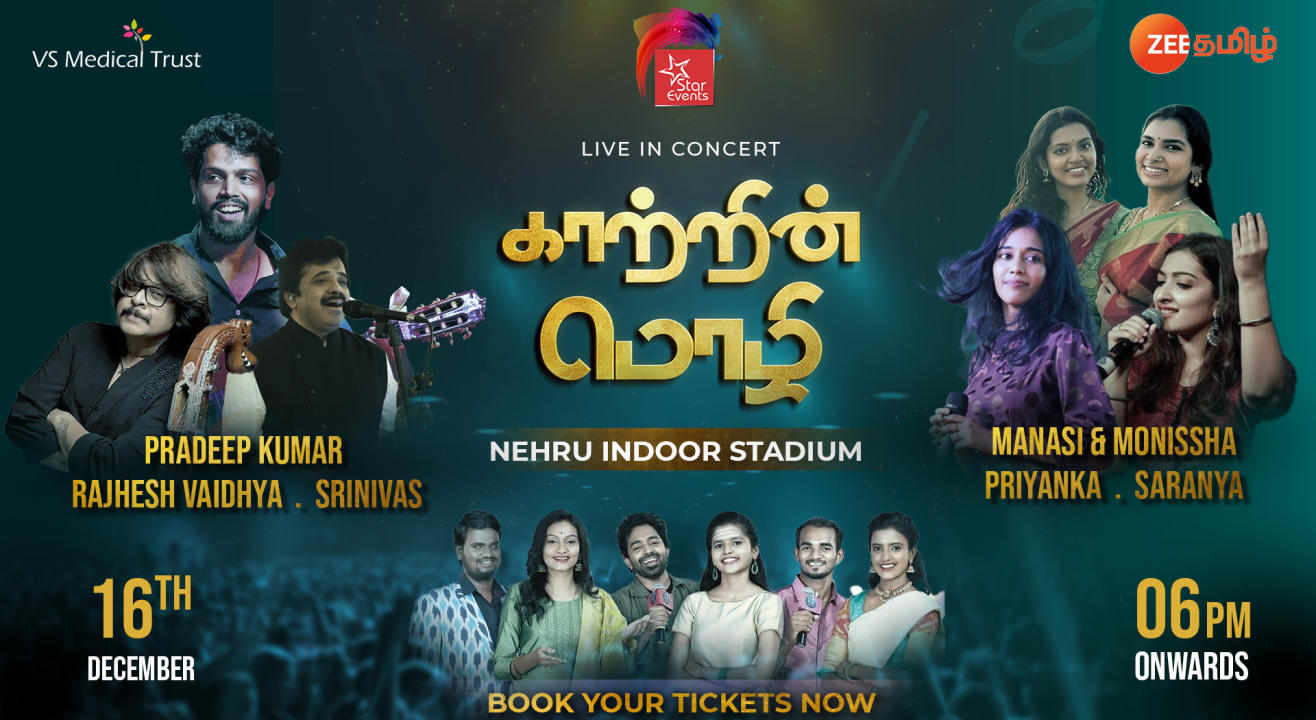 "Kaatrin Mozhi" - Live In Concert
Jawaharlal Nehru Indoor Stadium, Chennai
Event Guide
For Age(s)
Family Friendly
Live Performance
Enjoy a unique experience
Invite your friends
and enjoy a shared experience
"Kaatrin Mozhi" - Live In Concert
Jawaharlal Nehru Indoor Stadium, Chennai
Event Guide
For Age(s)
Family Friendly
Live Performance
Enjoy a unique experience
Invite your friends
and enjoy a shared experience
Event Guide
For Age(s)
Family Friendly
Live Performance
Enjoy a unique experience
Invite your friends
and enjoy a shared experience
Get ready to be dazzled by "Kaatrin Mozhi," an electrifying Live In Concert featuring the music industry's most legendary singers.
Witness an epic musical extravaganza, where these musical icons are from the film industry. The maestro, Singer Srinivas, leads the way, accompanied by a stellar ensemble of celebrity vocalists, including Pradeep Kumar, Manasi and Monisha, Priyanka and Sharanya Srinivas, who will grace the stage alongside the rising stars final contestants of Zee Tamil's SaReGaMaPa with Zee Tamil SaReGaMaPa fame Sathish and band. You may have seen these budding talents on your television screens, but now it's your chance to experience their incredible performances live.
This live concert is set to ignite the heart of Chennai, the evening will be graced by an exclusive and remarkable performance by an adventurer on the strings Veena Artist Rajhesh Vaidhya, who regales the audience with an eclectic melodic excursion.
The Live-In Concert serves dual purposes; firstly to raise funds for those impacted by cancer who are in dire need of medical assistance, and secondly, to heighten public awareness regarding cancer prevention, early detection, and treatment. Through this event, we aim to unite the community in our collective fight against this formidable adversary.
The concert's proceeds will be channeled to VS Medical Trust, a non-profit organization established by Dr. S. Subramanian. Their unwavering mission is to make affordable and top-notch cancer care accessible to everyone. VS Medical Trust primarily concentrates on providing free or subsidized treatment to underprivileged sections of society.
The Live-in Concert is being handled by Star Events, Chennai.
This event is poised to be a sensational and unforgettable night of music.
i) Right of admission for one person per ticket.
ii) Gates will be open from 17:30 Hours.
iii) Tickets are required for kids above 5 years old.
iv) Organisers or any of its employees and agents are not responsible for any loss at the venue whatsoever.
v) Bags, electronic gadgets, weapons, cameras, any form of recording instruments, and video cameras will not be allowed inside the auditorium. Any such items found with the person shall be confiscated by security.
vi) Entry by a person who has consumed alcohol or any such drinks will be strictly barred at the gates.
vii) Smoking is prohibited inside the venue.
viii) Tickets are not refundable in case of force majeure.
ix) Any person found disturbing the performance in any way will be asked to leave immediately.
x) Right of admission is reserved with organizers.
xi) Please carry a valid ID proof along with you.
xii) Unlawful resale (or attempted unlawful resale) of a ticket would lead to seizure or cancellation of that ticket without refund or other compensation.
xiii)Online booking should be exchanged for a physical ticket before entering the event arena.
xiv)Artist lineup and billed attractions may be subject to change.
xv)Organizers reserve the right to perform security checks on invitees/members of the audience at the entry point for security reasons.
xvi) Parking at the venue premises is limited. Vehicles parked near/at the venue premises are at risk of the vehicle owner. Organizers will not hold responsibility for any damage or theft of any vehicles within the stipulated parking premises of the venue.
xvii) Eatables, beverages, and alcohol are not allowed from outside the venue. Food and beverages will be available inside the venue.
xviii) Organizers are not responsible for any negative effects of food items or drinks consumed in the venue.
xix) Any person found misbehaving or creating a ruckus in the venue will be escorted out of the venue and no re-entry will be granted for the same.
xx) The holder of this ticket hereby grants organizers the right to use, in perpetuity, all or any part of the recording of any tape made of the holder's appearances on any channel for broadcast in any and all media globally and for advertising, publicity, and promotion relating hereto.
xxi) The organizers reserve the right without refund or other recourse, to refuse admission to anyone who is found to be in breach of these terms and conditions including, if necessary, ejecting the holder/s of the ticket from the venue.
xxii) Venue rules apply.
Jawaharlal Nehru Indoor Stadium
Raja Muthiah Rd, Kannappar Thidal, Periyamet, Chennai, Tamil Nadu 600003
GET DIRECTIONS
"Kaatrin Mozhi" - Live In Concert
Jawaharlal Nehru Indoor Stadium, Chennai
Event Guide
For Age(s)
Family Friendly
Live Performance
Enjoy a unique experience
Invite your friends
and enjoy a shared experience