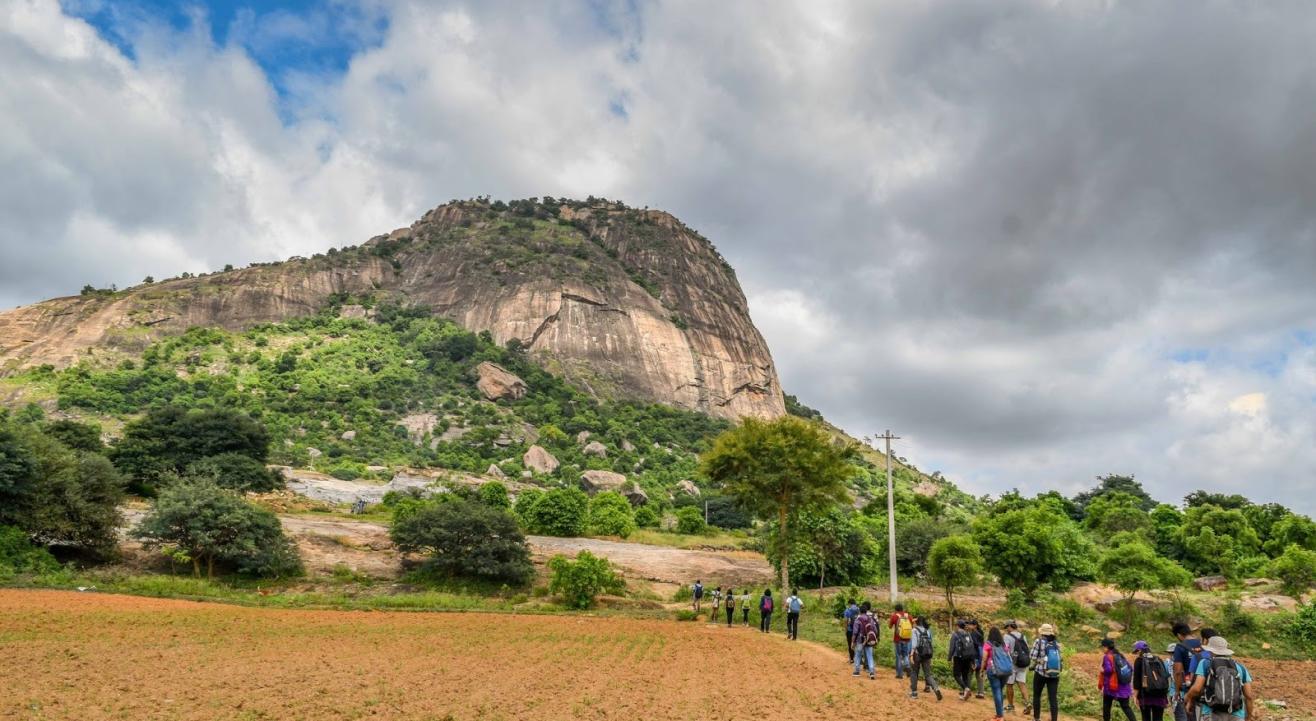 Kabbal Durga Sunrise Trek with Water Activities | Namma Trip
October 7 | 11PM - October 9 | 1PM
Step out and enjoy this event
Invite your friends
and enjoy a shared experience
Kabbal Durga Sunrise Trek with Water Activities | Namma Trip
October 7 | 11PM - October 9 | 1PM
Step out and enjoy this event
Invite your friends
and enjoy a shared experience
Invite your friends
and enjoy a shared experience
The small picturesque village of Kabbal Durga offers a least explored trekking trail leading to the top of a nearby hill. The night trekking at this destination provides an exclusive experience with a magnificent view of the night sky. Watch a fascinating view of the rising sun from the peak of the hill during early morning hours.
Kabbal Durga is a village, which has a temple and a fort. It lies about 80 km from Bengaluru, the state capital of Karnataka. The name of the site is a combination of the words Kabbalamma, who is the presiding deity of the temple and Durga, which means fort in the Hindi language. This night trek to Kabbal Durga will take you atop an approximately 250-meter high hillock, where the two sites are located.
Trek Difficulty: Moderate
Distance: Around 80 km from Bangalore
Operator details : Namma Trip - 9980950279 ( Kindly check with operator for the availbility, Confirmation of the trek if you`re booking 24 hrs before the trek time - Mandatory)
Itinerary
11:00 PM : Pick up starts from Bangalore
01:30 AM : Pit-stop at Ramanagar
03:00 AM : Reach Kabbaldurga base.Start the trek after a small briefing.
05:00 AM : Reach peak, relax and enjoy the sunrise
07:00 AM : Start descend after sunrise
09:00 AM : Have breakfast lakeside
09.30 AM : Indulge in swimming & kayaking in the lake
12:00 PM : Head back to Bangalore
02:00 PM : Reach Bangalore & bring an end to this small adventure
Activity
Trekking
Kayaking
Swimming
Transport
Pick up and drop from/to Bangalore
Other Inclusions
Breakfast
Trek Permits
Trek Leads from NammaTrip
Things to Carry
Small Backpack to carry below essentials
Water bottles
Energy bars
Personal medication or A First Aid Kit
Sweater/ jackets for the night.
Raincoat/Poncho (if it looks rainy)
Extra clothing (in case you plan to dive in the lake)
Good sports shoes or trekking shoes
Flashlight/Torch with extra batteries
Camera (optional)
Pickup Points
1. Marathahalli (11.00 PM) - Near Kalamandir
2. Silk Board (11:30 PM) - Bus Stop, Opposite To Pizza Hut
3. BTM (11:45 PM) Udupi Garden Bus Stop, Opposite To A2B
4. Banashankari (12.15 AM) - Banashankari Bus Stop
5. Gopalan Arcade Mall (12.30 AM) - Rajarajeshwari Nagar Arch
Pick up Times are tentative. Once you register with us,we will send you the exact pick up times and location on Whatsapp.
Note
Your equipment and equipment distributed are to be carried by self, like bags, sticks, etc.
As you are exploring nature, don't expect washrooms near hills. Washrooms are only available at hotel, campsite(you reach hotel/campsite for breakfast or lunch).
NammaTrip is not responsible for misplacing/loss of any personal belongings.
Don't expect electricity & luxury in the area.
About NammaTrip
We as a Adventure company aim to show you nice people the most beautiful and pristine places in Karnataka.
Preserving the cleanliness & beauty of our beautiful land is our top most priority.
Go deep into the nature
Hike to see the beauty of sunrise.
Trek to beautiful mountains..
Dip in the beaches of our beautiful coast.
Hike through the mystical rainforest of the Western Ghats.
Come Experience Namma Karnataka
Organizer Details
For Terms & Conditions/ Cancellation Policy
Get in Touch
In case of any queries.Do get in touch with us.
E Mail : nammatrip2017@gmail.com
Kabbal Durga Sunrise Trek with Water Activities | Namma Trip
October 7 | 11PM - October 9 | 1PM
Step out and enjoy this event
Invite your friends
and enjoy a shared experience