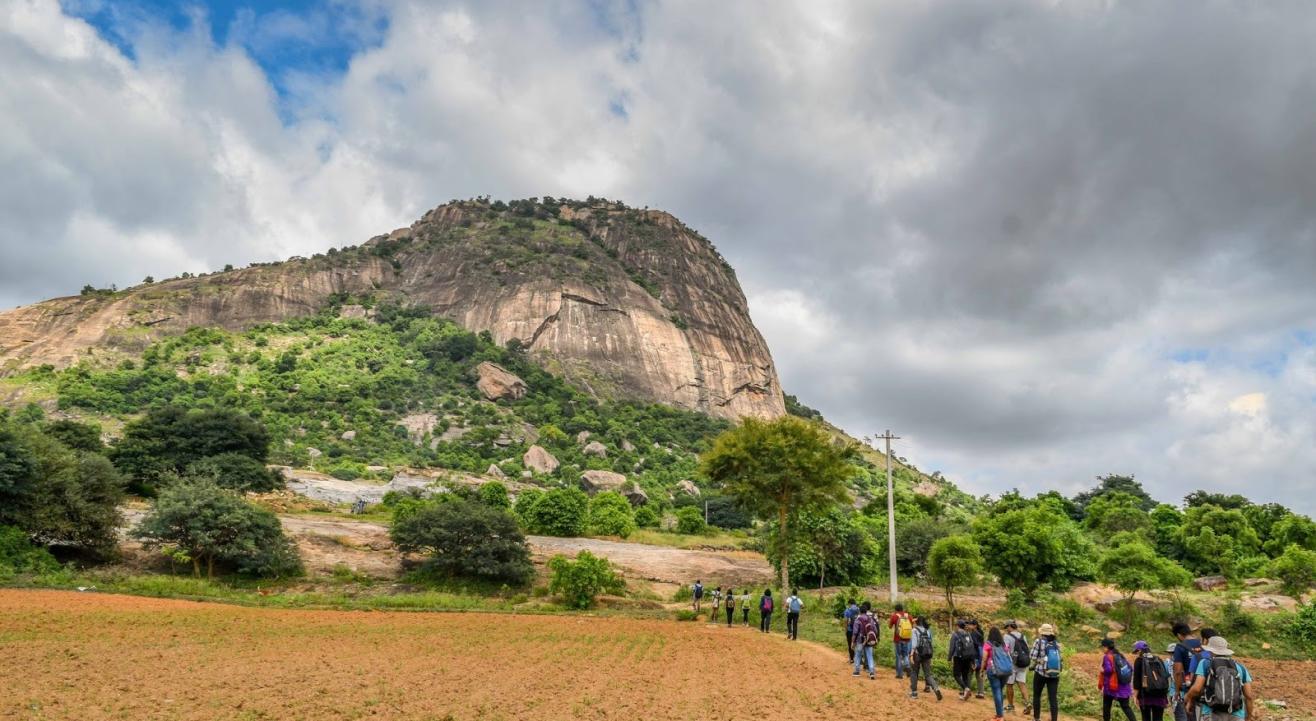 Trek
Kabbal Durga Sunrise Trek with Water Activities | Namma Trip
1,049 - 1,299 (*Inclusive of taxes)
About
The small picturesque village of Kabbal Durga offers a least explored trekking trail leading to the top of a nearby hill. The night trekking at this destination provides an exclusive experience with a magnificent view of the night sky. Watch a fascinating view of the rising sun from the peak of the hill during early morning hours.
Kabbal Durga is a village, which has a temple and a fort. It lies about 80 km from Bengaluru, the state capital of Karnataka. The name of the site is a combination of the words Kabbalamma, who is the presiding deity of the temple and Durga, which means fort in the Hindi language. This night trek to Kabbal Durga will take you atop an approximately 250-meter high hillock, where the two sites are located.
Trek Difficulty: Moderate
Distance: Around 80 km from Bangalore
What's Included:
Transportation (from/to Bangalore)
Campfire
Breakfast
Water Activities like Kayaking and Swimming
Pickup Points:
Marathahalli (11:00 PM) - Near Kalamandir
Silk Board (11:20 PM) - Bus Stop, Opposite To Pizza Hut
BTM (11:50 PM) - Udupi Garden Bus Stop, Opposite To A2B
Banashankari (12:15 AM) - Bus Stop
Gopalan Arcade RR Nagar (12:30 AM) - In front of Arcade Mall
Kengeri (12:55 AM)- Krishnapriya convention Hall
Itinerary:
11:00 PM Pick up starts from Bangalore
01:00 AM Reach Kabbal Durga base
01:15 AM Start the trek
03:00 AM Reach peak, relax and enjoy a campfire
06:00 AM Descend at dawn
07:30 AM Head to Ramanagara campsite for breakfast
08:30 AM Have breakfast and enjoy some time at the lake swimming and Kayaking
10:30 AM Head back to Bangalore en route Ramanagara
12:30 PM Reach Bangalore
Things To Carry:
Torch per person.
Sports shoes or trekking shoes in good condition
Backpack
Raincoat/Poncho
Water bottles
Energy bars, dry fruits, etc.
Personal medication
Sweater/ jackets
Toiletries (napkin, tissues, etc.)
Flashlight/Torch with extra batteries
Track pants and a cotton T-shirt
Camera (optional)
About NammaTrip
NammaTrip Adventures is not just one of Bangalore's leading adventure travel companies, it's a hub for all nature lovers, adventure enthusiasts and those who just need a little escape from the routine of life to explore outdoors. With NammaTrip, find the much notable adventure activities near Bangalore. Choose from a wide range of exciting outdoor activities and destinations that best suit your team/group, and leave the arrangements to us.
Organizer Details
For queries about this event contact the organizer Vinay +91 9972233979